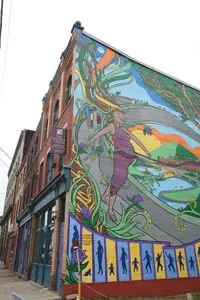 It wasn't Katherine Drahnak's plan to become a mother at 22. It didn't seem like the ideal time to start a family: Drahnak was single, waiting tables part time and living at her mother's Edgewood house. But life had other plans, and so did Javier, who was born June 21, 2005.
Being among Pennsylvania's 900,000 adults without health insurance, the costs of the prenatal care she received, the emergency Caesarian section she had to have and Javier's time in the neonatal intensive care unit could have destroyed Drahnak financially.
But state and federal dollars earmarked for pregnant women and uninsured children kicked in as soon as she got her first positive pregnancy test from Magee-Women's hospital in Oakland.
"There really is a lot of help out there if you don't have money," Drahnak says.
Once a woman is pregnant in Pennsylvania, the rules change for obtaining Medicaid, government-funded health insurance for low-income people. She has to be living at or below 185 percent of the poverty level for her family size ... and her unborn child is counted as part of the family.
Having qualified for state pregnancy assistance, a poor woman's pregnancy and birth experience can be just as rich with options as a wealthy, insured woman. Drahnak, in fact, says she was able to tailor her experience to suit her own notions of how the experience should go.
"I'd always wanted to have a natural childbirth," she says. And halfway through her pregnancy, Drahnak realized she could make use of Magee's midwife program.
During her labor, complications arose and doctors had to take over. Javier was coming out upside down, and got stuck in the birth canal. After attempts to budge him with a vacuum extractor failed, the decision came down that she would have to have an emergency Caesarian. Then, when he was finally born, he had difficulty breathing and had to spend time in the neonatal intensive care unit.
After mother and child finally went home, 72 hours later, there were still problems. Drahnak's C-section wound split and was leaking pus. A home health-care aide came out, twice a day, to clean and change the dressing.
All this care was covered by Medicaid. Drahnak got prenatal vitamins and care. Javier, today a rambunctious 2-year-old, will have health insurance covered by the state until he is 18 or Drahnak's income increases drastically.
Still, advocates for low-income mothers say, providing such care is hardly easy with a deficit-strapped government and an increasingly overburdened health-care system. And even a best-case scenario like Drahnak's is only a qualified success. While Javier's health costs are covered, if Drahnak needs to see a doctor for her own health, she's on her own: Having delivered her child, she is back among the uninsured.
Up on the eighth floor of East Liberty's faded Medical Center East, the waiting room has pamphlets and magazines on almost every available surface. There are copies of POZ magazine for people living with HIV, pamphlets about nutrition and breastfeeding, and a nauseatingly effective poster about various sexually transmitted diseases that calls to mind the singing STD Muppets from Dave Chappelle's Show.
The staff here -- a nurse practitioner and a handful of medical assistants -- sees about 160 patients each month. Patients range in age from 13 to the over-55 set. Some have been coming to the clinic, managed by nonprofit provider Adagio Health, for years. Others are first-timers coming in for free walk-in pregnancy testing. The agency provides free care to those who qualify, and to all women under age 17.
Just don't call the facility -- or any of the 70 locations Adagio manages in 23 western Pennsylvania counties -- a "clinic."
"We've stopped calling our sites 'clinics,'" says Caren Caldwell, Adagio's director of health network services. "The offices are wonderful-looking places. They don't have the appearance of being for poor people." But, she says, perception is still a barrier.
Gwen Lindsey, who oversees the East Liberty office, agrees that the stigma of charity care is a powerful barrier. The quality of care at her office, Lindsey says, is just as good as that of a private doctor. Still, some women would rather sacrifice their own care than set foot in a place that appears to serve charity, she says -- even though Adagio also accepts most private insurance.
"Most of the people we serve are uninsured," Lindsey says. "That's one of our biggest struggles -- a lot of them don't want to go and apply for Medical Assistance because it's like a slap in the face. It's a pride issue."
Many of Adagio's clients are working, Lindsey adds, but their employers don't offer insurance. It can be so tough to overcome that pride, she says, that women will neglect their own health, putting off getting a routine test like an annual Pap smear, which can detect cervical abnormalities before they risk becoming cancerous.
She says that many women using the East Liberty location come from as far as Penn Hills; they'd rather not seek free care in their own neighborhoods.
"If people don't have insurance, they don't want to get [free care] in their own neighborhoods," Lindsey says. "They tend to travel."
There's also a perception among some women that if their situations change and they become insured, they should seek care elsewhere. "People think, 'You're not a doctor, why should I bring my insurance here to see you?'" Lindsey says. "I don't understand why we're good enough to see you when you don't have health insurance but we're not when you do. We accept insurance!"
In fact, the office needs insured patients. Their bills help to cover some of the cost of treating uninsured women. And that in itself says something about the plight of health care for lower-income mothers ... because the federal government has a program intended to help uninsured people manage their reproductive health.
The program is called Title X. It was introduced by then-Senator George H.W. Bush and enacted in 1970 under President Richard Nixon as part of the Public Health Service Act. Title X provides birth control and STD testing and treatment for men and women, allowing clinics to provide those services for free or on sliding scales according to a client's income, regardless of their insurance status. In 2006, 5 million men and women nationwide were treated using Title X dollars.
That money is dispersed to 87 grantees nationwide, which disperse the funds to a total of 4,400 community-based public and private nonprofit clinics; Adagio handles Title X dollars in Western Pennsylvania. Founded in 1971 and formerly known as Family Health Council, Inc., the nonprofit also receives other state and federal grants, as well as money raised privately from donations and foundations. Each year, Adagio serves more than 100,000 people in Western Pennsylvania.
The organization does outreach into communities through fairs, churches and other gatherings. In addition to birth control and STD care, Adagio provides screenings for breast and cervical cancer.
But those working in the system say that funding has not come close to keeping up with inflation, let alone need. According to data from the Guttmacher Institute, a nonpartisan reproductive policy think-tank, once you take inflation into account, funding for Title X has dropped 61 percent since from 1980.
click to enlarge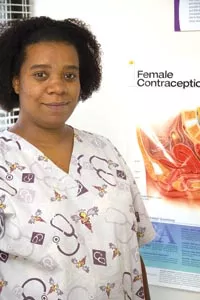 Meanwhile, the number of uninsured people needing such help has increased dramatically. The Guttmacher Institute says that in the 20 years since 1980, the number of uninsured people increased by nearly one-third -- by 10 million people, to an estimated 43 million Americans nationwide.
Still, Title X has attracted little attention in Washington, D.C. "Right now with the Iraq war and immigration taking the focus of everyone on the Hill," Caldwell says, "[funding] has been level, flat, for the last 8 years."
Providing health care to poor families would seem the ultimate family-friendly policy. But some "family values" conservatives object to funding Title X because it provides contraception; Concerned Women for America says it "seduces children."
"The federal government should stop funding the moral demise of our children and our culture," reads a position paper from the conservative, pro-life group.
The health care provided to low-income expectant mothers "should not be a political hot potato," Ilene Schwartz, Adagio's VP for development and communications. But, she says, "'family planning' has grown to have bad connotations." Among those connotations, of course, is abortion. But that, Schwartz says, is a moot point.
By law, Title X money can't be spent on abortions. The infamous "gag rule" of 1988, in fact, tried to forbid care providers receiving the money from even talking about abortion as an option. The rule was overturned during the Clinton administration in 2000, but while clinics can provide counseling on abortion, they don't always do so. Schwartz says counselors won't even bring the subject up if a woman seems excited about a pregnancy.
In fact, Adagio provides extensive support to women who want to put an unplanned baby up for adoption. Options counselor Kathryn Tomkowski takes about 80 calls a month from Western PA, Ohio and West Virginia, and presents callers with three options: parenting, abortion or adoption.
"A lot of people don't know about adoption," she says. "Usually people know 'I can parent or terminate.'"
Despite all this, say Schwartz and Caldwell, conservative complaints about Title X have gained traction -- in part because many lawmakers simply don't recognize what the funds are really for.
"Part of our burden is to educate legislators," says Caldwell. "People want to make it about abortion. The fact that women don't have access to basic care is an abomination."
"We're talking about lives, peoples' real lives, and it becomes a shouting match," Schwartz says. "The essence of what we're trying to do gets lost in the fray. It's frustrating -- you go to Washington, they're quibbling over a tiny increase."
Last month, in fact, a subcommittee of the House Appropriations Committee approved the largest increase in Title X funding in 25 years, up $27.8 million to $311 million. Guttmacher says that increasing funding for Title X to $566 million would allow it to serve 1.4 million new clients, potentially preventing 244,000 unwanted pregnancies and averting 98,000 abortions, saving the government $794 million.
Still, advocates welcome the additional money, and note that even tiny increases in funding for things like contraception have ripples in society. According to Guttmacher, for every dollar the government designates to Title X, $3.80 is saved in costs associated on pregnancy and newborn care.
That $3.80 has to come from somewhere -- whether it's from other taxpayer-funded welfare spending or increased medical costs passed on to others. But advocates say it's hard to get people who do have health insurance to pay attention to the plight of the uninsured. There's a perception, says Caldwell, that "This isn't about me; it's about poor women."
Still, local clinics are finding ways to serve both the insured and uninsured at once.
With a 12-foot-tall pregnant woman painted on the side of its building, the Midwife Center in the Strip District sticks out far more than East Liberty's anonymous clinic.
The center is housed in an old house and has been decorated with the handiwork and paintbrushes of women who work there. Inside clinical director Nancy Niemczyk's office, for example, there are windchimes and art prints along with a plastic model of a pelvis resting on its desk.
Similarly, the Midwife Center itself combines a practical approach to health care with a respect for women's wishes.
Midwives are the traditional assistants to a woman in labor, attending the birth itself and also assisting mothers throughout pregnancy. (The term "midwife" derives from "with woman.") Most, but not all, midwives are women; many are mothers themselves. In Pennsylvania, being a midwife requires state licensing: To hold the job, a midwife must be a registered nurse and have further training in midwifery.
Midwifing has become an increasingly popular option, and it is often seen as a kind of "boutique" health-care option for women who want a more holistic and natural approach to childbirth and gynecological care. Indeed, most of the Midwife Center's clients are insured. But the center also receives Title X dollars and provides care for those without means.
Birth options abound -- mothers can have their babies in one of three themed birthing rooms with Jacuzzis, for example. Women can also have as few or as many people attending as they wish; one woman had her entire church choir sing her through her birth.
(Religious folks, in fact, make up a large portion of the center's clientele. "There are heroic midwives in the Bible," Niemczyk says, noting that many evangelical Christians are clients. She says care can be tailored to those with particular religious views, like Catholics who don't believe in genetic testing, or Orthodox Jews whose laws forbid a husband from touching his wife after her water has broken. A sizable Mennonite population uses the center as well; while they may be uninsured, their beliefs typically bar them from taking public assistance.)
Katherine Drahnak found such options appealing when she was a 22-year-old expecting mother enrolled in a UPMC midwife program. She wanted her mother, sister, best friend and Javier's father and his mother in the delivery room with her. "That felt like the way I wanted to bring my child into the world," she says.
Not every woman that uses the Midwife Center for prenatal care gives birth there, however. The center is not equipped to handle high-risk births, to perform Caesarian section births, or to administer epidurals or other types of anesthesia. Should a need for those services arise, women go to Allegheny General.
But as Drahnak's experience shows, having a midwife on hand can be useful even in an emergency C-section. Hospital regulations permitted only two people to be present in the delivery room, but Drahnak's midwives stepped in on her behalf. Eventually her family members were permitted in as well.
"It felt like they were coming from a place that was more organic," Drahnak says of the midwives. They also helped her choose a pediatrician for Javier. "They were helpful with that, knowing I had more natural or hippie views on health care."
click to enlarge
And while the center's staff is small, with only five midwives, a woman is still likely to receive a high degree of attention. When it comes time to deliver the baby, a pregnant mother will typically have met and formed a relationship with the midwife who attends her -- even if a shift ends and a tired practitioner has to hand over the job to a replacement. "We think you deserve to have a midwife catch your baby who hasn't been up all night," Niemczyk says.
Such preferences may seem like luxuries, the sort of thing that government shouldn't be expected to pay for. But Niemczyk can justify the program in language that even bottom-line-conscious bureaucrats can understand.
Midwives, she says, "have much lower utilization of resources." For instance, in a typical hospital setting, most women giving birth have epidurals -- a localized anesthetic which entails more cost and more risk. Not so at the center. The center also doesn't give regular ultrasounds. If a midwife detects something awry, she won't hesitate to order an ultrasound, but in low-risk pregnancies, "There's no research that says there's any benefit to routine ultrasounds," Niemczyk says.
And some data does show a benefit to the midwife approach. According to the Midwife Center, in 2006, the rate of low birth-weight babies born at the center was 2.4 percent -- much lower than the 8.2 percent national average. The center's Caesarian rate was 16.5 percent of pregnancies; nationally, it was 30.2 percent.
Even so, the dollars have yet to catch up to the results. Though the government reimburses the center for treatment provided to low-income women, the amounts are far less than private insurance provides. "We couldn't run a birthing center with just [government-assisted] clients," Niemczyk says.
The center also takes a hit providing service for women who don't qualify for assistance. Such women can work out an upfront fee based on a sliding scale, but the center usually doesn't break even on them, either. Providing pregnancy care, birth and follow-up appointments costs the center around $7,000 per birth, Niemczyk says; the sliding-scale fee begins at roughly $1,500. To make up the difference, the Center must rely on fund-raising from foundations and other private sources.
The federal money that does come in, meanwhile, often has strings attached. The Midwife Center provides a range of gynecological care, including a Friday afternoon walk-in clinic that offers STD treatment among other things. But only two or three brands of oral contraception and one type of IUD are covered under the Title X regulations; methods such as the birth-control patch aren't available at all. The federal system is "extremely complicated to navigate," Niemczyk says.
Federal regulations also make it hard to serve the center's most vulnerable clients.
One afternoon a month, the regular Friday-afternoon walk-in hours are staffed by Spanish speakers, and Niemczyk acknowledges that some of these clients may be undocumented -- those "illegal aliens" you hear so much about these days.
A woman who is not a legal citizen of the U.S. cannot qualify for any kind of public assistance for her pregnancy. But despite anti-immigrant rhetoric, Niemczyk says curtailing prenatal care for women is shortsighted. Such women might go without a doctor's care throughout their entire pregnancy, until ending up in labor in an emergency room. In that scenario, even a textbook delivery with no complications will cost at least $15,000 -- a cost that is often largely absorbed by the hospital and, again, passed on to other patients and their insurance companies.
Moreover, any child born on American soil qualifies as a U.S. citizen and is entitled to assistance under the law. And if the mother had no prenatal care, the child is much more likely to suffer from problems like low birth weight. Such problems can cause an added financial burden to the welfare system if the child does enter it. "We might prevent problems by paying for the prenatal care," Niemczyk says.
For now, however, such thinking seems outside the bounds of the political discussion. And as frightening as it can be to lack insurance, Caldwell and Schwartz say it's almost as daunting to provide health care to those without it. Many low-income people are unaware their services exist, they say ... and too many politicians still don't see the point of providing the services at all.
"You don't want people going to the emergency room," Schwartz says. "As much money is invested in [Title X], millions more are [being] saved [for] an already burdened health-care system."
For more on the services available to women locally, contact Adagio at www.adagiohealth.org or call 1-800-215-7494. More information on the Midwife Center is available at www.midwifecenter.org or 412-321-6880.