Historian Marcus Rediker usually does his research in archives, and presents his findings in scholarly (if accessible) hardbacks like 2008's The Slave Ship. But after publishing 2012's The Amistad Rebellion, Rediker felt there was more to the story than could be found on paper — and that there were other ways to communicate what he'd learned.
Where Steven Spielberg's film Amistad recounted the legendary 1839 slave-ship rebellion and its aftermath from the perspective of the rebels' American defenders, Rediker told it from the captured Africans' point of view. Likewise with Ghosts of Amistad: In the Footsteps of the Rebels, the documentary the University of Pittsburgh professor has made with famed local filmmaker Tony Buba. The hour-long film chronicles Rediker's search for traces of the rebels and their rebellion in their homeland, present-day Sierra Leone. It has its U.S. premiere Nov. 15 during the Three Rivers Film Festival.
The film was shot over two weeks in May 2013, most of it in remote dirt-road villages. The crew included: two Western experts on Sierra Leone, Conrad Tuchscherer and Philip Misevich; two cameramen, Pittsburgh-based John Rice and Freetown-based Idriss Kpange; and the group's indispensable, Freetown-based translator and cultural go-between, Taziff Koroma.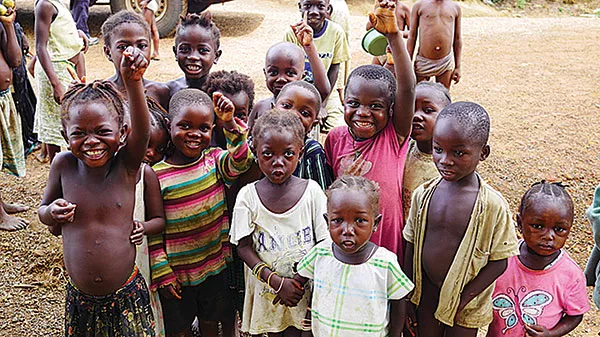 Rediker, the film's producer, conducted interviews with village chiefs and other authorities. "The knowledge of slavery times was extremely uneven," he says. But he collected some intriguing stories about the Amistad rebels both before their capture and after their return, as free men.
Besides experiencing the landscape and tribal cultures firsthand, Rediker was interested to learn how well his original, paper-based research would hold up. "What I had learned through the documentary record in the U.S. was constantly tested [in Africa]," he says. However, he was relieved that the emphasis his book placed on the significance to the rebellion of the Poro Society — a secret society for male leaders — was seconded by contemporary Sierra Leoneans.
There's also an exciting discovery about the long-untraceable location of the notorious slaving post called Lomboko. And along the way, the film portrays a seldom-seen side of West Africa, one not wracked by poverty or disease (although the region was more recently hit by the Ebola virus).
Buba, the film's director, and his longtime editor, Tom Dubensky, shaped 25 hours of original footage into a package suitable for screenings in college classrooms, at festivals and, hopefully, on public television. Rediker recently accompanied the film to showings in Europe, including one at a French history festival. Upcoming dates include a showing at New York City's Schomburg Center for Research in Black Culture.