Pittsburghers, the legend goes, are the type of people who give directions based on "where the Isaly's used to be." Maybe that's why we cling to the city's peeling "ghost signs" — those fading, painted advertisements for businesses that are no longer here. Where else, after all, would you see an exhibit like Palimpsest, a documentary project by Will Zavala and Kelly Bogel on display through May 16 at Pittsburgh Filmmakers?
A "palimpsest" is a page on which an early text is overwritten, obscured but not obliterated, by a later one. That makes it a perfect title for a ghost-sign exhibit ... and maybe for the city itself. Pittsburgh is its own palimpsest, a place that clings to old stories while writing new ones. Glimpses of the past can be found in the back alleys and second-floor windows of the present, in the process making a small town seem larger, more mysterious. Skyscrapers extend a city up into space ... but the ghost signs in their shadows extend it back in time.
Even today there's no telling when a ghost sign might rise from the dead. And while the Filmmakers exhibit offers little documentation about the signs depicted, local archives and news accounts sometimes yield long-dormant secrets from even the most faded inscription.
Take Bogel's photograph of a long-defunct Polish Hill grocery store, whose ghost sign became visible after a 2008 fire burned down the structure next door. The sign advertises Ward's Mother's Bread, a brand you haven't been able to find in Polish Hill — or anywhere else — for years. But Ward, it turns out, was once a widely known brand, with upward of 20 bakeries operating from Chicago east, according to a promotional 1919 survey of Pittsburgh businesses published by First National Bank. After his father ran a neighborhood bakery in New York City in 1849, the survey explains, Robert Ward came to Pittsburgh to begin baking on an industrial scale, offering housewives "rapid emancipation ... from the cares of kitchen drudgery."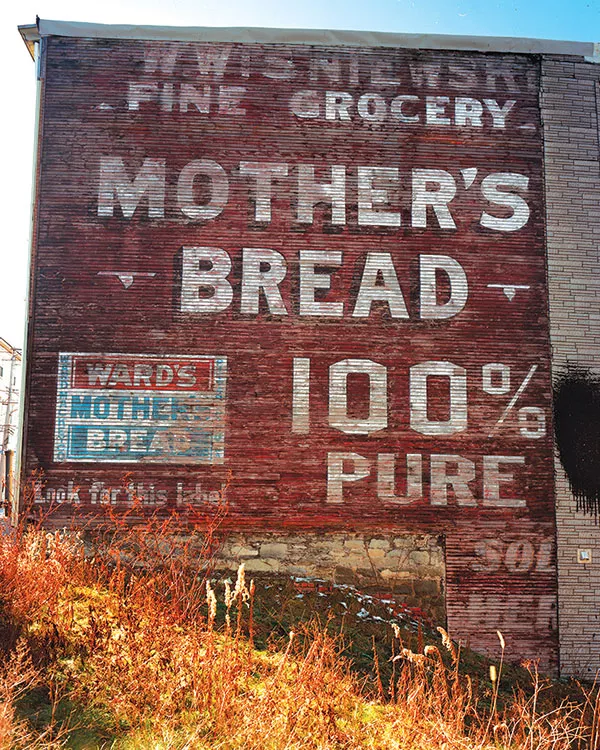 Maybe the emancipation wasn't that rapid, but from their Strip District bakery, the Wards made Pittsburgh "a leader in scientific baking," as a later newspaper account boasted. But the bakery closed in 1966 amidst a labor dispute, and the Ward name ended where it began: on a local storefront.
Other ghosts leave fresher traces. The barely-visible demon inscribed on an electrical battery at 825 West North Ave., for one, recalls the legacy of Hipwell Manufacturing. The North Side company's history dates to 1887, when the Hipwells founded the Pittsburgh Sheet Metal Tool Company. "This is the only establishment of its kind in this section of the country, and its facilities are in every respect unsurpassed," enthused the Pittsburgh and Allegheny Illustrated Review in 1889. In later years, the firm would pioneer designs for batteries and phone equipment before focusing on flashlights, which were manufactured on site until a decade ago.
Often, however, a ghost sign is the only memorial a business might leave. Despite having one of the most visible signs in Pittsburgh, for example, the Strip District's Wolfe Publishing barely leaves a trace. The green sign for Downtown's Penn Bowling Lanes, meanwhile, is visible only from an alley between Penn and Liberty avenues, and its history is almost as easy to overlook. Post-war-era newspaper records suggest the alley was once owned by Robert Hendel, whose numerous alleys made him one of the region's bowling kingpins. But by the 1970s, newspaper reports suggest, the alley had been replaced by a gay bar known as the Loose Balloon.
But even the obscure signs haunt us, sometimes more than the corporate brands which once loomed so much larger. Jones & Laughlin, Gulf Oil, Rockwell International ... they were once as central to Pittsburgh's identity as they were to its industry. But today, their mark on the city's landscape is less visible than, say, Blake's Garage and Fiore's Home-Dressed Meats. The corporate logo that is hoisted atop a skyscraper can be taken down just as easily.
For the rest of us, meanwhile, the ghost sign confers the promise of a kind of fugitive immortality. Whatever else they advertise, they remind us that in Pittsburgh, anyone can leave a lasting trace. Even without intending to.