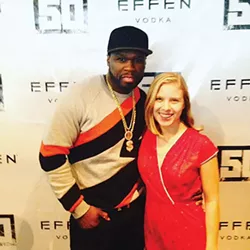 I'm crammed in line waiting for my brush with greatness. I'm sweating, I'm being touched from all sides and every second someone takes a selfie.
What is this hell I've found myself in? It's the shadow side of the booze-slinging business: the phenomenon of the celebrity endorsement. This go-round, it's an Effen nightmare. In late October, rapper Curtis James Jackson III, a.k.a. 50 Cent, arrived at the Consol Energy Center, promo girls and posse in tow, to endorse his Effen Vodka brand by cutting the ribbon on the new Effen Liquid Luxury Lounge.
Effen is imported from Holland, and the Dutch name conveniently translates to "smooth." While this might be low-hanging fruit, the company has made some entertaining if tawdry plays on its name in commercials including taglines like "There's nothing like Effen on a plane" or "Everyone enjoys Effen in the penthouse."
These nods to luxury hook in nicely with the image that 50 Cent has promoted in his music, namely making lots of money, dancing in nightclubs and of course, drinking. Killjoy that I am, sleek, shiny events where one harassed-looking person (in this case 50 Cent) has everyone's cell phones mere inches from his face seems a little slimy. It doesn't enhance the experience of the actual product, and I walked away wondering whether 50 Cent had even had time to have a sip.
None of this is to disparage the product itself, which was, for someone who typically avoids vodka, a smooth and friendly experience. The bottle is nicely designed, sleek and mod, with a cushy grip around the middle for anyone with slippery hands. All of the drinks created and slung by some of Pittsburgh's notable bartenders, such as Jay DeNat, Nicole Battle, Maggie Meskey, Cecil Usher, George Santel and Carrie Clayton, were something I would be happy to be served at any bar — though that's as much a testament to the skilled professionals as it is to the liquor.