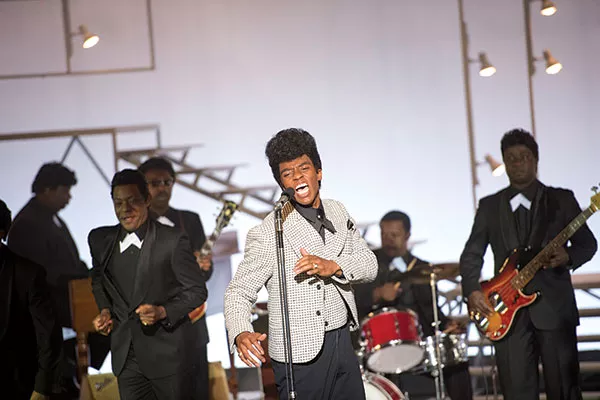 Tate Taylor's bio-pic Get On Up tracks James Brown's life, from an impoverished youth in Jim Crow Georgia to fame and fortune as the Godfather of Soul. Taylor rarely deviates from the standard bio-pic model — even the flashbacks, time-jumps and asides to the camera are perfunctory these days — and the rush to pack in everything from Brown's long and complicated life leaves far too much unexplored.
Taken as a whole — say, as an LP — this work isn't that great. That said, there are a few tracks that may be worth the investment. Just as a great artist can transform the most lamely written song — Brown's first hit found him keening "please" repeatedly, to brilliant effect — so too does Chadwick Boseman find the sweet spots in Get On Up's jumbled presentation of Lifetime movie, comedy and musical numbers. Boseman, who recently played Jackie Robinson in 42, ably tackles the challenge of portraying Brown's well-known — and physically dynamic — persona. (This film has more outrageous wigs than RuPaul's Drag Race.) Nelsan Ellis is also good as Brown's long-suffering sideman, Bobby Byrd.
Wisely, Get On Up uses Brown's own recordings (including live numbers), and Boseman busts a sweat animating them on screen. There will never be another James Brown, but his music will outlive us all.