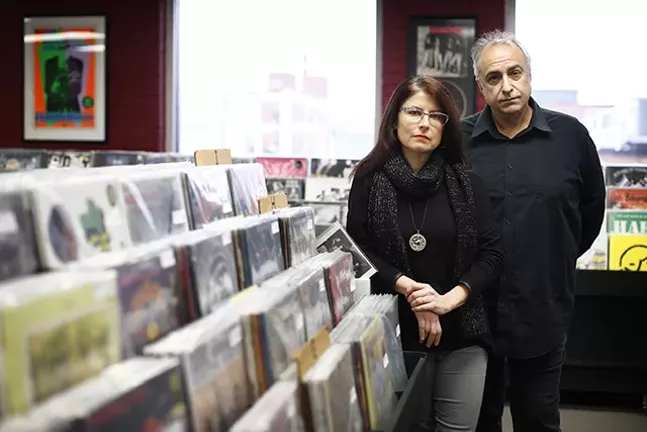 Despite being in business for more than three decades — churning out more than 20,000 independent titles from artists like Pow Wows, Bobkat '65, and The Mullens – Get Hip Recordings still manages to fly under the radar. Last summer, the independent record label and distributor became a fully functioning label, record store, and performance venue called Get Hip Records, on Columbus Avenue, in North Side. The new space has exposed the label to a new generation of listeners.
"When young people stop for the first time, they think that everything here happened in the last year," says Get Hip's vice president, Barbara Garcia-Bernardo. "It's like 'Oh, no this is huge! It's not something you build in just a couple of years!' Then they're like, 'Why don't I know about it?'"
Get Hip has maintained its hidden-gem status largely because owner Gregg Kostelich — Garcia-Bernardo's husband — is the lead guitarist in popular Pittsburgh garage band, The Cynics. Looking to release albums on the band's terms, Kostelich founded Get Hip in 1986, along with then-bandmates Michael Kastelic and Bill von Hagen. But running a business and band take up a large chunk of time, and some details fell by the wayside.
"We didn't have a whole lot of press [for Get Hip] because The Cynics were touring quite a lot," Garcia-Bernardo says. "[We would] release records, do promotion and sell them, and tour, then back in the same circle again."
Word of mouth and touring turned out to be the best means of promotion. Through The Cynics travels, Garcia-Bernardo was able to network in person and make connections around the world. That networking not only helped the band, but also the diversity of the record store's catalogue.
"Thanks to contacts we've made over the years, we get stuff from all over the world," Garcia-Bernardo says. "We do a lot of trading with Spain, England, Italy, California, and Canada and try to stay very active in the market."
One thing visitors won't find at the store is music from major labels — although there is some classic rock, blues, and jazz. Since Get Hip is an independent label, they try to match that ethos in their record selections.
But having a network of international friends, however, don't necessarily equate to a successful brick and mortar store. Like with any new business, the Get Hip store took time to gain traction. While the first few summer months last year were good because of the store's novelty, it wasn't until the start of this holiday season that business began picking up again.
Lately, Garcia-Bernardo says sales have been consistent and believes this is due to a combination of the time of year — many people from out of town that know The Cynics have come to visit the store — and performances and events held in the space.
"Business depends on what events we have going on," Garcia-Bernardo says.
Across from the Get Hip offices on the third floor— the record store is on the second floor — is a space that's been recently remodeled into a performance area, complete with stage and curtains.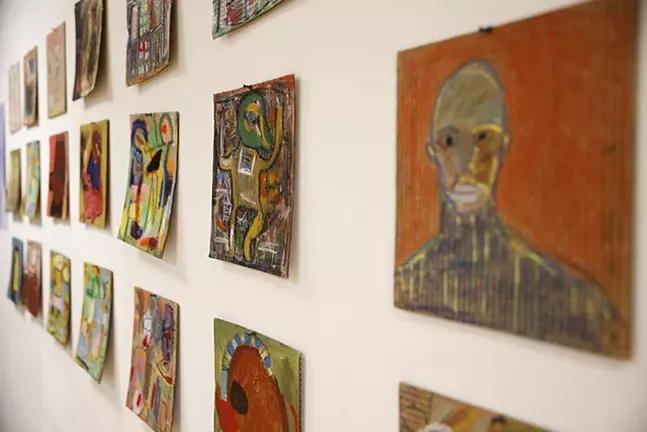 Currently, the walls are covered in artwork from Karl Mulen, whose exhibit debuted Nov. 23. Along with a constant rotation of art, there are usually about four to six shows a month, and Garcia-Bernardo holds yoga classes there three days a week.
Get Hip also hosts album release shows for Pittsburgh musicians, and is an advocate for local artists. Any band, of any genre or popularity, can sell their albums at the store.
"It's like a consignment deal," Garcia-Bernardo says. "We take very little markup on it, but we have the space and the tools, so we have it there."