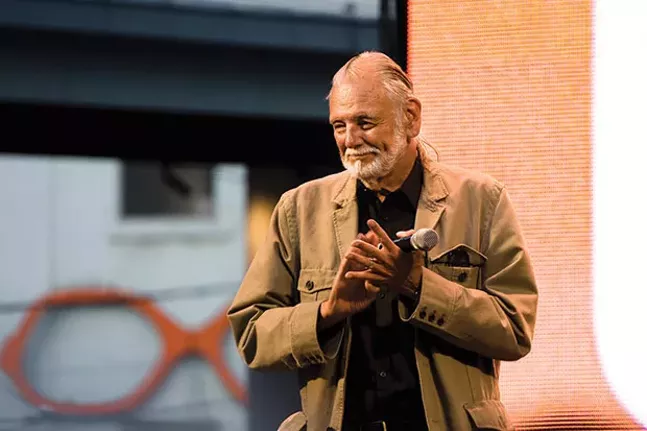 In 1968, when George Romero premiered Night of the Living Dead, nobody was making zombie movies, and nobody was shooting feature films in Pittsburgh.
That low-budget feature about humans battling a horde of undead flesh-eaters, itself mauled by critics, became a cult classic. Its 1978 sequel, Dawn of the Dead, was an even bigger hit, further ensconcing zombies as a cultural touchstone, and helping jumpstart Pittsburgh's film industry.
Romero, who died Sunday at 77, in Toronto, was born in the Bronx. In the late 1950s, he came to study at the Carnegie Institute, and would live and make films in Pittsburgh for decades. He began his career producing TV commercials, instructional films, and shorts for Mister Rogers' Neighborhood. NOLD, shot in Butler County, was his debut feature.
Author Kendall Phillips calls Romero a founding father of the modern horror film. To a tired genre he brought a "dark, nihilistic tone," a contemporary political sensibility, and a willingness to depict both brutality and physical decay in fresh ways, says Phillips. In Romero films, "The violence is very close, very immediate," says Phillips, a professor at New York's Syracuse University, and author of Dark Directions: Romero, Craven, Carpenter and the Modern Horror Film.
In the midst of the civil-rights era and the Vietnam War, NOLD's casting of African-American actor Duane Jones as the lead was revolutionary. And Romero re-imagined zombies, formerly an occult novelty, as undead versions of ourselves; Dawn of the Dead, with zombies attacking Monroeville Mall, famously doubled as a satire of mindless consumerism. "We all know we're going to die, so we're all the living dead," Adam Lowenstein, a University of Pittsburgh professor of English and film studies, recalls Romero once telling him.
Romero's early films gave many local cast and crew their first shot at feature films. John Rice, a Point Park University instructor and veteran independent filmmaker, was script assistant on DOD; the crew included special-effects wizard Tom Savini and Nick Mastandrea, now a top assistant director in Hollywood (TV's Westworld). Iconic local filmmaker Tony Buba worked on DOD and 1978's Martin, and says that by showcasing Pittsburgh's talent pool, such films helped launch a production boom here that included The Silence of the Lambs. Romero "really was the catalyst," says Buba.
Romero is widely remembered as gracious, gregarious and fun to work for. "He just happens to be one of the greatest guys ever," says John Amplas, a Point Park theater student when Romero cast him as the lead in Martin. Amplas, now a Point Park theater professor, also acted in 1981's Knightriders and 1982's Creepshow (on which Romero collaborated with Stephen King). Amplas says he's still friends with many of the other cast and crew: "That's what [Romero] gave us, I think. He gave us each other."