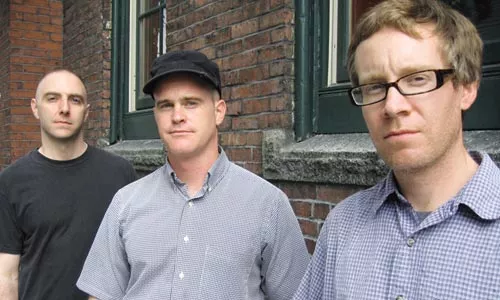 Geoff Farina's latest effort, Glorytellers, is understated, like much of his prior work, and even more melodically enticing. Initially conceived in 2005 on a cheap flamenco guitar in a secluded village in mountains of northeastern Italy, the finger-picked acoustic ballads simmer with flamenco flavor, the aroma drifting lightly, as if carried by a summer breeze, despite the songs' weighty themes.
After more than a decade leading jazzy post-rockers Karate -- and participating in lo-fi folk-pop duo Secret Stars -- Farina set out to create something different. So he forged a band around two acoustic guitars defining the chords together, with one picking the basslines, over lightly brushed drums.
Farina recorded three different versions of last year's 10-song self-titled debut before he discovered the sound he was seeking. "It was definitely easy to kind of go into the bass, drums and guitar mode, and do things in the style that Karate had done," Farina says. But "I didn't want to have a budget version of Karate when I was finished. That's why I really wanted to change the arrangements around. A lot of it was really exploration, and it was just seeing how the songs sounded with different instruments."
He put equal effort into the image-rich narratives, avoiding the sometimes oblique abstractions of Karate's early work. The folk-blues-styled songs range from the incipient disaster of "Exclusive Hurricanes" to "Awake at the Wheel," chronicling a wreck memorialized by the side of the road: "Fumes, fake pine, and paraffin, barbeque greens and hash / lucky for the weeds they don't breath oxygen and don't seem to mind the trash."
"There's definitely a lot of kind of darker themes, but at the same time I think they're very positive," Farina says. "Like 'Exclusive Hurricanes' is this metaphor for the hubris and entitlement that I see in American culture ... but the chorus is, here comes the storm to wash that all away. I want there to be this redemptive quality to the music. I feel [Glorytellers] is a very uplifting record even though it deals with a lot of themes that might be heavy."
The Glorytellers with Joe Lally. 9:30 p.m. Tue., June 2. Brillobox, 4101 Penn Ave., Bloomfield. $8. 412-621-4900 or www.brillobox.net