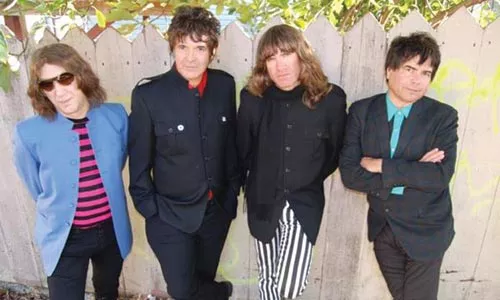 You've got to wonder if a band called Magic Christian deliberately named itself after the goofy 1969 flick of the same name, starring Peter Sellers, Ringo Starr and a pre-Monty Python John Cleese. I wouldn't put it past guitarist and garage-rocker extraordinaire Cyril Jordan, whom The Boston Phoenix once called "a man unstuck in time, like one of Kurt Vonnegut's protagonists."
Jordan was originally the leader of the Flamin' Groovies, a band that clung to its mid-'60s rock 'n' roll guns at a time when all of its Bay Area brethren like The Grateful Dead were freaking out on hippie culture. Jordan and frontman Roy Loney eventually pulled a reverse British invasion and packed up for England, finding a collaborator in Welsh pub-rocker Dave Edmunds, and some popularity on the continent. In 1976, the Groovies had a shot with the Edmunds-produced Shake Some Action, but despite newfound U.S. notoriety, their place in the burgeoning punk pantheon never materialized. Jordan wound up pushing a pathetic throwback version of the Groovies for years in Australian pubs.
Cut to 2008's South By Southwest festival in Austin, Texas, where a new band suddenly rose from the ashes of Jordan's long-thought-dead career: Magic Christian. A garage-punk supergroup in the real sense of the word, it includes Blondie drummer (and Rock and Roll Hall of Famer) Clem Burke and founding Plimsouls guitarist Eddie Munoz. New frontman Paul Kopf, who plays a little vibraphone on the side, seems like he was born for the part of garage-rock hero.
So if you're into bands like the Fleshtones or remember the Paisley Underground, Magic Christian's new album Evolver, on the Wizard's Den label (distributed by Pittsburgh-based Get Hip), could be your ticket to heaven. WFMU DJ Terre Thaemlitz thought so, upon hosting Magic Christian's live set on his "Cherry Blossom Clinic" radio show last week, spinning the Groovies' "High Flyin' Baby" (from its 1971 Teenage Head LP) a little while before the band revved up.
When it visits the 31st Street Pub on Thu., Jan. 29, along with originals like "Tomorrow Never Comes" and "Turn Up The Heat," the band might play choice covers from The Beatles or a more obscure '60s gem from the likes of The Easybeats. Then you'll really know it's time to get your groove on.
Magic Christian with The Cynics and Rainy Day Saints. 10 p.m. Thu., Jan. 29. 31st Street Pub, 3101 Penn Ave., Strip District. $10. 412-391-8334 or www.31stpub.com