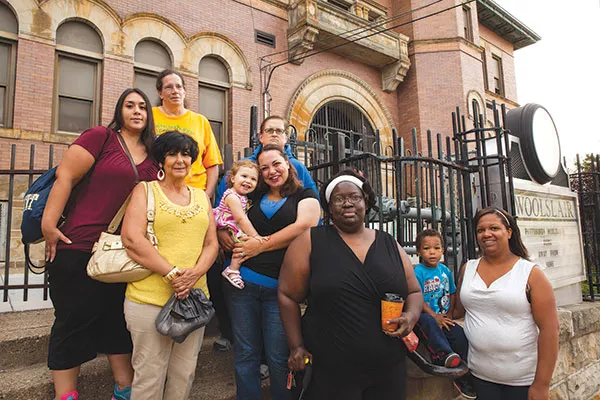 Woolslair elementary school parent Jaline Cunningham was an early supporter of a proposal to turn her child's school into a science, technology, engineering, arts and math magnet school — also known as a STEAM school. But after seeing the model employed in the South Fayette School District over the summer, she says the benefits of STEAM curriculum became even more apparent.
"I was originally like, 'Oh yeah, that would be nice,'" Cunningham says. "But when I saw it in action I realized my kids would be able to learn so much better."
Now the STEAM magnet proposal is being considered by Pittsburgh Public Schools administrators. Supporters believe it could be brought to the school board for a vote at this month's legislative meeting, on Sept. 23. But first the district must find funding to implement and sustain the model.
"Like every good idea, it costs," says Superintendent Linda Lane.
There are other factors to consider. The magnet proposal was originally created to attract more families to Woolslair; the school — which sits on the border Lawrenceville and Bloomfield — was  nearly closed last year due to poor enrollment. Some worry that while the school's student body could increase, it might shift enrollment issues to other district schools.
"If all we do is pull kids out of other Pittsburgh public schools, we've just moved the problem," Lane says. "But if we can attract kids [from outside the district] that would be a more positive thing."
According to the proposal submitted by a group of Woolslair parents and teachers, the STEAM model is an interdisciplinary approach to education that aims to help students understand how subjects "relate in the real world." Instead of relying on memorization and testing, the curriculum is project-based.
"One example is a project where children design a city. If you want to have a bridge, that would be engineering. When you do design to make it aesthetically pleasing, you're bringing in the arts," says Woolslair teacher Kathy Michelotti. "It's integrated, instead of isolated, skills because that's how we use skills in real life as adults."
Michelotti was among the parents and teachers who visited the nearby suburban South Fayette School District over the summer to see how teachers are using the STEAM model.
"They're actually planting gardens and measuring things," says Cunningham. "It's not like here, where the kids cut out the paper ruler and measure the picture of lettuce. They're actually pulling out the lettuce and measuring the roots of the lettuce. And that's an everyday part of their curriculum."
South Fayette doesn't have one STEAM-specific school, but has instead implemented the model throughout the district.
"This model is not just attractive; it is critical to advance our students' skills to keep them globally competitive," says South Fayette Superintendent Bille Rondinelli.
While Rondinelli provided anecdotal examples of how STEAM has contributed to achievement throughout his district, she says there's no way to know whether the model has increased enrollment there. However, Woolslair's STEAM supporters tout South Fayette's title as the fastest growing district in the state, according to the Pennsylvania Association of School Business Officials, as proof of the model's success.
"By bringing in STEAM we can draw families to Woolslair, but we can also bring more families into the district, so we can maybe even save the district," says Valerie Allman, another Woolslair parent.
"We're hoping it's going to increase our enrollment by drawing people back to Woolslair that maybe have made other choices, such as charter schools or maybe a different magnet program or private schools," Michelotti says.
In order to integrate STEAM education into the South Fayette district, Rondinelli sought funding from a variety of sources.