Listening to Funky Fly Project perform with your eyes closed, you would never guess that all the members are 19 or younger. They're polished, sounding like professionals years older.
But three years ago, when they first formed, the group was only able to play about five songs, which they would stretch out during performances.
Now, member Winton Bell says, "Only playing five songs [is] like, 'Oh, that's it? We can't play anymore?'"
The group went from performing during local break sessions to opening for established jazz acts like Kenny G., Gerald Albright, Dave Koz, Bob James, and Con Funk Shun.
Bell, 16, Henry Schultz, 16, Brandon Terry, 13, and Eric Dowdell Jr., 19, make up the band and play saxophone, keyboard, drums, and bass guitar, respectively.
While each of the members was introduced to jazz in different ways – Bell and Dowdell through their fathers, Terry through a lesson, and Schultz through the band– it was the energy of playing live jazz music that got them hooked.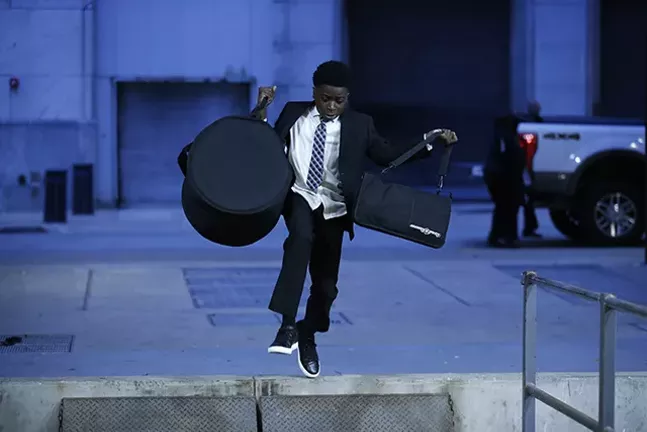 "Out of all the genres, jazz just felt free," Bell says. "I loved the way I could describe myself and paint a clearer picture of who I am through jazz."
"I've seen people react [when we start performing] and they get really excited when they see us play," Shultz says.
While talking to the boys in "momager" Melita Terry's pristine, white living room, they could have easily been mistaken for kids hanging out after school. Sitting on an L-shaped couch, dressed in t-shirts, ball shorts, joggers, and sneakers, the group cracked jokes and played on their phones. Even the band name, Funky Fly Project, is a joke.
"If there was a fly that didn't put some deodorant on, you might as well call it funky fly," Dowell started explaining, and the boys finished together, laughing.
The name wasn't their original choice, but during a gig, Bell was speaking to the audience and blanked on the name they had planned. Funky Fly was one of many they had come up with during band practice and it popped into his head on stage. So, the Funky Fly Project was born.
They may look like teens hanging out, but the boys rarely have time to do so. Music takes up most of their free time. Between solo practice, band practice, gigs, or simply listening to tunes, chill time is an anomaly.
"Balancing free time is hard," Schultz says, "but we get through it."
Bell says jazz is in his blood, but the genre is shaping all of them at an impressionable time in their lives. And it's only the beginning.
"It's our third year, and we just opened up for Kenny G.," says Terry. "Just imagine what we can do in the next three years if we stay together. Maybe he'll be opening for us. Or we'll be the first young jazz band to win a Grammy."
Funky Fly has a second album in the works, a follow-up to their debut, Déjà vu. The band says it's still in its early stages but should be coming out soon. Possibly called Déjà vu 2, the album will be an example of how much they've changed.
Bell says, "It will show people that we are growing, we are making some big waves, and we are possibly one of the best music scenes going on in Pittsburgh."