Afghanistan, the nearly forgotten first front in the "War on Terror," is still suffering from more distant wars, such as the Soviet invasion (1979-89). "Green parrots" -- air-dropped plastic winged landmines the size of cigarette packs -- have created "an army of maimed children," says Dr. Gino Strada. "And in my mind those are clear instances of terrorism."
Strada is the founder of Emergency, an Italian nonprofit agency that runs free hospitals for the victims of war and landmines in Afghanistan, Iraq, Sudan, Sierra Leone, Cambodia and Sri Lanka. Emergency USA, founded last year, is headed by Dr. Alberto Colombi, corporate medical director for PPG Industries here in Pittsburgh.
Strada will be in Pittsburgh in late October to christen the third shipment of new and rehabbed medical equipment being sent to Afghanistan by Emergency USA and Pittsburgh-based nonprofit Global Links. On Oct. 26, Strada will speak at a one-night Downtown exhibit of photographs from two of Emergency's three Afghanistan surgery centers, in the capital city of Kabul and in Anabah to the north, founded more than a decade ago. The photographs, some of which are below, were taken June 21-July 13 by Renee Rosensteel -- a South Side freelance photojournalist married to City Paper staffer Bill O'Driscoll.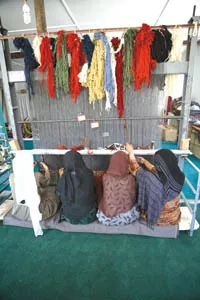 Says Strada, "There's no one day when we do not receive victims of landmines" -- seven or eight million of which still pollute the country. "We have case records of thousands of victims," 36 percent of whom are children under 14, more than double the percentage in other war-torn countries.
The ongoing U.S. military presence in Afghanistan is becoming increasingly hard on civilians, Strada says. The number of monthly admissions to Emergency surgical centers has doubled over the past year and a half: More than 350 people a month are admitted in Kabul alone.
While his group could always use donations, Strada adds, "I wish we could have a lot of medical personnel, but also engineers and architects ... to help us run these centers in the field.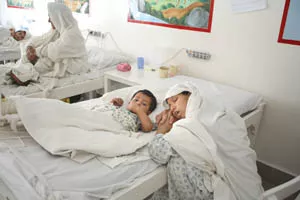 "The situation is getting more and more critical by the day," Strada says. "The vast majority of Afghans do not tolerate any more this huge foreign presence. ... If you compare today's Afghanistan with Afghanistan even under the Taliban regime, there are things that have happened that are new for the country," and disturbing for the populace. New social problems include sky-high prices and increases in HIV and AIDS, prostitution and crime.
"The countryside has been left mostly untouched by the war in terms of habits and social structure ... but not in [terms of] victims.
"Eighty to 90 percent of the victims are civilians -- kids and families destroyed," Strada says. "The war is increasing now by the day -- and it will be like that until the Afghans are left alone to decide their future."
Emergency: Afghanistan, 6-9 p.m., Thu., Oct. 26. SPACE Gallery, 812 Liberty Ave., Downtown. With dance performance by Tribe Taksim and Ishtar.