Butler County is rolling right now. Of all the counties touching Allegheny, it's the only one that's gaining population. If it weren't for our neighbors to the north we wouldn't have jeeps, the Brooklyn Bridge or our current zombie craze. Butler County is clearly asking what it can do for its country. It must have been inspired when John F. Kennedy made a stop at the courthouse in 1960.
The Jeep was developed by the Bantam Company in the early 1940s. John Roebling invented "wire rope" that he used to help construct the Smithfield Street Bridge, in Downtown Pittsburgh, and his more famous bridge in Brooklyn. Evans City was the genesis for our zombie obsession, as George Romero's Night of the Living Dead was famously shot there. It's also contributed to hair metal. The composer of "Unskinny Bop" and "Talk Dirty to Me," Bret Michaels, is a Butler county native. Butler has even produced a secretary of defense; William J. Perry ran that cabinet position under Bill Clinton.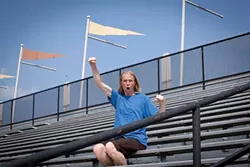 The breadth of athletic contributions is impressive as well. Pro wrestling technically isn't a real sport, but here in Pittsburgh it is. What would Andre the Giant have been without his rival, the late Big John Studd? That's right, Studd came from Butler. It's not necessarily a football factory like surrounding counties, but having Paul Posluszny is a nice feather in the cap. The Poz, as well as former Notre Dame golden boy and Pittsburgh Steeler Terry Hanratty, are native sons. So is former NFL coach of the year and College Football Hall of Famer Jim Haslett.
Butler County is now in the business of producing hockey players too. Last year's Big Ten Player of the Year and Big Ten Goaltender of the Year was Jake Hildebrand. The Michigan State Spartan is leading the way for future Butler hockey players. Even world-class swimmers, as you might expect, spent some time there. Harry Holiday, a world-record backstroke champion, and two-time Olympic silver medalist Eric Namensik swam in Butler County pools. Namensik passed away tragically young, at 35. But the county honors his accomplishments with a statue of him outside the Butler County YMCA. There are also well-known pugilists hailing from the north. Brian "The Beast" Minto fought 51 professional bouts in the heavyweight and cruiserweight divisions, winning 41.
As for baseball, Matt Clement, a World Series champ with the Red Sox, grew up in the county. So did former St. Louis Cardinals shortstop Khalil Greene and Neil Walker's brother-in-law Don Kelly. Kelly played high school ball at Mount Lebanon, but Butler County still can claim him. MLB umpire Jerry Meals was born in Butler County. His parents moved him to Ohio as a kid. That may be the reason Pirates fans don't like him. Or it could be the fact that he admitted blowing a call in the 19th inning of a game that was the longest in Bucco history. In 2011, Mike "Fort" McKenry clearly tagged out the Atlanta Braves' Julio Lugo three feet before he slid into home. Meals called him safe and enraged Pirate fans, who were suffering through their 19th consecutive losing season. That night in Atlanta seemed to mark the meltdown of the at-the-time surging Buccos and forced the Pirates to wait another year to punch their ticket out of Loserville. Pirates fans threatened Meals and his family; it was not the finest hour for anyone involved.
Butler even has a minor-league baseball team, the Butler Blue Sox. They are part of the Tri-state Collegiate Baseball League, and they play their games at Kelly Automotive Field. I can safely assume the seats are very cheap. So thank Butler County for its wide array of contributions. Check out Blue Sox baseball or visit beautiful Moraine State Park or downtown Butler. See the courthouse where JFK spoke, and downtown still has phone booths. It's like a staycation in a time machine.