Like that new-car smell, there is nothing quite like the prospect of novelty to engage the senses and create an air of excitement. So it is with Pittsburgh's fall dance season, when a wealth of new works, some new performance spaces, and a newly renamed company will entice area dance-goers to get out and see some live dance. Here is a chronological sampling of what's on tap:
On Sept. 26 and 27, the Pittsburgh Cultural Trust presents Luis Bravo's Forever Tango at the Byham. The award-winning show traces the story of the birth of tango in Argentina.
In October, Pearlann Porter's ever-growing Pillow Project embarks on what she describes as the company's "most ambitious project to date." The evening-length Twenty Eighty-Four (Oct. 9-25), at The Space Upstairs in Point Breeze, is a multimedia performance and installation with an Orwellian take on modern society.
On Oct. 10, the U.S. premiere of Ballet Maribor's Radio and Juliet kicks off the Pittsburgh International Festival of Firsts (collaborating with the Pittsburgh Dance Council), at the Byham Theater. Set to the music of Radiohead, Romanian choreographer Edward Clug's contemporary ballet takes a minimalist approach to Shakespeare's Romeo and Juliet. Also that weekend (Oct. 11-12), at South Side's Breathe Yoga Studio, LABCO Dance presents the 10th installment of its Black Box series, featuring new works by established and emerging local artists. On Oct. 14, Middle Eastern dance troupe Khafif Music and Dance performs as part of the Hot Ink Pittsburgh benefit, at the Byham; on Oct. 31, the company presents its Halloween Hafla at Your Inner Vagabond Coffeehouse and World Lounge, in Lawrenceville.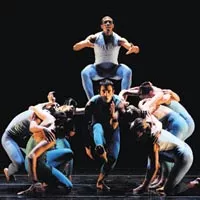 On Oct. 16-19, Point Park University's student dance company launches its new season with a new name, Conservatory Dance Company, and in a new space -- the university's George Roland White Performance Studio, Downtown -- with its annual Student Choreography Project. The company also performs the 2008 editions of its Pittsburgh Connections program (Nov. 14-23) and Doug Bentz's The Snow Queen (Dec. 12-21).
Pittsburgh Ballet Theatre opens its new season with the Pittsburgh premiere of a new production of The Great Gatsby (Oct. 31-Nov. 2) at the Benedum Center. Choreographed by Atlanta Ballet artistic director John McFall and resident choreographer Lauri Stallings, the production blends period settings and themes from F. Scott Fitzgerald's classic with contemporary ballet movement. PBT rounds out 2008 with its annual The Nutcracker (Dec. 12-27).
Attack Theatre takes audience participation to another level in [Insert Clever and Thought-Provoking Title Here], Oct. 31, Nov. 1 and 3 at the New Hazlett Theater. The program will give audience members the opportunity to design the performance they will watch from a selection of re-imagined Attack Theatre classics and new material.
On Nov. 1, the Pittsburgh Dance Council's slate of international troupes continues as Israel's Inbal Pinto presents its dreamlike contemporary dance work Shaker at the Byham. Over at the Kelly-Strayhorn Theater that weekend (Nov. 1-2), local Bodiography Contemporary Ballet present its annual Multiplicity production, this one featuring The Oakland Girls Choir. On Nov. 5, the Duquesne University Tamburitzans perform a free concert at the University's Student Union Ballroom.
In another Dance Council show, Doug Varone and Dancers present Alchemy/Mixed Repertory at the Byham; the Nov. 22 program includes Varone's new work "Daniel Variations," inspired by the words of slain journalist Daniel Pearl. The year's final big new show arrives Dec. 5-8, at the New Hazlett Theater, as Dance Alloy Theater reveals its Dirty Little Secrets, a program of repertory works including an encore of "Schakt," the masterwork of late Swedish choreographer Per Jonsson.