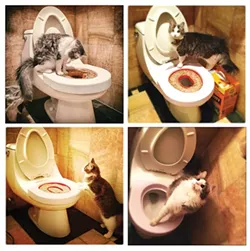 When Deanna Alko and her husband John Caldwell went looking for a cat, they needed a feline who could keep up with and adapt to life with their active dogs — a pair of giant water-loving Leonbergers named Medley and Anchor.
Their search took them to Animal Friends, in Emsworth, where they met a 5-month-old gray-and-white cat named Lars. The couple, who say they take their pets everywhere, happened to have their dogs with them, so the cat and dogs met on the spot; the introduction was slow, but went pretty smoothly.
"We needed a cat who was willing to be around these two big, loveable giants, and Lars seemed to fit the bill," Alko says. "After two weeks, there was total harmony."
But having a good temperament wasn't Lars' only attribute. He also came with a fearless spirit that allowed him to be up for anything. For example, Alko and Caldwell do a lot of water training with Melody and Anchor, and Lars, who walks with ease on a harness, would accompany them to the water. He had his own life jacket and mini surfboard and would often ride on the front of a kayak. But that got the couple wondering.
"We thought, 'Would he like swimming?'" Alko says. "So we just thought, 'Let's give it a try.'"
Intrigued by his carefree, daring nature, Deanna and John began investigating what type of animal Lars was. They would discover he was a Norwegian forest cat, a hearty breed of Norse cat that was often used to chase mice and rodents on Viking ships.
"It turns out they were Vikings who loved to swim and were very serious about their job," Alko says with laugh.
But Lars' amazing feats are not limited to the outdoors. Not a fan of the smell of cat litter or its often unfriendly effect on the environment, Alko says they decided to teach Lars how to use the toilet. Using a device called a "Litter Quitter," which sits on the toilet bowl and weans cats off litter, Lars was litter-free after several months. Now he goes to the bathroom — to do all of his business — without any special device.
"It did take awhile, almost nine months, but he got it," Alko says. "And, while they can learn how, no, we didn't teach him how to flush."