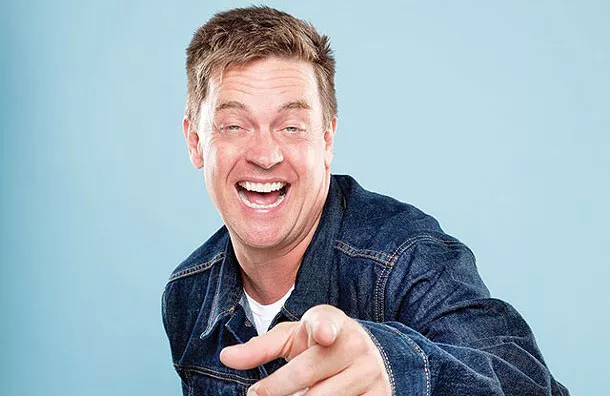 For Jim Breuer, it's all about passion. In a comedy landscape where performers are expected to be funny nonstop on multiple mediums, Breuer pulls gluts of material from everyday life.
"I try to touch on subjects that everyone is living with," says Breuer. "Whether it is mortality or taking care of family or elderly parents or someone dying or sickness. If I can make all that funny and make someone feel amazing when they go home, that's the best feeling in the world."
And Breuer has firsthand experience with one of life's most difficult hardships. His wife of 25 years, Dee Breuer, is battling stage 4 cancer, a major topic on their podcast
The Jim Breuer Podcast
.
"It's like a life warrior, marriage warrior type of thing where we try to be as real as possible," says Breuer. "[Dee] wanted to go on there to inspire others who go through cancer. She wants to help inspire people. So, we do our best to inspire people about relationships and our whole life journey and how she looks at life."
While topics like cancer aren't typical comic material, Breuer maintains a strong fanbase by making every passion in his life – his wife, his family, AC/DC, or even the New York Mets – into relatable comedy that makes fans laugh and helps them heal.
Catch Breuer's infectious enthusiasm tonight, opening for Metallica at PPG Paints Arena, or on Friday,
Oct. 19 at Carnegie of Homestead Music Hall
for his standup. Also, check out his new web series
Life on Tour
.
City Paper
caught up with Breuer to discuss his comedy, digital series, Metallica, and the Mets.
What is it like to be a Mets fan?
It's no different than being in love with an alcoholic. People constantly question why you're sticking around. And you go, "You don't understand! I love them, and I have known them for so long!" You go, "No, they're gonna get help, and they're just gonna be better." And then you fall for them, and you think they're going to get better, we feel good about life, and in July they're back in rehab.
So every trade deadline is that possible exit from rehab?
Yeah. You find them sprawled out in the gutter. "Stop filming this!"
Do you consider it a curse?
No. I don't believe in that at all. That's the dumbest thing I've heard. "Because I got up from the toilet, that's why the team lost."
That sounds very specific. Have you done that?
Oh. Everybody does it. Go to the bathroom. They start scoring runs, and now I can't leave the bathroom.
How much material do you think you would lose if the Mets were a good team?
[Laughs]
Well, there's always someone else to go after.
Is there more hustle involved in comedy these days?
Hustle. Yes. One-hundred percent. I came from the school of, "you try to get on television." So, you will do whatever you can to get on television. And you do whatever it is. Now we live in a world where there are 50 million funny [people]. There's funny Instagram people, Twitter people, comics. It's almost an oversaturation, which is good 'cause you need it. But someone like me always has to try to reinvent and give people awareness [of that]. People that follow me know, "He's a great standup. I love the stuff he's been doing the last 12 years." And then there are people who are like "Wasn't he the guy from
Saturday Night Live
like one-thousand years ago?" It's nonstop just doing what you love doing. Put your passion into it. And hopefully, you can relate to people.
Is that what gets you through it? Passion?
That's it. And that's what keeps me going. I want to control my destiny and what people think about me. And how do you do that? You be yourself.
How did you become friends with Metallica? Was there a specific member?
It was Lars. We met each other in the hallway of
Saturday Night Live
. So, it was over 20 years ago. And we hung out a lot, and I got to see the band a bunch and started becoming friends with the band. Me and James became very close, and our families grew up together. I was the only comic out there that would talk about hard rock and heavy metal. I never saw comics talking about it. They would see that. And they would ask me to do events with them. And this year they said [they] wanted to do something different. "No one comes to see any opening band anymore. How about creating a fun pre-party, like a crowd interactive thing? You know our fans. You know us. What do you say?" I said, "Oh, my god I'd love to do that!"
And so I go out and do about 20 minutes to a half hour of standup. And then every 10 minutes I would invent a lip-synching contest or a game show, I take people backstage. Bring people from the top [of the stadium] to the floor. We'd do a sing-along thing of old metal songs. It's a party until Metallica comes out.
How did that work the first time you did it since it seems mostly improvised? Did you rehearse it?
No! We just shot out of a cannon. You can't rehearse without an audience. So, you can rehearse it all you want, but once the crowd is in there, you don't know what they're going to like or not like. You're dealing with between eight and 15,000 people that are waiting for Metallica. And you are in the way.
So no one just comes to see you and leave for Metallica?
I'm going to say 100 percent no.
When you have such an improvised show, how difficult is it for the crew to set up?
[Evil Laugh]
It's nuts. It drives the director nuts. And the cameraman. This poor guy, literally just looks at me and says, "What are we doing now? I need to know where I'm dragging these wires." I definitely keep them on their toes 24/7. Sometimes I'll say, "You know what I want to get is a zoom in on the big screen on certain fans and just start talking about them." They're exhausted when I'm done. Last night, the Foo Fighters showed up to the Metallica show, and I went up to Dave Grohl and said "Dave, please. Can I do just a two-minute thing with you tonight?" And he's like, "Oh, man." And I say, "Come on!" "All right we'll do it." And then it's worth it cause you hear the crowd
[Roaring sound]
"We love this!"
How does your show differ from what you do with Metallica?
That is so much less stress, doing my own show. I know what to expect. And everyone paid to see me. With my crowd, I can sit. I can take my time. I can tell stories. I can drag them out in different directions. I can improv. I can do the stuff that I've been doing. That is my home. That's where I crush.
Metallica pre-party: Oct. 18, 7:30 p.m., PPG Paints Arena, 1001 Fifth Ave., Uptown. $90-138. ppgpaintsarena.com

Carnegie of Homestead Music Hall show: Oct. 19, 7 p.m., 510 E. 10th Ave., Munhall. $27-47. librarymusichall.com