The anthropomorphizing and demonizing of calendar years has grown in popularity since the dawn of Twitter. A recent thread on this phenomenon traced the "this year was really bad" tweet every year back to 2009, and it likely goes back way farther than that. It's not a stretch to assume that, as long as there have been celebrity deaths and media, December has incited in people an insatiable desire to catalogue and personify the previous 12 months. People talked about 2016 like the year personally voted for Trump and personally gave David Bowie cancer.
Having said all that: 2018 was not particularly fun. After around three years working full-time at
CP
, I've recognized that there really is no "normal" here and learned to just roll with "them punches," as they say. But man, 2018 was generous in the "punches" department. It was hard for our newsroom, it was hard for Pittsburgh, and it was hard for the country at large. Feel free to google it if you're in the dark. But at the same time, we did some work we're very proud of and would like to share it today.
I know that some of these self-curated end-of-year lists can be masturbatory and pointless, but then again, so is life. And to be honest, after this year, our writers earned these high fives.
Happy New Year.
— Alex Gordon, managing editor at
Pittsburgh City Paper
__
"Antwon Rose Jr. Was A Pittsburgher"
by Ryan Deto, senior writer
It was an embarrassing fumble when Mayor Peduto tried to assert the Antwon Rose shooting happened outside of Pittsburgh. If somebody walks the streets of the city, then they're a part of the city.
(Recommended by Hannah Lynn, staff writer)
"Funky Fly Project is growing up" by Jordan Snowden, staff writer
The Funky Fly Project is two of my favorite things wrapped into one: infuriatingly talented kids and jazz. These musicians, between the ages of 13 and 19, blew my mind when I first listened to them. Just like Jordan's writing, you can't tell that they're young. Transitions between solos are smooth, melodic variations are intricate and interesting. These aren't your average high school bandos.
(Recommended by Maggie Weaver, staff contributor)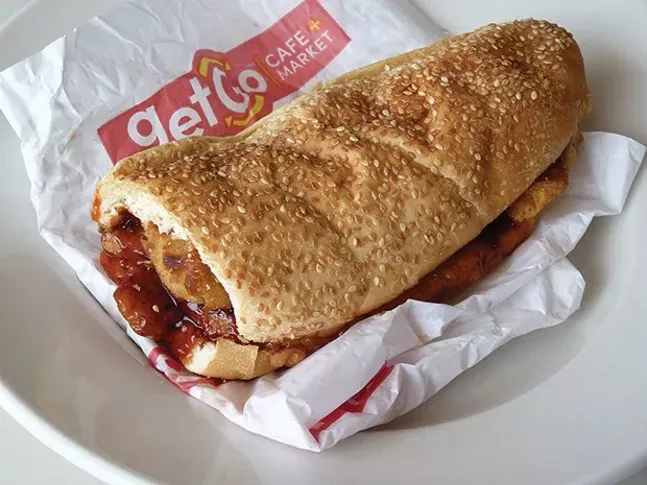 "The General"
by Hannah Lynn, staff writer
Hannah's food writing is a joy to read, funny yet critical in the right ways. This take on a Pittsburgh original, the General Tso's chicken sub from GetGo, made me laugh but also made me curious to try this bizarre concoction. Also it has the line "It's not 'Tso good,' but it is 'Tsokay.'" Which was true, as I also tried the General.
(Recommended by Ryan Deto)
"Area man, 31, gets driver's license"
by Alex Gordon
I passed my driver's test on the fifth try, so always feel a connection with other license mishap stories. This one has it all: hardship, DMV failures, perseverance, and glasses.
(Recommended by Hannah Lynn)
"Trans Rights Must be Protected"
by Jessie Sage, Peepshow Columnist
When Dan Savage told us earlier this year that he was pulling his column
Savage Love
from our paper without prior notice, our staff was heartbroken. But, we soon realized it was a blessing in disguise when it allowed us to bring on Pittsburgh sex worker and activist Jessie Sage.
Peepshow
, Jessie's sex and social-justice column, brings something to the table no other media outlet in town offers: brilliant commentary on taboo subjects from a local woman's perspective. Jessie has tackled porn, BDSM, politics, and has recently started answering readers' questions. But my favorite column of hers this year was a personal essay, writing from the heart about her trans son, and how important it is to continue to fight conservative politicians who want to take away the rights of our trans friends and neighbors. If you haven't read it, please do so and share. I couldn't be prouder to have Jessie in
Pittsburgh City Paper
and can't wait to see what she brings in 2019.
(Recommended by Lisa Cunningham, editor-in-chief)
"Millennials are killing tuna"
by Ryan Deto
There is no shortage of topics that get Ryan's blood boiling, but millennial-trashing is near the top of the list (please see his recommended national story on the next page). So when a rep from the locally-based tuna company StarKist told the
Wall Street Journal
that "a lot of millennials don't even own can openers" — and thus were hurting tuna business — Ryan jumped at the opportunity to bite back. He churned out an entertaining and informative piece about the tuna industry, including this delightful clarification: "there is not much data available on can-opener use." Also I'm proud of us for keeping the use of fish-related puns to a minimum.
(Recommended by Alex Gordon)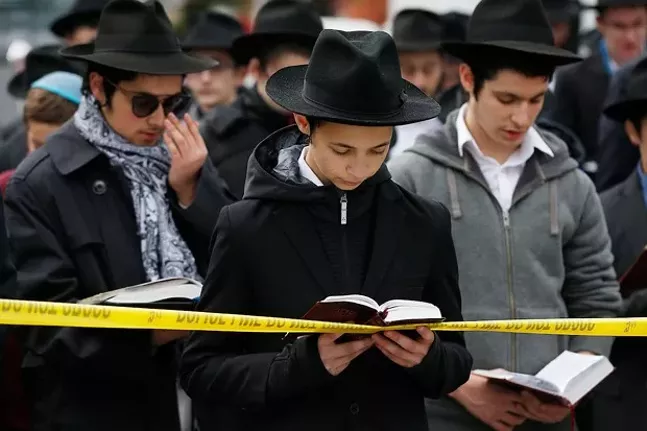 Jared Wickerham's coverage of the Tree of Life shooting
There was a lot of powerful coverage of this tragedy, including from our colleagues in other print and digital newsrooms here in Pittsburgh. There are too many stories here to mention, but I'd be remiss if I didn't highlight the work of
City Paper
's staff photographer Jared Wickerham. We've been thrilled with his work ethic and very proud of his photos since he joined us earlier in 2018. His coverage of the shooting was some of his, and our, best work all year.
(Recommended by Alex Gordon)
"December cover story: Benji."
by Jordan Snowden

Before submitting a draft, Jordan shared some of the highlights of her interview with Benji., how a serious rough patch in 2018 led him to create a wonderfully optimistic, infection album called Smile, You're Alive!" We thought it would likely be a popular story, but Jordan went far and above that. Her telling of Benji.'s story is cohesive, sympathetic, and insightful. It got me, and I think other readers, immediately hooked on his album and proud/excited to have this new voice in our city.
(Recommended by Alex Gordon)
"Midterms are over. Stop liking the winners so much, and start holding them accountable."
by Alex Gordon
As a political writer, it's so awesome when your coworkers come to your aid and tell a story with force and accuracy. Alex's essay about the work after voting does just that. It's a call to arms. Constituents must do more than just voting for a participatory democracy to function. Pressure works when Election day is years away. Alex messages this brilliantly, and includes a little dig at Beto O'Rouke, who is fine (ammirite?!), but not a political panacea.
(Recommended by Ryan Deto)
"Yelling at the side of the road with Gov. candidate Scott Wagner"
by Hannah Lynn
Gov. candidate Scott Wagner's campaign was bad. He never had any momentum and when he did attempt to get more press it almost always backfired. This culminated in his infamous video where he was going to "stomp all over [Gov. Tom Wolf's] face with golf spikes." Normally, this the kind of story I would jump on, but I was out of town (ironically driving past a Wagner billboard in Delaware). So, our writer Hannah stepped in and posted a story quickly and accurate with some great quotes from now Lt. Gov-elect. John Fetterman. It was a crazy story, and showed just how deep our bench is at
CP
.
(Recommended by Alex Gordon)
__
Go to the next page for four of
CP'
s favorite national stories from 2018.