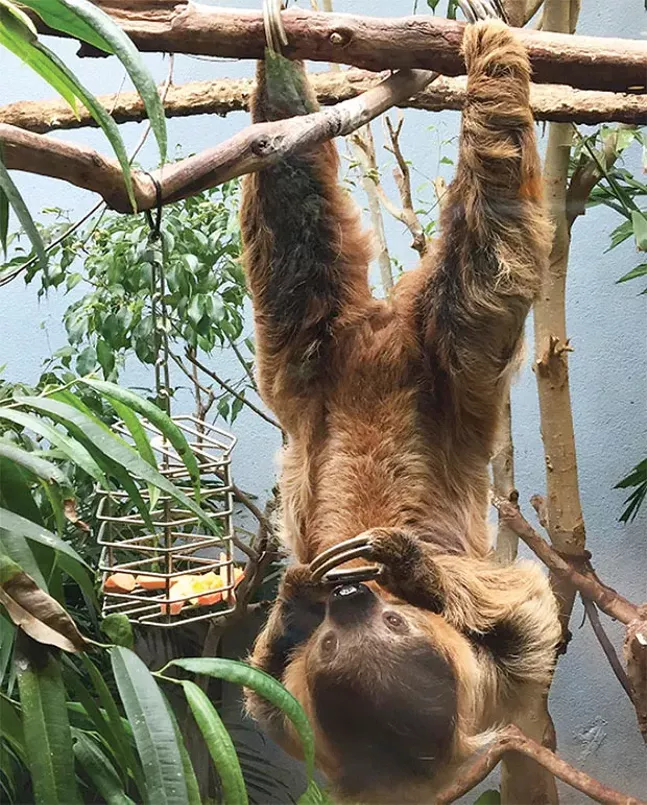 When the National Aviary announced its newest acquisition, a baby sloth named Vivien Leigh, the internet glommed on, prompted by articles titled "Please look at this new baby sloth named Vivien" and "Vivien Leigh, a Baby Sloth From Pittsburgh, Is Very Relatable to Me Personally." Vivien will be an educational ambassador for the zoo, a hook to teach visitors about the disappearance of her native rainforest. During a recent visit to the Aviary, I looked fondly at the sleeping Vivien and referred to her more than once as "my daughter."
Some researchers have argued such anthropomorphizing, or attributing human traits to animals, can help with education and relief efforts. Think of Smokey the Bear warning against wildfires. In theory, making animals relatable to humans induces empathy. Other researchers argue that an attempt at empathy can actually backfire, causing humans to misread signals on animals. A viral video of a slow loris getting tickled adorably prompted experts to note that that the human gesture of tickling is actually painful for the animal, and its reaction is a defense mechanism.
Two of the most famous recent zoo celebrities have come from the Cincinnati Zoo. In 2016, a Western lowland gorilla named Harambe was killed by zoo personnel after grabbing onto a child who had wandered into his enclosure. In the aftermath, the gorilla was co-opted into the most annoying meme of an especially garbage-fire year.
Later, the Cincinnati Zoo found a more positive star with a baby hippo named Fiona. After surviving a dangerously premature birth, she became an international sensation, with her own show on Facebook, fawning GIF listicles on Buzzfeed and a New York Times profile. While the public's love for this hippo is genuine, it is also a very successful PR stunt on behalf of the zoo. The facility had deleted its Twitter account after the Harambe incident, but its revived account now boasts over 214,000 followers. (Comparatively, the Pittsburgh Zoo has 48,000 followers.) One of Fiona's caretakers told the New York Times, "She absolutely knows she is a star" and "She loves the camera." Of course, this is a projection of what we think; Fiona surely has no concept of what a camera is.
It's debatable whether it's ethical to profit from the celebrity of animals in captivity, just as it's questionable whether zoos themselves are even ethical. But until we settle just how "human" animals are, I will continue to shed a tear at a clip of Vivien Leigh napping to a lullaby, or Fiona's destroying a pineapple at her first birthday celebration.