From masterworks by George Balanchine, William Forsythe and Jiří Kylián to an Indian dance festival and a Michael Jackson tribute show, fall's eclectic dance season is sure to satisfy most any dance-lover. Here's a sampling.
On Sept. 18, dancer/choreographer Jasmine Hearn joins a host of performers including 2015 Brazzy Award-winners Anna Thompson and Taylor Knight, of slowdanger, for Trans-Q Live, at The Andy Warhol Museum. This queer evening of performance includes dance, poetry, comedy and music. On Oct. 30 and 31, Hearn teams with fellow Pittsburgh dancer Jessica Marino and Philly's Ann-Marie Gover for us., an evening of solos and duets at Wood Street Galleries.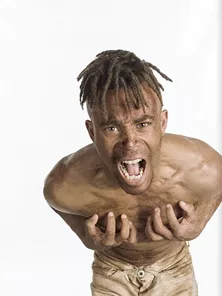 At the Kelly-Strayhorn Theater, the dance season opens Sept. 25 and 26 with the return of Columbus, Ohio's Baker & Tarpaga Dance Project in its latest dance-theater work, Declassified Memory Fragment. Danced to live music, the work is described as "an open letter on African society — its lifestyles, cultures, beauty, complexities and politics." On Oct. 9, slowdanger presents work-in-progress memory 4 at KST's Alloy Studios; the piece explores how memory decays and is redefined in each passing moment. Also at the Alloy Studios, on Oct. 16, Irish dancer/actor Luke Murphy returns to Pittsburgh for a work-in-progress showing of his latest, On Triumph and Trauma, inspired by 1916's failed Irish uprising against British rule.
Texture Contemporary Ballet's second offering of the season, Timescape, Sept. 25-27 at the New Hazlett Theater, features a reprise of company directors Alan Obuzor and Kelsey Bartman's "Infinity" (2012), along with a new ballet co-choreographed by Bartman and dancer Alexandra Tiso to the music of rockers Bastille. Point Park University's Conservatory Dance Company's Student Choreography Project returns to the George Rowland White Performance Studio on Oct. 1-3 and Nov. 13-22 for Contemporary Choreographers; the student company takes on works by Gregory Dolbashian, Ori Flomin, Jessica Hendricks and Septime Webre.
East meets West in the The Pittsburgh Cultural Trust's India in Focus festival. Festival dance performances begin at the Byham Theater with Pittsburgh Dance Council presentations of Nrityagram Dance Ensemble's Samyoga: An Ode to Love (Oct. 3), which explores the differences between the sexes' approach to love, and Aakash Odedra Company in Rising (Nov. 6), a collection of solo works created for Odedra by noted choreographers Akram Khan, Sidi Larbi Cherkaoui and Russell Maliphant. The Dance Council also welcomes Philadelphia's famed Philadanco (Oct. 9) and young guns Ailey II (Nov. 10) to the reopened August Wilson Center.
Michael Jackson is celebrated in King Michael: A Glorious Tribute to the King of Pop at The Hillman Center for Performing Arts, on Oct. 17. The show features Grammy Award-winning singers, Broadway dancers and urban acrobats. On Nov. 14, the Center presents the U.S. premiere of Montréal-based Cas Public in Symphonie Dramatique, a contemporary version of Shakespeare's Romeo and Juliet.
Pittsburgh Ballet Theatre opens another ambitious season with Mixed Repertory #1 featuring the PBT Orchestra, Oct. 23-25 at the Benedum Center. The don't-miss program showcases the company in a trio of masterworks: Balanchine's Americana ballet Western Symphony, Jiří Kylián's poetic Sinfonietta and William Forsythe's thrilling In the Middle Somewhat Elevated.
Closing out 2015, Attack Theatre celebrates the North Side with the world premiere of Remainder|Northside, Nov. 14-15 at the New Hazlett. The dance and live-music event culminates a year-long project involving creative input from North Side youth. Other late-season shows include: Bodiography and La Roche College presenting Maria Caruso's The Messiah, Nov. 20-21 at the Byham; dancer/choreographer Anthony Williams' full version of his Loving Black, at the New Hazlett, on Dec. 10; and Pittsburgh's Shana Simmons Dance joining forces with NYC's The Moving Architects on Dec. 5, at the Alloy Studios, for a split bill of new works.