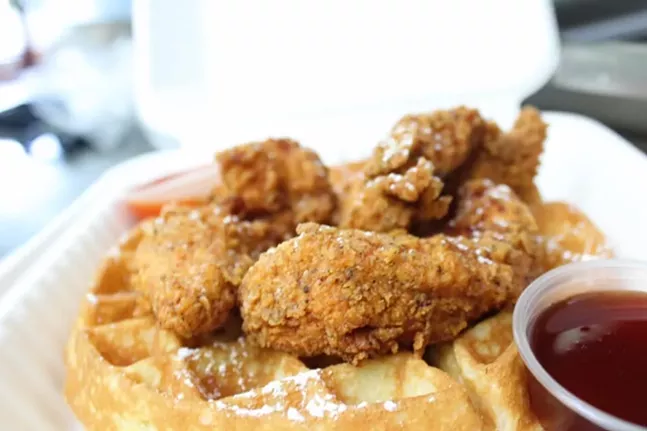 After four years of running one of Pittsburgh's most popular food trucks, The Coop Chicken and Waffles is settling down in North Side. In early 2020, The Coop will open a brick-and-mortar location at 401 E. Ohio St., in a space formerly occupied by Rita's Italian Ice.

Justin Fitzgerald and Nicki Cardilli, the married couple behind the successful food truck,
are aiming for an intimate space with six indoor seats and an outdoor patio during the summer, but takeout will be the primary focus.
The space, and for that matter the truck, was an unexpected choice for Cardilli and Fitzgerald, neither of whom are formally trained cooks. Prior to the food truck, their culinary experience was limited to cooking and baking for family gatherings. (Which hasn't been light work; Cardilli points out that she used to bake thousands of cookies at a time.)
Around the same time, the couple was brainstorming ideas for a new business, Fitzgerald spontaneously purchased a short retired school bus in Philadelphia. They took and tweaked recipes from Fitzgerald's Texas roots, developing a menu around fluffy waffles and crispy chicken. In 2016, they were ready to get rolling.
"Each year, we get busier and busier and can't handle the amount of work that there is," says Cardilli. "We opened the truck first to see if it was viable. I think – about a year and a half to two years in – we realized that things were getting out of control."
But even with a supportive and growing market, the two were never looking to open a big restaurant and the cozy East Ohio St. space felt like a perfect fit. The space, barely bigger than a food truck, was something Cardilli and Fitzgerald knew they could handle.
Cardilli and Fitzgerald's brick-and-mortar menu will feature the same items found on the truck: tenders, wings, waffles, eggs, and dessert waffles, though they're adding on plenty of new items. "You can't do much on a truck," Cardilli points out.
Now, with a full kitchen, they'll be able to offer all the parts of a chicken — dark meat, meat with the bones — all marinated, breaded, and fried with the same recipes. Their chef is creating a sandwich, a few sides (including hash browns and mac-and-cheese), and a salad. They also plan to offer an affordable family option for North Siders, including 10 pieces of chicken and large sides.
As of right now, the shop is slated to open in early-to-mid January. Currently, Cardilli and Fitzgerald are building out the kitchen — "it was just freezers," laughs Cardilli — with assistance from their landlords, owners of the East Ohio St. bakery Priory Fine Pastries.
The Coop will first open with limited hours: five days a week, including Sundays. As the weather gets warmer, Cardilli predicts they'll extend that schedule. The duo plans to keep the truck operating on a reduced schedule.
"We are so thankful for all the people who tried us out at the beginning," says Cardilli. "Now, three years later, the same people are still coming. I think [the restaurant] is going to be a positive thing, for us and for the community."