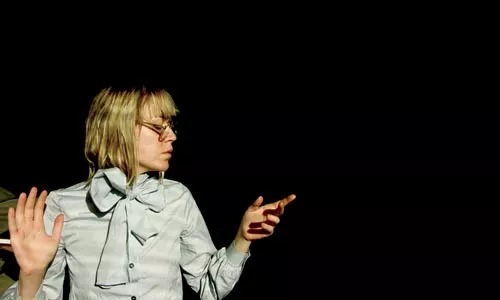 Modernist poet Djuna Barnes made a career penning both poetry and a brand of journalism that was a precursor to the "new journalism" of the 1960s. Yet she never quite achieved the notoriety of friends and contemporaries such as T.S. Eliot and James Joyce -- perhaps intentionally, as Barnes refused to package much of her writing for mass publication.
It's fitting then, that early in her debut album, Frida Hyvönen cries out to Barnes for counsel. Much like Barnes, Hyvönen likes to toy with the boundaries of her form and interrogate love and sexuality; if success follows -- and it very well may -- that's a pleasant afterthought. While Hyvönen has yet to find the level of success that her friends and fellow Swedes The Concretes and Jens Lekman have managed, it's hard to imagine that's any bother to her.
Until Death Comes, Hyvönen's first album, reached the States last October on the Secretly Canadian imprint. Its flurry of simple piano-and-vocals pop tunes give context to broody and ambivalent lyricism; Hyvönen's voice and pop sensibility recall Joni Mitchell more than anything, but her raw poetry and penchant for word games situate her as a figure more bookish than folky. Hyvönen deftly negotiates a practically bipolar take on love that's instantly familiar while at times discomfiting -- for example, when she sings, "Once I felt your cock against my thigh" in the song "Once I Was a Serene Teenage Child."
Her next step is a series of recordings called "Frida Hyvönen Gives You," featuring more experimental material. She's backed by a small orchestra on the first in the series, Music From the Dance Performance "Pudel," written as a live accompaniment for dance.
Frida Hyvönen, opening for Under Byen. 8 p.m. Fri., March 9. The Andy Warhol Museum, 117 Sandusky St., North Side. $12. 412-237-8300 or www.warhol.org