A new sushi restaurant is bringing fresh fish and Asian fusion to East Liberty.
In the midst of holiday pandemonium, Mola held its first nights of service. The restaurant is named after the Ocean Sunfish, Mola mola, a magnificently cartoonish creature, fit with a bullet-shaped body and disproportional fins. Mola mola lives in both temperate and tropical seas, an omnivore mindset that mirrors Mola's exploratory menu.
Mola describes itself as "a blend of Asian flavors and taste." While the menu sports Asian classics, such as edamame, bao buns, and poke bowls, there are some outliers. Steamed PEI mussels appear with the small plates; steak, guacamole, and roasted jalapeño grace the list of hand rolls; and vegetarians are treated with ahimi, ahi without the tuna (a substitute made from tomato).
Inside, a similar aesthetic follows. The front is filled with low, glossy tables and over-cushioned chairs, furnishings fit for an ornamented hotel lobby. Two perplexingly rustic high-tops stick out in the back, topped with jagged wooden planks.
Even with only a week and half of service under their belt, Mola was fairly crowded for a Tuesday night. Two servers flitted between tables, reciting the features, hopping behind the bar, and playing host. I surveyed the menu carefully and decided on a few items to share: two handrolls (spicy salmon and yellowtail with a roasted jalapeño), a pork belly bao, and the Mola tuna poke.
Before the sushi arrived, I was warned that it would be "different." Mola features hand rolls that were meant to be picked up like a miniature, open-ended burrito. So, I threw chopsticks aside and dove in.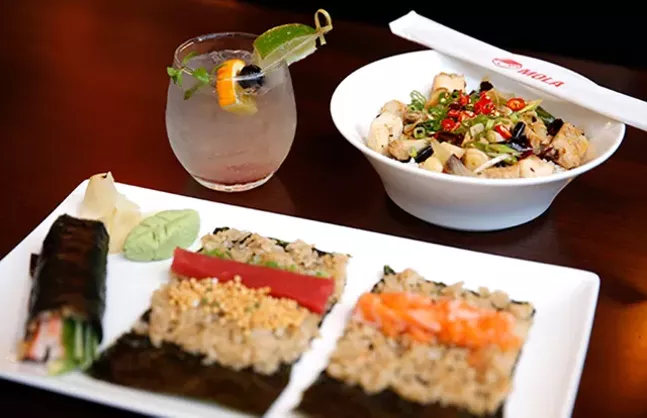 Out of the two rolls, spicy salmon was the best. The fish was not minced. Instead, it was a poke-style cut. Spice was scattered on top of the meat, rolled in nori with rice and a creamy sauce. The nori was the most surprising. It was thin and crispy, so frail it almost flaked off the roll.
My poke bowl was made up of tuna, seaweed salad, guacamole, and sesame seeds, served over rice. It was strikingly basic. No heavy-handed portions of toppings and sauces. The raw flavors intertwined to reach stunning harmony, simplicity allowing flavors to shine.
Fresh fish is one of the restaurant's specialties, flown in every two days from New York. The freshness was immediately clear. Nothing I tasted had any trace of a salty, oceanic taste or faded color. It was vibrant and remarkably delicious.
The pork belly bao was a spot-on triumph. Steamed bread, filled like a taco, maintained a thin skin outside a fluffy, melt-in-my-mouth bread. It was slightly sweet, balancing out with pickled cucumber. Crunchy peanuts dusted the top of the pork, the belly tender and juicy. It finished with a tang of cilantro.
Mola is bringing fresh, Asian flavors to a thriving landscape of restaurants in East Liberty.
Favorite Features

1. Electronic soundtrack: Music sets the mood of any meal and Mola does not hold back. DJ-generated house beats fill the room. The bass thumps filled the otherwise quiet restaurant with a lively soundtrack.

2. Exposed lighting: In the dining room, strings of exposed lights hang from the ceiling. The effect was quite … cool. Did it fit with the rest of the decor? Not really. But it fit with Mola's vibe.

3. Pre-dinner bread: Continuing the mash-up of cuisines, servers deliver two small rolls of crusty bread to the table after ordering. It's a fascinating blend of culinary traditions, finding warm, French-inspired loaves at a sushi restaurant.