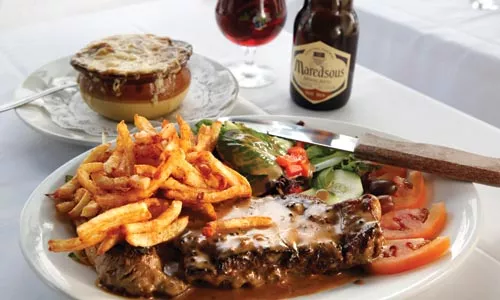 5863 Ellsworth Ave., Shadyside.
412-363-3090 or www.brasserie33.com
Hours: Mon.-Sat. 11:30 a.m.-close
Prices: Appetizers $8-15; entrees $14-29
Wine list
With the blockbuster publication of Julia Child's Mastering the Art of French Cooking in 1961, French cuisine became synonymous with fine dining at American tables. Although many of the dishes that came to be regarded as haute, such as bouillabaise and beef bourguignon, actually originated as humble peasant fare, our culinary Francophilia sent us spinning in a sort of virtuous circle: As a generation raised on meat and potatoes set about procuring 25 ingredients and simmering them in complex sauces all day, cooks actually became more estranged from French cuisine as an accessible, everyday way of eating.
In French brasseries, the art of simple, satisfying French cooking does not need to be re-mastered. The food is unpretentious, but not dumbed down -- or, as Jason puts it, it's what you get with your beer when the proprietor has more to offer than jalapeño poppers. Oh, and when your beer is wine.
Ironically, it's taken the near-demise of fine French dining for this sort of establishment to really take hold in the States. Perhaps the aura of refinement hindered the acceptance of simpler French dishes, or perhaps the rise of more casual American cuisine opened the door for less pedigreed French food. Regardless, the proprietor of one of Pittsburgh's best tapas restaurants, La Casa, has now opened a classic French brasserie just across Ellsworth Avenue.
Brasserie 33 is located in what we consider to be one of the city's most attractive restaurant spaces, whose room-length bank of plate-glass windows means every table has a window seat. The combination of candlelight within and snow eddying in the glow of the streetlamps without was intoxicating -- even before any wine was poured. An L-shaped bar dominates the entry, and as evening turned into night, we watched the restaurant's center of gravity tacitly move from table seating to barstools.
In the meantime, we perused a menu that made us want to say, simply, "Oui." The appetizers offered a greatest-hits collection of French food, from escargot and charcuterie to rillettes of rabbit (a sort of coarse pate) and Roquefort flan. This last one tantalized us with its suggestion of an enriched, pungent yet creamy cheese dish that would melt in our mouths. Instead, we got a custard that was rich, creamy and mild, with little tangy bleu cheese flavor.
Escargot consisted of a half-dozen morsels of tender snail flesh in pools of melted butter, heavily -- but not excessively -- flavored with garlic and parsley. On crusty bread, these were a salty, savory, herbal indulgence. Poached prawns with "spicy" aioli were served cold, like a shrimp cocktail; there wasn't much heat in the mayonnaise, but its richness was a good foil to the firm, succulent shrimp. Cocktail shrimp tend to be all too tender, even mushy, but Brasserie 33 makes sure to remind you that this is meat, and its shrimp are worth eating plain.
Salade Lyonnaise was a glorious combination of chopped frisee lettuce topped with bacon, croutons, Dijon vinaigrette and a poached egg. The flavors and textures played perfectly off one another: The richness of the eggs and salty, savory bacon countered the bitterness of the greens; the dressing coating every spindly bit of frisee with notes both creamy and bright; and the croutons providing occasional respites of brittle crunch. This was a superb, well-rounded dinner salad that did not resort to a pantryful of hearty ingredients.
When our entrees arrived, our server described them as classic French food in American portions. We hate to complain about too much of a good thing, but the steak frites revealed the flaw in this strategy: the steak, a hefty cut of New York strip, wasn't as tender as it could have been, presumably a victim of the conflicting demands of a large steak and brasserie kitchen. It was by no means a bad cut of beef, but many actual French brasseries rely on a smaller cut with better results. That said, the potato frites were glorious, thin, crisp, tender within and flavorful.
A dining companion's pork chop was also a bit oversized, but well cooked, and served in a wonderful, hearty mustard sauce with chunks of cornichon, the miniature pickle that accompanies French charcuterie platters. It was an unfamiliar yet accessible preparation that embodied the essence of the brasserie experience.
Angelique's coq au vin was more venerable, but no more pretentious. This method of tenderizing an old rooster with plenty of red wine results in a depth of flavor that rivals that of beef. Stewed with potatoes, carrots and mushrooms, this was a satisfying way to dispatch half of a chicken that we suspect was not so advanced in age.
Duck is rare enough on American menus that we expect to see it only from kitchens that prepare it well. But Jason's duck in currant sauce had skin that was mostly flabby, with plenty of fat on the breast portion, and a flavor that tended toward the gamy side of intense. A side of gratin potatoes tasted subtly of cream and cheese, just enough to inform the thin layers of potato without overwhelming their own flavor.
Dessert, as one might hope from the land of pastry, was a resounding success. Chocolate parfait was dense and packed with cocoa flavor, while the lemon tart was puckery, its tartness offset with a few puffs of whipped cream, and its crust firm yet tender.
Brasserie 33's simple, straightforward menu, combined with a casually refined atmosphere and excellent, French-inflected service, brings something new, yet classic, to the Pittsburgh dining scene.