The day after President Trump's inauguration in January 2017, Allison Butka and Joyce Swope joined hundreds of thousands of protesters in Washington, D.C. for the Women's March on Washington, carrying a bag of T-shirts with "The whole world is watching" printed on them.
"We were just really pissed off," says Butka, "and we wanted to do something."
They gave the shirts away to fellow marchers and though they included no logo or branding, it was the first official shirt produced by Etna Print Circus, the screen-printing shop the couple runs out of their 20-by-22 foot garage.
Two years later, their business has grown enough to allow Butka to quit their full-time job last September, and Swope has reduced her hours to one day a week, so both can put all of their energy into the print shop.
Swope grew up in Swissvale and Butka is originally from Washington, D.C. Both identify as queer — their products are now branded with "Printed by Flaming Queers at Etna Print Circus" — and Butka is trans. The two embrace and celebrate both their LGBTQ and Pittsburgh identities in their products.
The shop's most popular selling design — "by far," says Swope — is a shirt that says, "Yinz is a gender neutral pronoun." It's part of their Pride line that include tees printed with "Queer," "Pro Homo," and "Fat, Gay, & in the Way."
"The more we do and the more we learn, we found how much identity statements resonate with people, and that was kind of a pleasant surprise," says Butka.
Swope is the artist, and the quieter of the two. She creates the graphics and screen prints the shirts seen on this week's cover as she speaks; holding a squeegee with both hands, pulling it back and forth, transferring the ink to the fabric. Butka is the one with an eye for type, the voice on social media, and the one who's prone to breaking out in excited laughter as they speak about how far the business has come over the past few years.
The couple live and work together in Etna, a borough ten minutes from Downtown Pittsburgh on the other side of the Allegheny River. They were unsure, at first, how their new neighbors would react to them when they first purchased their house in 2015.
"We didn't know what to expect because we are loud, and we are not subtle," Butka says. One of their tees, they add, even has "Not Subtle" spelled out in huge capital letters on top of brightly colored tie dye.
But something happened that surprised them. Without advertising their services, the borough invited them to participate in the neighborhood's art tour. They say they had a moment where they had to ask, "Have you been to our website? Have you seen what we're about?" To their relief, they were told, "Yeah, we all think it's great."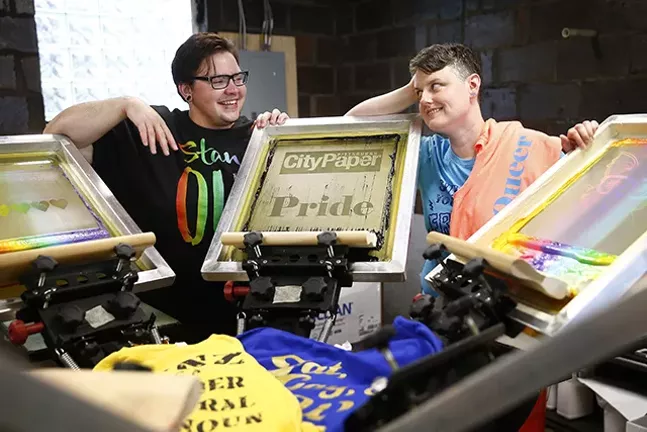 The borough has since hired them to print signs and tees. They also recently printed political campaign shirts for their neighbor Jessica Semler, who just won the Democratic primary ticket for an Etna Borough Council seat.
"We learned a really valuable lesson that all it takes is an invitation, that gesture of reaching out to say, 'I see you. I want to know what you have to say.' There's something really special about that," says Butka.
Owning a business also allows them to turn down jobs that aren't a good fit, something both say is important to them. Since handing out shirts at the Women's March, they've continued to brainstorm ways they can make a difference.
It's the inspiration behind their Sevenfold Series, where they spend $100 on materials for a shirt and donate the first $700 in profits to a charity. After Melania Trump wore a jacket that said, "I really don't care. Do u?", Etna Print Circus printed 28 shirts reading "I really do care. Do u?" and sold them all in four days, raising $700 for RAICES, an organization offering free and low-cost legal services to immigrants and refugees.
There are more on the way. In their garage, among cans of ink and piles of printed shirts, sits a screen waiting to become one of the next Sevenfold prints: "Vaccinated."
"It's been a goal of mine forever to help the community in some way," says Swope.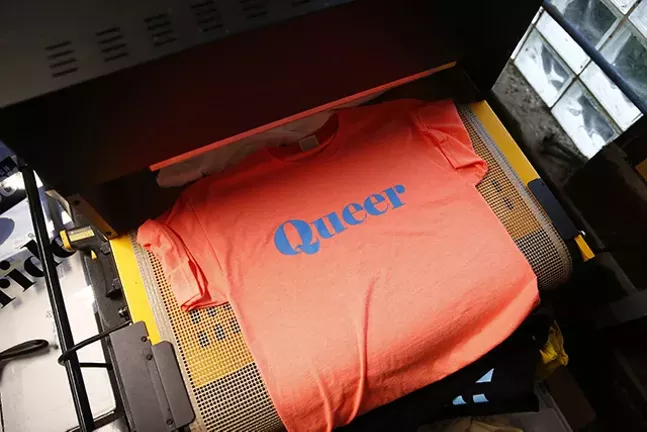 This summer, they'll be selling their merchandise at the Downtown Night Market in Market Square; this week, they'll be there on Friday night and on Saturday nights the rest of the season. Later this summer, they'll be vending at Anthrocon for the first time. Neither wear fursuits, but they're both part of the furry community, and Butka brags about Swope's skills at drawing animals.
Other future plans for the business include adding even more graphic services, like commissioned logos and illustrations. But, they say, they're happy in Etna, and everything they talk about still has roots in Pittsburgh. Their dream client? Rick Sebak. And while independent stores like Wildcard in Lawrenceville currently sell some of their shirts, Swope says she really wants people to be able to buy their products at places like the Heinz History Center too.
"I never thought, growing up, I wanted to be invested in the community," Butka says. "I like privacy and independence. I like being able to do what I want. But I also really like, as it turns out, knowing my neighbors and the cool things going around us."