Famed abolitionist Frederick Douglass once said: "Knowledge makes a man unfit to be a slave."
That guiding principle helped power America's abolitionist movement and continues to energize today's fight for racial equality. With that doctrine in mind, a new media company focusing on social justice is forming with a Pittsburgh professor at the helm.
The North Star, first published by Douglass in 1847, has been revived as a modern media company. Its mission is to be "unapologetic freedom fighters" in the vein of modern-day versions of Douglass. By educating its audience on the struggles of racial inequality, it hopes to help society progress toward a more equal future.
The company is backed by social-justice activist Shaun King and progressive organizer Benjamin Dixon. The North Star has already surpassed its 25,000-member goal in order to launch the site. University of Pittsburgh professor and well-known historian Keisha Blain will be the company's editor-in-chief.
Blain specializes in African-American history, the African Diaspora, and Women's and Gender Studies. She believes The North Star should take strong stances in the name of social justice, and that the media company will tackle several topics it wishes to see advanced, like income inequality between white and Black Americans.
"The North Star will play a central role in shining the light on inequality in various cities across the United States. Pittsburgh will certainly not be overlooked," says Blain. "We anticipate featuring pieces that help readers develop a better understanding of racial inequality in the city; and we will also emphasize some of the strategies for addressing this problem."
The new publication pays homage to the original newspaper. Douglass started the paper to spread the abolitionist message as far as he could, helping to guide as many slaves to freedom as possible. It was named after the North Star, aka Polaris, which guided Black slaves to freedom, lighting their way to cities like Pittsburgh and the nation's free states.
The original paper's slogan was "Right is of no Sex—Truth is of no Color—God is the Father of us all, and we are all Brethren." King wrote in a Medium post that he received the blessing of the Douglass family before launching his campaign.
And King has high hopes for Blain. "[We] believe that no single person in the world is better suited to lead us where we are going in the weeks, months, and years ahead," wrote King.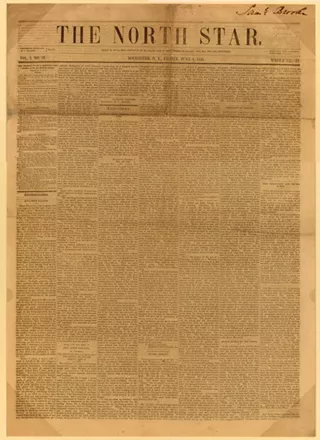 Blain is an expert in the history of racial violence in the U.S. She helped spark a recent Twitter movement around the hashtag #Charlestonsyllabus, which crowdsourced reading recommendations related to racial violence. The movement eventually culminated in a book, which Blain co-edited with Chad Williams and Kidada E. Williams.
Pitt history professor and Blain's colleague Laurence Glasco also expects great things to come out of The North Star thanks to Blain. He says she is one of the most distinguished young historians writing today.
"She is deeply concerned with history that speaks to the present in a way that will lead to a better, more just future," says Glasco. "Any journal that secures her presence is most fortunate."
Blain intends to remain on faculty at Pitt while she edits The North Star. She hopes to gain a national and local audience of writers, activists, and educators who will "view The North Star as a crucial platform for addressing inequality and other injustices in the city and beyond." Blain says continuing to teach courses and study history will only help her in her new role.
"In the fall, I am teaching a course on the civil rights movement; and another on Black women and internationalist politics," says Blain. "Both courses will have a nice synergy with the kinds of content we're planning to produce at The North Star — pieces that center the experiences of marginalized groups and also highlight key national and international developments."
As The North Star grows, the media company hopes to create podcasts, an app, and a news broadcast. The endeavor has raised enough money to hire 12 staff positions. The news website is set to launch sometime in mid February.