Point Park University is taking over the city. It's the biggest new investor in Downtown, and its urban growth includes new offices, dorms and a journalism center. Its contributions to the performing arts have been felt on Broadway and in Hollywood, from former Saturday Night Live "Weekend Update" anchor Dennis Miller to Tony- and Emmy-winning choreographer Rob Ashford. Actress Tammy Felice (Jack Reacher), director Jim Martin (an Emmy-winner for Sesame Street) and dancer Neil Haskell (Altar Boyz) all have roamed the halls of Point Park with many other actors and actresses who perform on Broadway. And while basketball coach Bob Rager, is closing in on 400 career wins, it's baseball that dominates Point Park's well-known sports alumni. Here are four of note.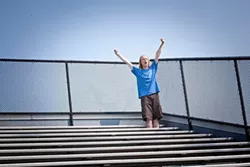 Greg Brown. The Pirates' play-by-play announcer since 1994, Brown started at the bottom with the team — he was the backup Pirate Parrot. Being the understudy to a sports mascot doesn't usually put you on the fast track to the top of any organization, but Brown persevered. He announced Buffalo Bisons games when they were the Pirates' AAA affiliate, and he was also the Pirates' public-address announcer. His trademark catchphrase is "Raise the Jolly Roger," although for the first 19 years of his job, he never said it more than 79 times in a season. Brown was hired in 1994, which is akin to getting a stockbroker job in 1930: Both happened the year after the crash. But his suffering ceased in 2013, and nobody could've been happier. There are a lot of diehard Bucs fans, but Brown was there for every excruciating inning. Brown's sometimes overly enthusiastic calls are a reason why baseball is so great on the radio.
Don Kelly. Butler-born, educated in Mount Lebanon and at Point Park, and he's the brother-in-law of Neil Walker; that's pretty Pittsburgh right there. Versatility is now one of baseball's most sought-after abilities, and nobody has been more versatile than Don Kelly. He has played all nine positions, including pitcher, in the majors. No other active player can make that claim. Kelly, now with the Miami Marlins, is in his ninth big-league season. He's hit .265 in the postseason and played in the World Series with Detroit in 2012.
John Stuper. He went from Point Park to Yale. Stuper is the manager of the Yale baseball team and has been there for 22 years. The former Pioneer spent four years in the majors and made the most of it. As a rookie, he threw a complete-game win over the Milwaukee Brewers in game six of the 1982 World Series. (St. Louis won the next game, and the Brewers haven't been back to the World Series since.) Stuper compiled a respectable 32-28 record in three years with the Cards and a year in Cincinnati.
Bobby Madritsch. A Native American from Illinois, Madritsch's path to the majors somehow went through Pittsburgh and Point Park. He played parts of two seasons as a pitcher for the Seattle Mariners, in 2004 and 2005. He had 10 big-league decisions and won six of them. Four years' worth of injuries took him on a path out of baseball, but at least he made it to The Show.
Point Park is hot right now: Cross-country, soccer, volleyball and golf are all going on in September. The upstart city underdog's games are still cheaper than the bigger colleges in town. For that alone, they receive our endorsement.