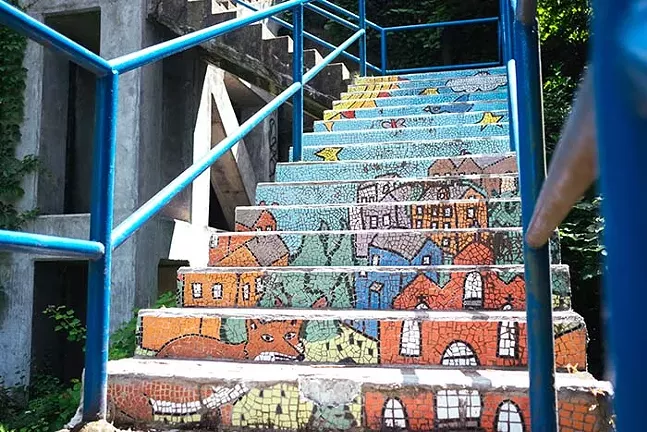 No other American city has as many public staircases as Pittsburgh. The city has more than 800
sets of steps
, numbering more than 45,000 individuals stairs. But ... are they art?
The answer will be a definitive "yes" for at least four Pittsburgh neighborhoods this fall. The
public steps
of the West End, Troy Hill, Polish Hill, and Fineview in the North Side are getting a makeover as part of "Steps We Take," a 10-day celebration of Pittsburgh's steps spearheaded by nonprofit Bike Pittsburgh and the Greater Pittsburgh Arts Council's
Office of Public Art
(OPA). The groups announced Monday that they had selected the artists who will team up with four Pittsburgh community groups to turn public staircases in their neighborhoods into (temporary) art.
Fashion designer Bradford Mumpower will work with the West End Community Group to turn the West End's steps into fashion runways. Artists Danny Bracken and Erin Anderson, with the help of Troy Hill Citizens, Inc., will work to create an audio-visual tour of Troy Hill's steps using community histories. H. Gene Thompson and the Fineview Citizens Council will create a fabric sculpture display with performance elements, and architect Nina Chase will join the Polish Hill Civic Association to "prototype new step-scape elements to enhance and support the community's use of the steps."
The participating community organizations were selected in the spring through an open application process. The chosen organizations then became involved in the process of artist selection, interviewing candidates and selecting their final choices.
The artist/community teams will collaborate to develop their ideas for these projects and share the results with the larger community late in the summer. The Steps We Take project will launch Oct. 4 and will last 10 days.
OPA director Sallyann Kluz said in the press release that the artist/community teams are "already creating conversations about communities are connected."
"We are thrilled with the diversity of approaches that the selected artists bring to the project, and the enthusiasm with which the teams have embraced this initiative," Kluz said. "Pittsburgh is passionate about its steps, and the city steps present a fantastic
platform for artists and communities
to activate and to use to foster civic dialogue."
Scott Bricker, the executive director of
Bike Pittsburgh
, said he hoped Steps We Take will increase awareness of Pittsburgh's steps.
"Everyone knows Pittsburgh has challenging topography, but they might not know that Pittsburgh has hundreds of public staircases that serve the vital purpose of connecting our hilly neighborhoods without the need for a car," said Bricker. "Thousands of residents rely on these stairs for transportation and this project will highlight vital connections across the four communities."