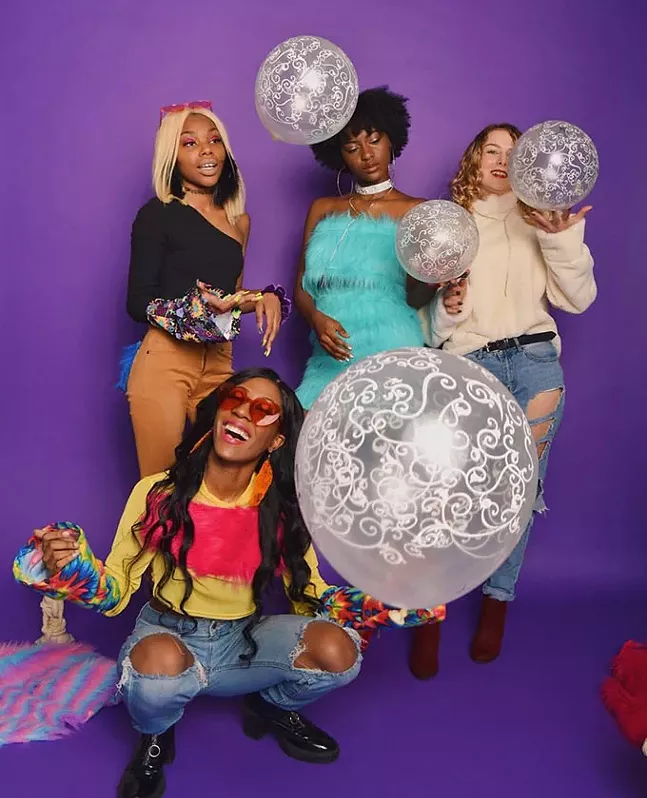 Attending one fashion show was all it took for 19-year-old Maya Myeko to quit her day job and pursue a career in fashion. Four months later, Myeko, who runs a clothing brand under the moniker Maya Temple, is putting on her first-ever runway show at the Ace Hotel.
"I was having really bad creative block," says Myeko of her state of mind before attending the Frisk Me Good Fashion Show in Cleveland, Ohio, which was run by her godmother's niece, a designer in her twenties. "[The show] made me realize how much I wanted to have my own, so I started planning one immediately when I got back to Pittsburgh."
With a mission to showcase not only herself but some of Pittsburgh's best upcoming designers, the event will also feature clothing from OOTW Creations, Rare by Jamon, Pink Trap Collection, BreannaleeTheLabel, Monetary Apparel, and Arashi Apparel, in addition to poetry, live music, and dance performances from Febe, Leila Rhodes, Talia Spears, Esten J, Gerdezjah Olive, Selena Woods, and more.
While Myeko sent out a casting call for models, performers, and the like, many of those participating in the show are her friends, or friends of friends, who she grew up with. A graduate of Woodland Hills High School, Myeko knew that many people looked at her community and high school as violent and unappealing. Myeko, however, saw the hidden treasures of her neighborhood. Through the event, she hopes to show the world that every community in Pittsburgh holds incredible talent and by working together, there is room for everyone to succeed.
"This is a product by not only me, but everyone involved in the show," says Myeko. "We're all young, talented creatives of Pittsburgh. We have great things here; we have great talent. I want to teach the younger generations that if you work together and use your talents together as a unit, you can get further."
Eager to have a place to show their work, finding models, designers, and performers was the easy part of Myeko's planning process. The challenge came with booking a place for the event.
"It was supposed to be at a hotel in Oakland," says Myeko, "but once I showed the lady my pictures, she stopped responding. I guess she looked at my website and just didn't like the stuff that I had."
That was not an isolated incident. After going through the logistics of booking a space, other venues turned Myeko down after she showed her clothing or asked about having performers. But then she reached out to Ace Hotel.
"The Ace Hotel was wonderful, they gave me a very great experience," says Myeko. "The only thing was the price, but that's why we are selling tickets to pay for the event, and all [the designers and performers] get exposure for free. It's going to be a great night all because we put our talents together and supported each other."