Stephen Collins Foster is arguably the most influential artist Pittsburgh has ever produced. He's up there with Warhol, at least.
Born on July 4, 1826, Foster was America's first full-time professional songwriter, and the most popular composer of the era when pop music was born. He wrote tunes so ubiquitous -- "Oh! Susanna," "Camptown Races," "The Old Folks at Home" -- that many people assume nobody wrote them at all. At least one scholar calls this son of Lawrenceville "the most important composer in the history of the world."
Yet 146 years after his pauper's death in New York, at age 37, Foster's songs have acquired an unhappy patina.
That's how it seemed back in 2008 to Andrew Paul, when local playwright Martin Giles approached him bearing the script for a new play. Paul, artistic director of Pittsburgh Irish & Classical Theatre, had long known Giles, who's also a busy actor. But a play built around Stephen Foster songs? "I thought, 'Oh, God,'" says Paul. "I thought it was gonna be so Americana and sorta twee."
Deane Root wouldn't have begrudged Paul his fears. Root heads the University of Pittsburgh's Center for American Music, which houses a Foster archive. He has seen or read nearly every film or play Foster's music inspired. And most of them, from school pageants to Hollywood biopics, are pretty bad: nostalgic reveries.
Giles' play was different, as Root learned when the script was first read aloud with actors, in April 2009. Giles' use of Foster's songs to depict America circa 1850, he says, literally gave him goosebumps.
The play, Beautiful Dreamers: An American Exodus, premieres April 15 in a co-production by PICT and the Opera Theater of Pittsburgh, with Giles directing. It's a comedy, featuring songs both very familiar and undeservedly obscure. But it also confronts issues like violence, racism and American self-mythologizing about love, home and freedom. And at the very least, it bids to have Foster's music singing in a different key.
Don't You Cry for Me
The first public performance of a song Foster wrote was on Sept. 6, 1847, at Downtown Pittsburgh's Eagle Ice Cream Saloon. Foster, who had recently moved to Cincinnati to work as an accountant, entered a songwriting contest with a number titled "Away Down Souf"; it placed second. But the second Foster song performed by the Saloon's resident singing group would be more widely sung than any American tune to date.
"Oh! Susanna" initially spread because, like "Away Down Souf," it was written for the blackface minstrel shows, then the nation's most popular entertainment. "Susanna," too, had lyrics purportedly replicating Southern black speech: "I'se gwine to Lou'siana, my own true lub for to see." But by 1849, the song about the man with the banjo on his knee had conquered America's cities and its still-new Western territories. It was adapted and adopted as the unofficial anthem of the California Gold Rush: "I'm going to California, some gold dust for to see."
More hits followed -- many of them so-called "Ethiopian melodies," for blackface troupes like Christy's Minstrels. In 1850, Foster returned to what was then Allegheny City and got married. He installed a piano in the family home and set to work as America's first full-time songwriter.
In the days before audio recording and radio, when songs were sold solely as sheet music, other artists had profited from composing. But most songwriters also performed professionally. Not the shy Foster.
The bold career move paid off as the hits kept coming, from the bouncy "Camptown Races" to the sentimental "Old Folks at Home" and "parlor ballads" like "Ah! May the Red Rose Live Alway." The songs were sung by everyone: slaves and senators, slaveholders and abolitionists, schoolboys and the old folks at home. Anybody could remember them, partly due to Foster's role in standardizing the verse-chorus structure still underlying pop songs today.
But after the early 1850s, Foster's initial wild popularity faded. Copyright laws heavily favored publishers, who made hundreds of thousands of dollars off Foster's work -- while the often melancholy, hard-drinking Foster died with 38 cents to his name. The money was found in a leather purse with a scrap of paper bearing the handwritten note "dear friends and gentle hearts."
Still, weeks after his 1864 death following an accident, Harper's Monthly Magazine wrote of Foster: "[T]he air is full of his melodies. They are whistled, and sung, and played on all instruments every where. Their simple pathos touches every heart. They are our national music."
Hard Times
Today, some say Foster is bigger still. "Stephen Foster is the most important composer in the history of the world," says Dale Cockrell, a Vanderbilt University professor and expert on early American popular song. "Stephen Foster's songs have been sung more times than anybody else's have ever been sung." Foster's melodies have shown up in Japanese anime, and Cockrell says, "I have heard people singing Stephen Foster in Zulu and Russian." (Cockrell is among the speakers at "Stephen Foster in American History," the first-ever scholarly symposium on Foster, April 23 and 24 at the University of Pittsburgh.)
In America, though, the meaning of those songs has changed.
Because of their minstrel origins, many Foster tunes were signifiers of race -- and signposts for racism. In the 1953 Warner Bros. cartoon "Southern Fried Rabbit," Bugs Bunny cavorts in blackface while singing "My Old Kentucky Home." In Mel Brooks' 1973 film Blazing Saddles, "Camptown Races" is the song some cretinous cowboys think black railroad workers should sing. (Instead, the laborers dumbfound the yahoos with Cole Porter's "I Get a Kick Out of You.") . In 1996, two black members of the Yale Glee Club threatened to quit if the group sang "My Old Kentucky Home," with its nostalgic view of plantation life. The group's president burned a copy of the song, which was dropped from the program after the singers voted it down.
Indeed, Foster's early blackface numbers are only sung today without their original dialect, with words like "brothers" substituted for words like "darkies." Whole verses have been excised -- such as the one in "Susanna" jocularly recounting a catastrophe that "kill'd five hundred Nigga."
Some Foster tunes have weathered better. Consider 1855's "Hard Times Come Again No More." In the 1990s, the hymnlike plea for economic reprieve was recorded by artists as diverse as Bob Dylan and opera star Renee Fleming. Bruce Springsteen played it on his 2009 tour. And in January, R&B diva Mary J. Blige sang it at a Haiti benefit.
Still, the exception proves the rule. In recent decades, says Kathryn Miller Haines of Pitt's Center for American Music, some of Foster's most famous songs have become comic markers of class -- theme music for The Simpsons' slackjawed hillbilly Cletus, and for a VISA ad in which the rural family of a guy's fiancée hits him up for cash to the tune of "Old Folks at Home" ... and then makes him sing "Camptown Races."
Such tunes have become part of the oral tradition, much like the folk songs they once supplanted. They're for campfire singalongs and music boxes. What's left -- lilting airs like "I Dream of Jeanie With the Light Brown Hair" -- is widely dismissed as sentimental fluff.
This Whole Creation
Given Foster's association with blackface, the genesis of Beautiful Dreamers is ironic. In 2008, Marty Giles was playing an "angry white man" in Opera Theater of Pittsburgh's production of Lost in the Stars, the Kurt Weill musical based on anti-apartheid novel Cry the Beloved Country. Touring the show in Virginia, no less, Opera Theater artistic director Jonathan Eaton floated the idea that someone write a play around Foster's music. Giles volunteered.
Giles' knowledge of Foster was pretty basic. But then he discovered Beautiful Dreamer, a Grammy-winning 2004 anthology of new recordings of 18 Foster songs. Raul Malo sings the title tune; other tracks range from the ethereal "Slumber, My Darling," by Alison Krauss and Yo-Yo Ma, to "Oh! Susanna," rendered jazzily sexy by Michelle Shocked and Dale Anderson. And gospel star Mavis Staples contributed her own "Hard Times."
Captivated by the songs' narrative possibilities, Giles crafted what he calls "a sort of Brechtian epic structure of episodes." Each episode is inspired by one or more of some 20 Foster songs, all with new arrangements by local composer Douglas Levine.
Yet the play never mentions Foster, the man. Instead, it's a picaresque about three fictional characters crossing the country together around 1850. There's a rootless young romantic named Moses Walker (played by Joel Ripka); resourceful, middle-aged widow Susannah Milsap (Stephanie Riso); and an escaped black slave, Caleb Jefferson (Kevin Brown).
Along the way, they encounter a comically evil Virginia lynch mob, a sarcastic Native American named Black Cloud and a West Coast white-slavery ring. Three key literary personages make cameos: a mischievous New York poet named Walt; a reclusive New England poet, Emily; and smart-aleck riverboat pilot Sam Clemens.
Giles renders it all by turns acerbic and touching. Other Fosterian plays and films, says the Center for American Music's Deane Root, might follow Foster's lead in sentimentalizing the antebellum South. Giles' play is "unique," Root says, "because it's more honest and true to the passions that drove America."
In Beautiful Dreamers, a slave attacks a slave-owner. Forty-niners chase gold, but come up empty. There's even a swat at the romantic love enshrined in Foster's parlor ballads: Moses' chaste courtliness merely sends his more sensually mature beloved into another's arms.
Giles intends the play to probe the national psyche. "A lot of what happens in the play is the tension between ... people [who learn] things, and other people who just kind of go along with what they feel, what they've been told," he says.
Another theme is "home." Foster referenced home constantly; biographer Ken Emerson argues that his once-wealthy family's economic travails, and his troubled marriage, left Foster yearning for a mythic, unattainable home. Though Foster wrote two dozen songs about a South he visited just once, not one of his songs references Pittsburgh, where he lived most of his life.
But this fixation also echoes life in mid-1800s America, where steamboats and railroads could take people farther and faster from home than ever. Giles' protagonists likewise leave home to find it, trekking coast to coast only to double back, seemingly no closer than when they began.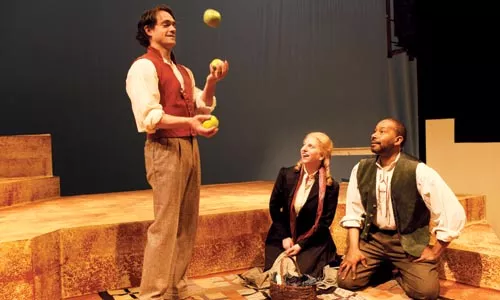 Toll the Bell
Beautiful Dreamers features more talking than singing, but the songs are integral. They're sung by the cast of seven to live instrumental accompaniment. "Beautiful Dreamer" becomes Moses' serenade (fruitless) for a girl. "Hard Times" characterizes a clueless but indefatigable pioneer couple whose cabins keep getting flattened by tornados.
But though such famous tunes figure in, Giles also spotlights worthy Foster obscurities, from the existentially plaintive "No One to Love" to the cockfighting novelty "Don't Bet Your Money on the Shanghai."
Another revelation is "Nelly Was a Lady." This 1850 blackface hit -- sung in the voice of a man mourning his wife -- was revolutionary in referring to a black woman as a "lady": "Toll the bell for lovely Nell, / My dark Virginny bride."
"Nelly" is sung here by Kevin Brown, as the slave Caleb. Giles wrote the role for his Lost in the Stars co-star, and in rehearsal it's easy to hear why: Over Levine's slowed-down arrangement, Brown's vibrato-heavy baritone renders the song operatic, a cauldron of grief and barely suppressed rage.
While only about 20 of Foster's 200 published songs were written for blackface shows, they included his biggest hits. Indeed, about half the songs in Beautiful Dreamers were originally intended for white men smeared with burnt cork to sing in purported imitation of Southern blacks.
Brown says that after he decided to play Caleb, some friends, fellow African Americans, schooled him about Foster's racist lyrics. Brown appreciated the lesson, but concluded, "I think maybe Stephen Foster saw the African in America as being a human being."
Brown (the cast's lone African American) remained wary of playing a slave, however. "I've got to make him not this Stepin Fetchit, bowing character," he says. Slavery, he adds, "is a very painful subject for me. ... I've got to be conscious of how I'm portraying Caleb as a man of substance."
In rehearsal, Brown worked to emphasize the perilous lot of a black man in 19th-century America. A scene set beneath the suspicious gaze of an overseer finds Caleb talking with Riso's character, the widow. At one point, Brown suggests that Giles change where and how Caleb stands. "I don't think he would put himself in such close proximity to a white woman," says Brown. "I'm trying not to look at her, either."
Brown says the play's protagonists "truly care about each other. Can they find what America actually represents -- the freedom to be what God intended?"
Doo-Dah
The history of blackface is complex, as is Foster's role. During its first wave of popularity, around 1835, the 9-year-old Foster and some friends built a theater in a carriage house in still-rural Lawrenceville and sang minstrel hits like "Zip Coon" and "Jim Crow" (yup -- the indirect namesake for the South's regime of segregation).
This early blackface, say scholars like Vanderbilt's Dale Cockrell, sprang from America's nascent urban working class, which included native-born whites, European immigrants, free blacks and slaves -- a roiling mix much like the one depicted in Beautiful Dreamers. In musical terms, blackface was rather distant from the music of Southern blacks that it claimed to replicate. Minstrelsy was "the first multicultural American music," Cockrell says. (Though Foster's own melodic heritage owed more to Irish ballads, and even Italian opera, than to the songs of slaves.)
And the mask of blackface could give performers license to act crazy -- to dance wildly, spout sexual innuendo and lampoon polite society. Like early rock 'n' roll (which also found whites mimicking black culture), it was an outlet for youthful transgression.
But by the time Foster's career commenced, the minstrel show had become even more insidiously racist. Abolitionist sentiment was rising, and with it tensions between North and South. And the more threatening that blacks seemed, writes music historian Richard Crawford, the more minstrel shows caricatured them as lazy, buffoonish and childlike.
Foster, by contrast, is credited with uniting minstrel and parlor song, the populist with the genteel. Tunes like "Old Folks at Home" and "My Old Kentucky Home" were written into stage versions of Harriet Beecher Stowe's abolitionist novel Uncle Tom's Cabin (which inspired the latter tune). Foster later eschewed blackface dialect, and the word "nigga." And though Foster was no abolitionist, contemporaries including Frederick Douglass considered songs like "Kentucky Home" sympathetic portraits of blacks.
Even so, songs like "Old Folks" were popular partly because the slaves they depicted were sufficiently happy to "long for the old plantation." It was a pleasant vision for Foster's audience to imagine, no matter how dimly it echoed reality. And Foster had critics. One was fellow Pittsburgher Martin Delany, the physician, newspaper publisher and proto-black nationalist whose 1859 novel Blake parodied Foster's sentimental "Uncle Ned": "He will no more tramp on the neck of the slave, / He's gone where the slaveholders go!"
Though Beautiful Dreamers doesn't overtly reference minstrelsy, several scenes confront race. An early episode resurrects "Old Black Joe," a "sympathetic" blackface tune seldom sung today because of its condescending portrait of an elderly dying slave. In a twist, Giles has some racist Virginians sing it as prelude to a lynching: "I'm comin', I'm comin', / for my head is bending low / I hear those gentle voices calling 'Old Black Joe,'" the man's name barked with menace.
More comically, in a riverboat scene, while the white passengers merrily warble "Camptown Races," former slave Caleb sits it out. "I hate that damned song," he explains. "'Doo-dah. Doo-dah.' Good Lord."
Beautiful Dreamers ends on notes of tragedy and rebirth -- the latter suggesting, hopefully, that skin color might some day cease to matter. And indeed, even in something as appalling as blackface, you can find hope for reconciliation.
Despite minstrelsy's racist legacy, it served as a Trojan horse through which "black" culture became American culture. It turned the banjo, for instance, from an obscure African immigrant into a national craze. Minstrelsy godfathered popular song as we know it; it helped give us Stephen Foster.
"That's the power of song, isn't it?" says musicologist Cockrell. "You can sing anything, but on some level you're also absorbing what you're singing. ... You can sing something that you can't say."
Opera Theater of Pittsburgh and Pittsburgh Irish & Classical Theatre present Beautiful Dreamers Thu., April 15-May 1 Charity Randall Theater, Stephen Foster Memorial, Forbes Avenue at Bigelow Blvd., Oakland. $20-50. 412-394-3353 or www.picttheatre.org