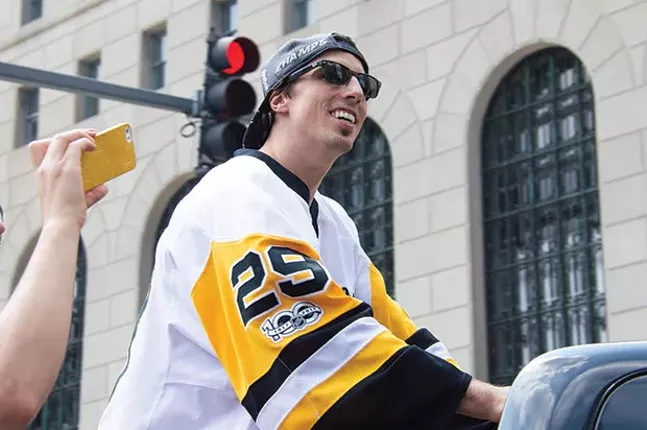 Since the day he joined the Las Vegas Golden Knights, Marc-Andre Fleury — the 32-year-old goalie who helped Pittsburgh to three Stanley Cup championships, including back-to-back titles the past two seasons — has been the face of the franchise. We caught up with him for a quick preseason chat.
Has being such a focal point of a new franchise been a big adjustment for you?

I just do what I'm asked to do. It's been fine, and pretty easy so far. I am just looking forward to playing hockey again.
Have you enjoyed being a fan favorite and participating in events with young fans?

If I can share my passion for the game with the kids out there, that's great. I know the team is putting a lot of effort into growing the game and getting hockey sticks in kids' hands, and we will be a part of that, too. I like sharing my love for the game.
You've won three Stanley Cups, but are you nervous at all playing in the first game for a new club?

I still get those butterflies and still get nervous every once in a while. To be a part of a historic game like that will be pretty amazing. I'm looking forward to it.
You're the face of the team in the public eye, but are you also a leader in the locker room?

I'm definitely one of the older ones, that's for sure. I think we have a good group of guys. There are a lot of guys that have been around for a while. There are young guys, too, and as older guys we have to show them the way on and off the ice and make sure we are doing things the right way.
What are your expectations heading into the season?

I think, for me, it's to improve as quickly as possible and come together as a team as quickly as possible. There are guys coming from all over the league, and staff-wise as well, so if we can get good chemistry going early on and keep building on the ice, it will make us a tough team to play against.
You've played with a lot of talent during your career in Pittsburgh. After a training camp with this team, how do you compare it?

I think we have a good mix of everything. We've got some speed, and we've got some good shots as well. I think we have a good balance of different stuff on the team, so we should be in good shape.
Are you still the same Marc-Andre Fleury who helped the Pittsburgh Penguins win three Stanley Cups?

I feel pretty good, but last year is last year, and this is a new season with a new team. I feel good and healthy, so I'm ready to go.
How has the transition been to living in Las Vegas after living back east for so long?

It's been great. People have been so nice during the move. I have been getting the kids into schools, and everyone has been really helpful. The staff that we have on the team has been great getting us acclimated.
Do you have any favorite places around town to eat or hang out?

I went to Nobu and I liked it a lot, but I want to try more before I name one as my favorite. Deryk [Engelland] told me about Honey Salt, and we went there and it was very good — casual with great food.