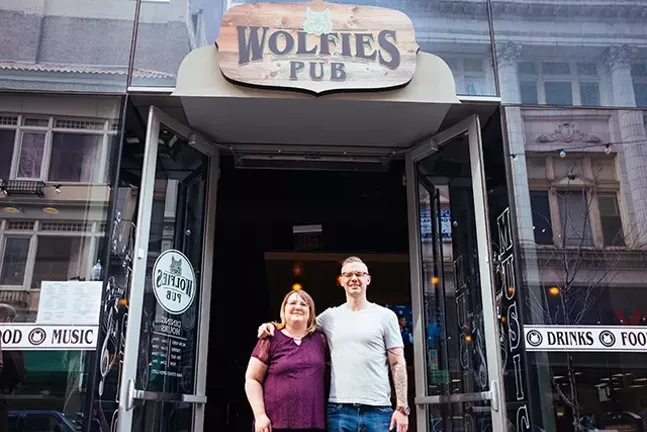 Earlier this year, The Pittsburgh Downtown Community Development Corporation announced plans to have more places to hear live music Downtown. As part of the initiative, the group's executive director brought on Kevin Saftner, former owner of James Street Gastropub and Speakeasy, to help book for venues that desired live entertainment.
Now, as the talk turns to action, Saftner and downtown restaurant Wolfie's Pub are using the initiative to help those interested in the music scene learn the ins and outs of the industry. One person who's fully embraced Saftner's tutelage is Point Park University student Tracy Randall.
In 2015, after working in health care for years, 41-year-old Randall decided to pursue her dream of working in the music industry and went back to college. She started taking classes at CCAC Allegheny that summer.
"Shortly thereafter, I was diagnosed and treated for breast cancer," says Randall. "It was just a bump in the road, but I got back off the ground, dusted myself off, and charged forward. I wanted to make whatever life I have left something that I enjoy, something that has a passion."
Randall transferred the credits she earned and, in 2017, began studying Sports, Arts and Entertainment Management at Point Park University. When she shared her love of blues — Randall has been a member and volunteer for the Blues Society of Western Pennsylvanian for many years — with her professor Ed Traversari, he gave her Saftner's contact information.

Tuesday Blues Day is held before every Pirates home game that falls on a Tuesday. 5 p.m. Woflies' Pub, 274 Forbes Ave., Downtown. Free. 412-232-3001

click to tweet
"She came to me and said, 'Hey, I want to start [booking],'" says Saftner. "So I help her, I teach her how to book, promote, market, help her make the posters, everything I do." Randall now books Tuesday Blues Day at Wolfie's.
While owning and operating James Street Gastropub and Speakeasy with his mother, Saftner booked the shows at the North Side venue. It was known for its strong jazz programming, and he booked about 400 shows a year during its seven years in operation. This was nothing new to Saftner, who has been booking shows since he was about 14 when his mom would drive him around in a minivan full of DJ gear to proms, weddings, and birthday parties.
"I'll always try to help as many people start booking as I can because I don't want to do this forever," says Saftner. "I want someone to be able to take over for me one of these days. Hopefully, I'll find that in one of these college students."
Aside from Randall, Saftner assists younger musicians with The Attic Music Group. The program gives monthly residencies to Pittsburgh bands and musicians, helping them learn all they can in hopes that they can find repeat paying gigs elsewhere.
On Thursdays, Pioneer Records, a Point Park University-operated record label managed by Sports, Arts and Entertainment Management students, hosts an open mic night. Like Randall, the students learn how to book musical acts with Saftner's assistance.
However, Randall, Saftner says, is a unique situation and Tuesday Blues Day is Randall's baby.
"After the first two shows were booked, she was like, 'Alright I'll call you when I'm done [with the rest.]' And then she came back [soon after] and said look they're all booked."
Randall says that when Saftner let her have free reign, it was incredibly empowering. "I learned a lot going through Point Park's Sports, Arts, and Entertainment Management program, but I was never able to apply it anywhere else."
She was also able to learn invaluable knowledge not taught in the classroom, like networking and to never bad mouth anyone.
"It's the golden rule," says Randall, "because someday you could be working next to that person, or that person could be your boss."
The first Tuesday Blues Day took place May 7 with Charlie Barath, Jimmy Adler, and John "The Junkman" Burgh.
"I've never seen that kind of life in Wolfie's Pub," says Randall. "There were people dancing, and the doors were opened up to Forbes Avenue. With the foot traffic, it was kind of like the music was drawing people in. I felt like I was in a different place for a minute."