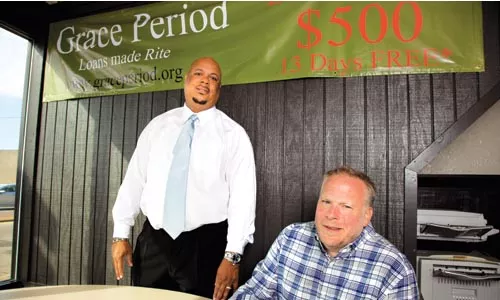 It might be easy to dismiss Grace Period's small storefront on East Ohio Street. On the same North Side street as a check casher and a rent-to-own outlet, one could miss it or mistake it for a storefront church.
But despite the unimposing space, Grace Period -- a nonprofit that makes small loans to its customers and requires them to commit to saving money -- boasts 1,800 members. Last year it made $1.5 million in loans, a few hundred dollars at a time. Having opened its doors in October 2007, the organization recently moved to a bigger office at 632 E. Ohio St. Its new corner location has more visibility, which is important since the nonprofit functions like a retail outlet.
Unlike a lot of businesses in struggling communities, however, Grace Period is intended not to profit from financial hardship, but to help people out of it.
"It's a good place," says Frank Freeman, 59, a retired steelworker who turned to Grace Period when he "started falling a little short" between his monthly pension checks. "If you need a little money, and you need a hand, they can help you out."
In many areas, someone in Freeman's position would have little choice but to turn to a so-called "payday" lender. Such businesses offer short-term loans to be paid back -- along with a fee -- by their next payday. The fees can be steep -- $60 for a $350 loan over two weeks, say -- and borrowers are often unable to repay the loan. In such cases, they must take out another loan to pay back the first one, trapping the borrower in a growing spiral of debt. Borrowers can end up paying annual interest rates as high as 400 percent.
"The whole industry wouldn't even exist if everybody just had a couple of hundred dollars saved," explains Dan Krebs, one of the founders of Grace Period, who now helps run the organization along with partner Tony Wiles.
"People come in here with a problem: Their car broke or their kid got sick," he adds. Between one-third and one-half of Grace Period's borrowers have used a payday lender in such cases, he says.
"We try to convince them that the problem is they weren't ready for the car to break. They didn't have that emergency stash."
Which is why Grace does more than make loans. It also tries to ensure that future loans won't be necessary.
Grace Period is structured as a club. Members must have bank accounts, and an account can be set up through the credit union for people who don't already have one. Those needing to borrow can receive up to $500, at which point they have two options:
1. If they can pay it back within 13 days, they pay no interest at all -- essentially borrowing the money for free
2. If they cannot pay the loan back within 13 days, they must come up with a payment plan to repay the loan, and then pay some additional funds into an "emergency fund" for a 12-month period. Most members put $50 into their account every two weeks, Krebs says. That money is then used to make loans to other members, and can be withdrawn by the member as needed.
"The most important thing we aim to do is change people's view of money," Krebs sayss. The organization's typical member is a single mother, age 25 to 40, who didn't have the benefit of a good financial education.
One beneficiary is Carolyn Balsamo, 49, who first came to the organization a few years ago to get a loan to buy Christmas presents for her daughter, now 13 years old. Balsamo had no savings account, no checking account and a poor credit history. Now, $50 of each paycheck goes into her savings account at the Pittsburgh Central Federal Credit Union, Grace Period's partner. This Christmas, she won't need a loan to buy Christmas presents.
"It's peace of mind," says Balsamo, "knowing that I have this money set aside."
Grace Period got started when Krebs and Wiles were moved by a series of sermons at their church, the Allegheny Center Alliance Church, also located on the North Side. They initially wanted to start a credit union to serve the neighborhood, but when that proved difficult, they partnered with the Pittsburgh Central Federal Credit Union.
Pastor Rockwell Dillaman says he often preaches on the important social issues explored in the Bible, particularly in the Gospel of Matthew, which urges Jesus' followers to assist "those who are hurting, those who are oppressed, those who are suffering from injustice." Justice, he explains, involves both "creating the things that enhance a community" as well as "attacking the things that are destroying a community."
Payday lending and its skyrocketing interest rates are one such scourge, many critics say. But cash-strapped residents often have few other choices: Larger banks typically show little interest in catering to communities plagued with diminished economic prospects and bad credit.
Payday loans are actually not legal in Pennsylvania, said Ed Novak, a spokesman for the state's Department of Banking. In fact, Pennsylvania is actually at the forefront of protecting low and moderate-income consumers, according to Uriah King, vice president of state policy at the Center for Responsible Lending. Despite this, King says, Pennsylvania borrowers can, and do, seek out payday loans over the Internet.
Grace Period's approach to that problem is extremely unusual, said Gary Rivlin, author of Broke USA: From Pawn Shops to Poverty, Inc. -- How the Working Poor Became Big Business. Regulators typically try to attack payday lending by setting caps on interest rates, he notes. But the real need, he says, is for someone to fill the void left by commercial banks, helping residents assemble savings of their own.
"If people just had $500 in savings, they would never have to take a payday loan," Rivlin adds. But other than rare exceptions like Grace Period, "no one is addressing the real problem."