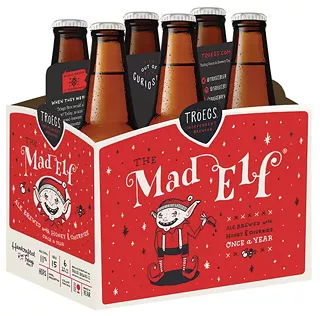 While most people might imagine Black Friday shoppers waiting outside a big-box store for ridiculous price cuts on big-screen TVs and new sneakers, Theo Ackerson, the general manager of Bierport, instead gets a yearly crowd of eager beer-heads.
The Lawrenceville beer shop, which shares its building with the Row House Theater, is a yearly recipient of a special line of brews called Bourbon County, from Chicago craft brewer Goose Island. Ackerson says demand is so great that they usually open an hour early the day after Thanksgiving and limit sales to two bottles per person to "share the wealth."
Ackerson's Black Friday sales are just part of a larger trend of Pittsburgh beer vendors making sales off the many quality, limited-issue craft brews that come out just in time for cozy winter nights in.
The Bierport manager says that flavors on display in winter beers often mimic the flavors of seasonal favorites.
"A lot of breweries release a special Christmas beer or holiday ale. They are holiday spiced, with things like cinnamon, cloves, spices you might associate with a holiday dinner," Ackerson says.
Ken Vecenie, of Vecenie's Distributing Company, agrees, pointing to some of his top-sellers of the season, including Anderson Valley Winter Solstice, Tröegs Blizzard of Hops, Victory Winter Cheers, Bell's Winter White and the especially valuable Troegs Mad Elf.
The seasonal order of Mad Elf, a red-colored beer with hints of cherry, cocoa, cinnamon and allspice, arrived at Vecenie's in late October, and the shop has already sold every case. A thirsty beer-drinker could only try the beer now by buying a whole keg at the Millvale distributor.
Vecenie says the season is good for sales, partially due to the number of people needing extra beer while entertaining, but also because of all the special beers, like Mad Elf.
"A lot of people seek out the special winter and holiday beer," he says.
What types of beer do well can vary, according to Manny Singh, who manages It's Dogg'n It in Squirrel Hill, but he says the sheer variety is good for business.
"Fall and winter are our favorite season for beer, because we have the most diverse beers," he says.
The chain, owned by Rahul Chovatia, usually focuses on craft-beer sales and has two other locations, in Oakland and Shadyside.
Singh mentions that fans of any type of beer can find a special brew that fits their taste buds. For IPA drinkers, harvest ales, like the Terrapin So Fresh So Green, fit the bill. Harvest ales are made with special hops that only grow in fall. For a fan of wheat beers, many heavily spiced winter wheat beers hit shelves around now, such as Southern Tier's 2XMAS Ale, which includes flavors of orange peel, ginger and fig.
He also believes that local Penn Brewing Company puts out its best beer in winter, the St. Nicholas Bock, which is a German-style strong lager with hints of chocolate and coffee.
But what all vendors agree on is that the stars of the season are heavier beers, whether stouts or "winter warmers," which are usually sweeter and more spiced to cover their higher alcohol contents. Singh pointed to Great Lakes Christmas Ale, at 7.5 percent ABV, and Brooklyn Black Chocolate Stout, with a 10 percent ABV.
However, here are two suggestions if you chose to partake in the winter-beer fun. One, even though Americans often prefer an ice-cold beer, make sure your quality brews don't get frosty. Singh says that temperatures under 35 degrees muddle the beer's flavor.
Two, act quick. Singh has an easy rule of thumb on availability — get your beer before its eponymous holiday.
"They're projected to be done by the day they are named after," Singh says.