Mr Twin Sister is a band perpetually in transition. Two years ago, the Long Island musicians just went by Twin Sister; now, they don't. Two years ago, the band was signed to one of the biggest indie labels in Domino; now, it releases music via its own Twin Group label, with assistance from indie label Infinite Best. After the lukewarm reception and sales of the band's 2011 debut, In Heaven, Mr Twin Sister has since progressed from that record, moving toward a polished, serpentine repurposing of the '80s calling cards on last year's self-titled LP.
But throughout all the recent shifts, the band has maintained the same lineup since day one. Most writing about Mr Twin Sister refers to it as a "democracy" with no central creative genius, so a song can originate from anyone in the band. Three members take the lyrical duties — Andrea Estella (vocalist), Eric Cardona (guitarist/vocalist) and Dev Gupta (keyboardist) — but bassist Gabe D'Amico and drummer Bryan Ujueta can just as easily lay down a track's groundwork.
"Our process can get a little bit messy, but, at our best, we work like a team of designers," D'Amico says in an email. "We take turns at the helm directing tracks; whoever's got the strongest opinion takes a guiding role, the rest of us stepping back and playing supporting parts."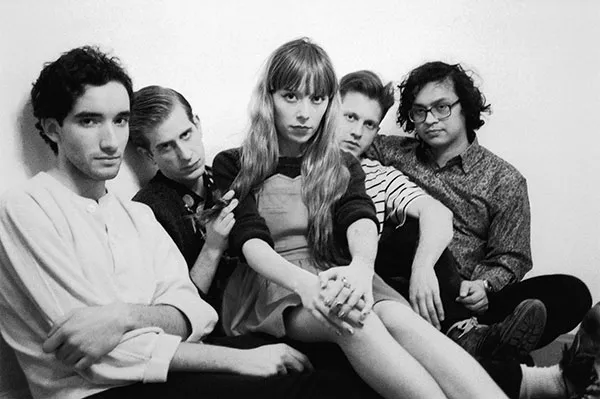 No two Mr Twin Sister tracks are conceived by the same formula, and given the band's propensity for finding new approaches, that's one thing that might not change. It's no accident that Mr Twin Sister depicts protagonists grappling with identity — from the name change down to the lyrics, it's a record that packs a lot of questions and internal tugs-of-war. On the stunner "Blush," Estella asks "Is there even a real me / Or am I just a series of nights?" On "Out of the Dark," she proclaims, "I am a woman, but inside I'm a man / And I want to be as gay as I can." These doubts and uncertainties mirror the norm of consistent change for Mr Twin Sister.
"We joke about how every one of our releases feels like a transitional record to us, and that we're always saying, 'This next one is going to be where we arrive at our destination,'" D'Amico explains. "But, of course, the subtext to that kind of conversation is that we will always be in transition, and that fact is part of our identity."
Perhaps this might be why D'Amico is coy about what the next record, which he suggests could be ready in a few months, will sound like. Mr Twin Sister masterfully turned sounds and instrumentation we associate with '80s kitsch into something that felt right in 2014. D'Amico says that the band was conscious of the line between "iconic and ironic," but cites gear like the '80s' bestselling keyboard — the Yamaha DX7 — as a valuable sonic tool for any time period. Mr Twin Sister will continue to perfect this sweet spot, but don't expect the band to get boxed in.
"We're voracious consumers of sonic information and our palate is ever-expanding," D'Amico says. "But we are very discerning about what is worth adding to that palate."