For Baltimore-based singer-songwriter Stephen Lee, touring the country by himself has its pluses and minuses. On the one hand, it gets lonely from time to time; on the other, he can listen to all the classic-country radio he wants, with no complaints from other passengers. And when he's performing without a band, he says, "I feel like there's more connection between the audience and me."
Lee has had plenty of time to test that theory, having spent about half of the past three years on the road: Last year, he was out for around 135 days.
His music reflects the romanticism and longing of the classic solitary traveling musician, and draws heavily from Americana and outlaw country. (He's known to cover Willie, Waylon and Johnny during his longer sets.) But, at 28, he pulls equally from the music of his teens.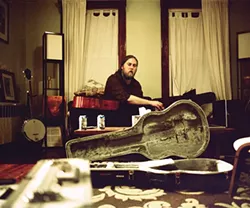 Lee grew up in Northern Virginia with a musical family, and played his first show with his brother, a professional musician who now lives in Chicago. "Pop punk was one of the first things I really grabbed on to, and from there [I got] into the indie world," he says, citing the Get Up Kids, Tim Barry and Lucero as influences. "From the scene [I came from], 'emo' is not a bad word," says Lee, who sometimes describes his own style as "cowboy emo." But while songs like "Jet Lag Blues" carry their fair share of heartbreak, Lee doesn't subscribe to emo's stereotypically whinier aspects. "A lot of that genre is writing about … the themes and ethics in your own life."
For Lee, those themes and ethics have changed over the years. Lately, he says, his venture has been to take stock of where he is — both personally and musically — evaluating the experiences of the past few years. For his latest release, West of Twenty-Three, he revisited and reworked some songs he'd written years ago. "Going through my older stuff, there's some negative stuff that probably comes from solo traveling," he says. "I have a couple songs that I really like but I don't play out just because they're not really positive songs. They're not really positive messages to be throwing at a room full of people."
Which is not to say that he's ignoring darkness: While his songs still offer moments of catharsis, his focus has changed. "Where I'm at now, it's like, 'Well, I made it through. … I don't really need to keep reliving these story songs.'"
While Lee will be performing a solo set at Hambone's this Friday, he's currently in the process of putting together a band. Being alone has its perks, but a recent mid-tour meet-up with his brother's band reminded him of how nice it is to be surrounded by other musicians. "There's kind of a mutual understanding among everyone about what we do with our lives," he says. "I sort of underestimated that sense of community."