There aren't many things we Pittsburghers love more than booze, sunshine and food. So why not combine all three? Saturday, May 21st, Pittsburgh City Paper, Q92.9 FM, BOB FM and GoodTaste! Pittsburgh team up to bring the food-truck event you will not want to miss!
Food Truck-a-Palooza will feature a variety of food trucks from all around the area. The line-up will feature the best food on wheels ranging from ice pops to meatballs. Attendees will also get a chance to vote for their favorite food truck.
Come party at the Pump House and enjoy a cold Blue Moon and live music from We The Kings and Matt Scannell, lead singer of Vertical Horizon. Plus, local bands Bill Ali Band, Kung Fu Radio and Amber Alexis. The event will take place rain or shine, so get ready to eat, drink and be merry!
Ten bucks gets you admission to the event, live entertainment and one complimentary Blue Moon or beverage. Children 12-and-under get in for free. A portion of proceeds from the event will go to Animal Friends. Spread the word and bring your friends!
So what's there to think about? Tickets are limited, see you there!

EVENT DETAILS
Saturday, May 21st
3-9 p.m.
The Pump House at The Waterfront
880 E. Waterfront Drive
www.pghfoodtruckapalooza.com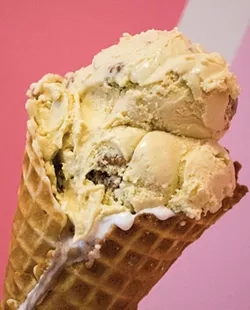 PARTICIPATING FOOD TRUCKS
Bacon On The Fly
@BaconOnTheFly
Delicious locally sourced bacon-infused dishes, fresh-cut fries and gluten-free options.
Berlin Street Food
@Blnstreetfood
A mobile cart serving German street food such as brats, lamb sandwiches and burgers.
The Brownstone
@brownstoneoven
Creating artisan food on wheels using a wood-fried oven and locally grown produce.
Bulldawgs
@BullDawgspgh
100% all-beef hot dogs and homemade Italian sausage sandwiches.
Cool Beans
@coolbeanstruck
Fantastic local ingredient dishes like funnel cake cannoli bites and
Hawaiian pork sliders.
Franktuary
@franktuary
Grass-fed beef and vegan franks all dolled up, plus local sausage and poutine.
Grumbling Gypsy
facebook.com/grumblinggypsy
Proud supporter of Somerset County farmers market, this truck offers tacos,
sandwiches and French fries.
Happy Camper Cakes
@happycampercakes
Mobile cupcake camper equipped with all things necessary for someone
with a sweet tooth.

La Palapa
@LaPalapapgh
Gourmet Mexican food truck serving tacos, quesadillas and empanadas.
Millie's Homemade Ice Cream
@millieshomemade
Gourmet ice cream and elevated frozen treats.
Miss Meatball
@eatmissmeatball
Claiming "The best 'bare balls' you will ever eat," Miss Meatball offers a variety of meatballs in sandwich form or bare.
PGH Crepe Cart
@pghcrepes
Gourmet and tantalizing crepe dishes, from banana nutella to turkey and cheese.
PGH Halal Truck
@pghhalalfood
Mediterranean food truck offering gyros, falafels, chicken over rice and
hot dogs.
Pittsburgh Po'boy
@pghpoboy
Food truck serving up Cajun and Creole po'boys, plus gumbo.
Pizzaiolo Primo
@Ilpizzaioloms
Bringing authentic Neapolitan pizzas to the street with homemade pizza dough made fresh daily.
Savoy On Wheels
@SAVOYonWheels
Bringing sophisticated menu items and twists on American classics to the street.
Sticklers Ice Pops
@SticklersPGH
Gourmet ice-pop truck serving unique ice pops for all ages.
Sugar & Spice Ice Cream Truck
@51sugarandspice
Ice-cream truck delivering shakes, banana splits and soft-serve cones.
Zeke's Coffee Cart
@zekespgh
Small-batch local coffee roasters and bakery.