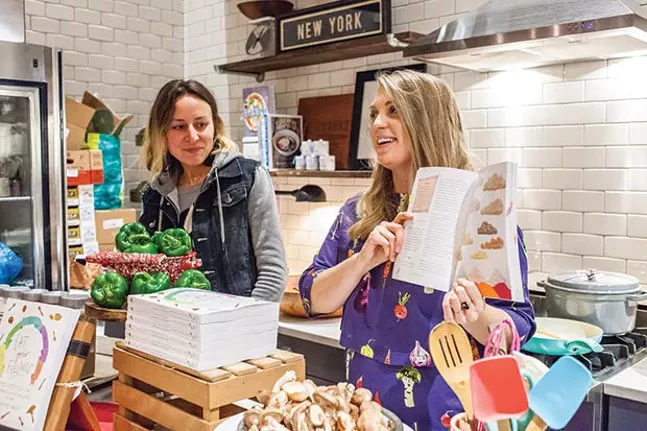 Local author Lindsey Smith wants you to eat your feelings. Smith, also known as the Food Mood Girl, released her third book Eat Your Feelings, The Food Mood Girl's Guide to Transforming Your Emotional Eating (St. Martin's Press) in December. She is now laughing, rapping and cooking her way toward teaching people the connection between what they eat and their emotions.
At her book release, the spread was all dishes from the book — spicy butternut-squash soup, sweet potato and sage risotto, two quiches (one with a potato crust), almond chia bread, cucumber bites and turmeric lemonade. Clad in a power suit made from a smiling-vegetable print and beaming a thousand-watt smile, Smith projected ease and confidence, but she didn't always feel so empowered.
"When I was a kid and in fourth grade, I suffered from really bad anxiety," Smith told City Paper at the Dec. 27 event. "I was hospitalized by the time I was in fifth grade for panic attacks. … I knew that wasn't a normal way to feel and that I wanted to feel better and healthier." She begged her parents to get her help, and they sent her to therapy. It set her on a path toward recovery, but fell short of the more comprehensive experience she felt she needed.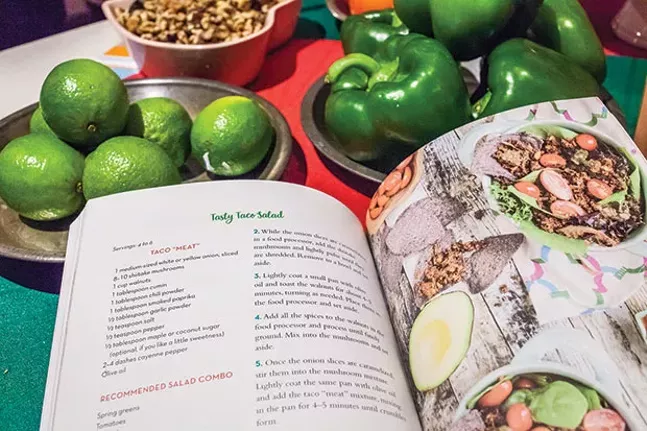 Over a decade ago, her sister started going to a wellness center in their hometown of Leechburg and was seeing positive results in weight loss, as well as a boost in confidence and mood. Inspired, Smith decided to go to a naturopath. "It completely changed my life," she said. "He taught me everything. ... It was the mind, body, spirit, connected." They exercised together, talked and worked on Smith's self-confidence. She blossomed under this care and started cooking healthy foods for herself. By ninth grade, she was teaching stress-management workshops to her peers.
Since then, Smith has been hungry for knowledge, self-improvement and working to empower others. She continued her education with a bachelor's degree in public relations and communications at Duquesne University; she later studied online at The Institute for Integrative Nutrition and Rouxbe Online Culinary School.
From her time with her childhood naturopath through her education, one foundational idea emerged. "I realized that it was food and mood and mood and food, and so I thought, 'I'm just going to go for it,'" she said. She started the Food Mood Girl brand in 2010, with a website, speaking engagements, collaborations and a rap or two about health.
In her first book Junk Food and Junk Moods, self-published in 2012, Smith shared her story, plus tips on eating to improve mood. She found that her readers really identified with the idea of food and mood being linked. This spurred Eat Your Feelings in which Smith offers a comprehensive guide to food preparation, recipes, and making food decisions based on improving and balancing
mood.
Eat Your Feelings addresses five moods: sad, stressed, tired, bored and hangry (angry from being hungry). Simple recipes are provided for each mood section with explanations of why certain foods were chosen. "Each of the different dishes represents a different emotion. I use ingredients based on that emotion. If you're sad, the goal is to be happy. If you're stressed, your goal is to be calm. So I use ingredients in the recipes that help with those things," she said. One of her favorite recipes is for almond chia bread. She posits that hanger happens because of low blood sugar and that foods like chia seeds and almonds, which are complex carbohydrates, will give you a boost without the sugar rush which can wear off quickly. Smith also includes chapters about stocking and maintaining a healthful pantry, cooking basics and some science on how foods affect us.
The book is a delight in content and design, with food styling by Quelcy Kogel and cute, informational illustrations by Kate Reingold. Illustrations of knife skills show the best way to cut onions and other vegetables and help educate readers on basic cooking skills. Ideally, having better skills can expedite the cooking process for hangry readers and prevent frustration. "I say, 'you are what you chop.' Because, most people, when it comes to cooking, it's not that they don't like cooking, it's that they don't like chopping," said Smith.
Since she began her food-mood journey, Smith has seen a shift in cultural awareness of how people eat and think about eating. Healthful foods have become more mainstream. "I'm happy people are embracing it and loving it," she said. "We still have a long way to go. … The issue we have now is making it more [financially] accessible to people."
"It's a $25 book, not everyone can afford that. ... But what I can do and other people can do is make a difference in their own communities," she said. Smith, who has lived in Hazelwood since 2013, opens her house up to neighborhood children. "I basically run an unofficial after-school program," she said. She likes to cook with young people and pass on her culinary knowledge. "If you don't know how to cut an onion, you aren't empowered in the kitchen," she said.
Smith doesn't forget about mood in her food-mood pursuits. "You can eat as much kale as you want, you can put as many superfoods into your smoothie — it's not going to make you a better person. It may make you happier, but you really also have to address the emotions behind what you're doing," she said.
For more info, www.foodmoodgirl.com.