Best new beer bottle
Steel City Uni-Growler
Available at Construction Junction
214 N. Lexington St., Point Breeze
412-243-5025 or www.constructionjunction.org
Craft-beer fans love the glass jugs known as growlers because they let you take home a half-gallon (or more!) of your favorite drafts at a sizable discount (including imports and microbrews you can't get in bottles). Green types love growlers because they're infinitely reusable. Thanks to reusable-building-materials emporium Construction Junction, you needn't only "rent" growlers from the area bars and breweries that fill them. For $5, you can buy your own. The Uni-Growler can be topped off at 11 locations, from D's Six Pax and Dogz and East End Brewing to the Harris Grill, Point Brugge Café and Sharp Edge. Hang one from your finger by the little glass loop: It's 64 ounces of good times.
Best bar for unrepentant smokers
Take a Break
3825 Penn Ave., Lawrenceville
412-389-1077
Plenty of tobacco-friendly bars and the Pittsburghers who love them are just waiting out the whole whiny-ass non-smoking trend. What pushes Take a Break to the fore is the three distinct tobacco lifestyles served on the bar's three levels. Among the upper level's hipsters and pool-players, a cigarette seems mainly a cool accessory. On the main level, clouds of smoke (and just plain hot air) rise above the hoary locals who circle the bar -- and occasionally pass out on it. On the dim lower level, people chain-smoke in the glow of the video-poker machines. Whether cigarettes are your fashionably slummy affectation, or just one of the slower ways you're killing yourself, this bar really is the place to take a break -- and a puff.
Best place for a cuppa that won't leave you wired
Te Café
2000 Murray Ave., Squirrel Hill. 412-422-8888
A shot of espresso is fine in the morning, but some of us know we'll be awake at 2 a.m. having panic attacks if we touch a coffee after dinner. For us, there's Te Café, with all the trappings of your average coffeeshop except the coffee. Tea rules here, from the extensive selection of loose leaves (summed up tidily on a tea list on the counter for your perusal) to fancy steamed-milk concoctions like a rooibos chai latté. In the warmer months, tea-based smoothies are available to sip while you work on that term paper. A monthly poetry-reading series keeps things lively and literary as well.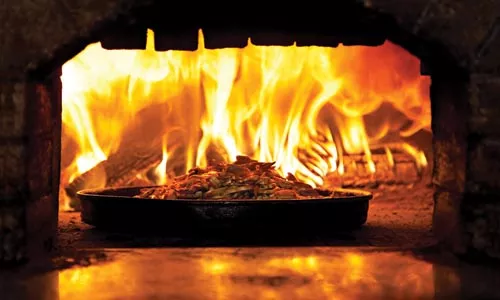 Best repurposed coal mine
Azzeria
3025 Banksville Road, Banksville
412-344-3420 or www.azzeria.com
There's been a lot of debate about the environmental impact of burning coal. But if the coal companies were smart, they'd put aside their billboards and talk of "carbon sequestration," and simply open restaurants in old mine entrances, the way the folks at Azzeria have. Originally known as "My Brick Oven," Azzeria dishes up pizza, panini and other wood-fired treats from out of the hillside running along Banksville Road. Like a miner of old, you'll want to watch your head going under the arched ceiling, but upstairs is an airy dining room, with an outdoor patio for warmer months. They've got gelato, too. In all, Azzeria is a great argument for adaptive reuse. Not to mention being an argument against mountain-top removal ... just try firing up a pizza oven once that process is over.
Best culinary ambassador for Pittsburgh
Pamela's Diner
Multiple locations
In 2009, Pittsburgh got more attention than it knew what to do with. Was it our much-post-industrial rebirth? Our recession-resistant economy? Our regional marketing sector? Maybe it was something simpler: Pamela's pancakes. "You don't even need syrup," marveled Barack "Leader of the Free World" Obama during a campaign stop here in 2008. Just months after taking office, Obama had Pamela's cater a White House breakfast ... and when the G-20 came to town, WTAE-TV reported that one dignitary wanted to try some too. ("Because of security issues, Pamela's cannot say who has requested the pancakes," the station reported.) Sadly, it's not always easy being on the global stage: the Oakland location was vandalized during G-20-related street protests. But we owe Pamela's a debt for helping introduce Pittsburgh to the world ... and for proving that Tom Friedman is right: The world really is flat ... like a pancake.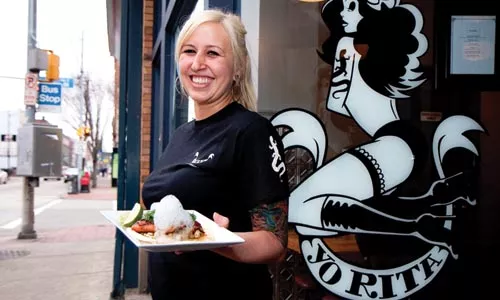 Best use of eel
Taco at Yo Rita
1120 E. Carson St., South Side
412-904-3557 or www.yoritasouthside.com
It's easy to be put off by eel: that tiny head with beady eyes; jars of jellied eel; seeing one slowly sidewind past you while swimming; that fishing-for-eel scene in The Tin Drum ... Americans never really embraced this "snake of the lake" like our European and Asian brethren have. But chef Kevin Sousa fears no eel, and the long, skinny scaleless fish is the star of one of the palate-pushing tacos he's created for Yo Rita. In it, the meaty white fish shares a soft corn tortilla with shredded cabbage, cilantro and pozole rojo (hominy stewed with red chiles). The taco is topped off with an au courant lime foam -- how classy is that? Time to shrug off your qualms about this perfectly tasty fish; after all, you can't spell "dee-licious" without eel.
Best place to eat porridge
Big Dog Coffee
2717 Sarah St., South Side
412-586-7306 or www.bigdogcoffee.net
If all you've ever known is instant oatmeal, this neighborhood coffee shop will change the way you think about breakfast porridge. Big Dog's organic, hand-rolled oatmeal ($4.75 a bowl), bought from Frankferd Farms in Butler County, is smooth and creamy, not lumpy like the instant variety. But if you require a variety of textures, simply ask your barrista to pour on the toppings -- strawberries, blueberries, bananas, walnuts, raisins, brown sugar, granola -- at no extra cost. Served daily from 6-11 a.m., a bowl of Big Dog's oatmeal is the perfect way to start your day ... especially if it's cold outside.
Best effort to refight the Whiskey Rebellion ... and come out ahead this time
Braddock's Street Side
107 Sixth St., Downtown
412-992-2005 or www.braddocksrestaurant.com
At first glance, Braddock's may look as anonymous as a hotel bar -- which is what this new addition to the Renaissance Hotel is. But it plays up an often-overlooked chapter of local history. Back in 1794, local farmers rose up to oppose a tax on whiskey. There was some tarring and feathering, and probably some drinking, too, before the U.S. Army restored order. To commemorate that past, Braddock's offers dozens of whiskeys -- among them Old Overholt, once produced by the family of H.C. Frick but surprisingly hard to come by locally. The menu also offers "Rebellion cocktails" like Jefferson's Thirst and the Oliver Miller -- named after the patriarch of a Rebellion-era family. Downtown is enjoying a surge of good places to get a drink after work. This one also makes history intoxicating.
Best oversized portions
Big Jim's
210 Saline St., Greenfield
412-421-0532 or www.bigjimsrestaurant.com
For a few decades now, this neighborhood restaurant and bar just off Second Avenue in Greenfield has been famous as one of Pittsburgh's best-kept secrets. If that seems paradoxical, rest assured there's nothing uncertain about the serving sizes Big Jim's dishes up. It's hearty pub fare in an unpretentiously old-school wood-paneled atmosphere: sandwiches and entrees, mostly, with breading and deep-frying to spare. The eggplant-Parmesan hoagie, for instance, is enough for any appetite. So, for that matter, are any of the other specialty sandwiches. And a single, plate-overlapping calzone could feed a family of four. In other words, pack your doggie bag now.
Best transient purveyor of pastries
The Goodie Truck
412-404-6626 or www.twitter.com/TheGoodieTruck
Whether on Twitter or on the road, this is one truck worth following: The Goodie Truck, founded last year by Millie Gregor and Jajean Morgan, is a traveling assortment of sweets that goes beyond the plastic-wrapped items you'd expect. Mini pies? Check. Homemade ice-cream sandwiches? Check. The Goodie Truck makes appearances at cultural hotspots -- like the Downtown gallery crawls -- and appears upon request much as a caterer would. Sometimes you can get a head start on tracking down the big red truck if you're following it on Twitter: The proprietors often post details just before or during public appearances.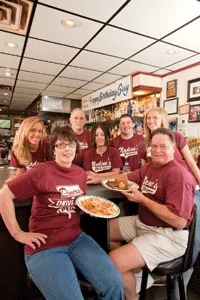 Best bar blessed by Food Network's Guy Fieri
Nadine's Bar
19 S. 27th St., South Side
412-481-1793
Tucked just behind East Carson Street, in a tiny building near the SouthSide Works, Nadine's is easy to miss -- even for bar-happy South Siders. But Food Network star Guy Fieri found it, and his local audience should be glad he did. This modest, family-run bar serves up great home-cooked grub, along with some of the cheapest drinks in town. (The "Working Man Special" offers brews for $2 or less all day, Monday through Friday.) Try Nadine's famous fried-bologna sandwich or the roast-beef sandwich with gravy. As Fieri would say, "They're money!"
Best food to come in both carnivorous and vegetarian forms
Thai Gourmet's General Tso's chicken/tofu
4505 Liberty Ave., Bloomfield
412-681-4373
Perhaps you're a carnivore considering vegetarianism and need a push in the right direction. If you're afraid of tofu or have never had it prepared to your liking, then Thai Gourmet's General Tso's tofu is a good way to introduce yourself to bean curd done right. The breading remains crispy beneath all that General Tso's sauce. But if you're not an instant convert, then the equally tasty General Tso's chicken is still right there on the menu, served with broccoli and rice by a friendly staff in a relaxed environment. Either way, you'll have enough to save for another meal.
Best restaurant to impress out-of-towners, wealthy-older-relatives edition
Café at the Frick
7227 Reynolds St., Point Breeze
412-371-0600 or www.frickart.org
Rare is the restaurant that appeals to family members of different generations. Hipper joints make elders grimace as they dial down their hearing-aids; more genteel establishments have youngsters rolling their eyes. The Café at the Frick, though, has tastes for every palate. Your rich relatives will admire the Frick estate, perhaps reminiscing about the days when good hired help was easy to find. Younger generations, meanwhile, will appreciate the Café's modish dedication to a seasonal menu and the use of local ingredients -- some harvested right from the Frick greenhouse. Everyone can enjoy a menu that tastefully updates old standbys, and the cozy restaurant is nicely but not ostentatiously appointed. Play your cards right, and you might even earn a mention in somebody's will.
Best restaurant to impress out-of-towners, college-friend-who-is-cooler-than-you edition
Church Brew Works
3525 Liberty Ave., Lawrenceville
412-688-8200 or www.churchbrew.com
Your friends will wonder where the hell you've taken them to eat when you pull up in front of the old St. John the Baptist church on Liberty Avenue. That's part of the fun in going to this microbrewery housed in this former Catholic parish church. The rest begins when you swing open those doors to the main dining room and your guests first lay eyes on the stunning wood floors, original woodwork, stained-glass windows and the Altar of Beer. Combine the impressive décor with great food (both dining and bar-grub menus are available) -- and your guests will be swept up in another sort of religious experience. Oh, and that sacramental wine? Now replaced by great locally brewed beer.
Best old-fashioned Old Fashioned
Embury
2216 Penn Ave., Strip District
412-434-1230
It's not just the décor (and bartender's apparel) at Embury that's old-style. The cocktail bar, which opened this year on the first floor of the venerable Firehouse Lounge, specializes in pre-Prohibition drinks, including an Old Fashioned that lives up to its name (whiskey, bitters, simple syrup and an orange peel -- no soda water or other garnish). The featured cocktail list changes seasonally -- an Egg Nog White Russian is on offer during the holidays -- and you're free to challenge the expert barkeep to make your favorite drink. A few microbrews and imports are on tap, but with the cocktails all made to order with fresh ingredients, it would be silly to settle for a beer.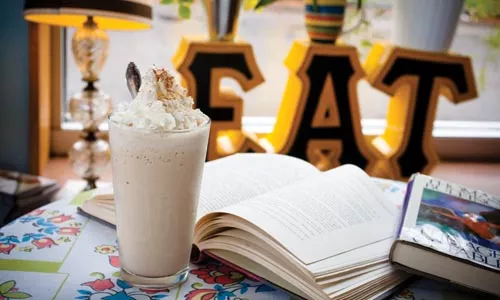 Best already delicious drink turned into an even more delicious drink
Quiet Storm's chai milkshake
5430 Penn Ave., Friendship
412-661-9355 or www.quietstormcoffee.com
While this spot is more widely recognized for its vegetarian and vegan fare (most recently in this very Best Of guide), Quiet Storm also has specialty drinks. Try the chai in all seasons -- grab it hot, iced or in a milkshake. A chai will run you $3, but it's worth it to spring the extra $1.50 to get it as a blended ice-cream shake. Other milkshake flavors include the traditional vanilla or chocolate, as well as peanut butter and new, special flavors like vanilla pear. Having just acquired a new espresso machine, Quiet Storm has further stepped up its drink game.
Best stand-in for an old-country Grandma
Soup Sega
449-451 W. Eighth Ave., West Homestead
412-461-6188 or www.bmnecc.org
When the weather turns cold, thoughts turn to the holiday season -- and the potential for contracting some exotically named flu. What better solution than a steaming quart of hearty soup, made by Soup Sega, in West Homestead? Each fall and winter the volunteer cooks, based out of the Bulgarian-Macedonian National Education and Cultural Center, prepare over a dozen varieties of soup based on traditional Bulgarian recipes. Packed in half-quart ($3-3.50) and quart containers ($6-7), the ready-to-heat soups are sold on Saturdays from 9 a.m. to noon. Selections include such Old World staples as cabbage and tomato, Balkan bean, meatball noodle, and, of course, chicken and dumplings. (For those with dietary restrictions, some soups are veggie, and/or free of gluten and dairy.) For New World convenience, customers can pre-order by phone or online. Our ancestors survived the winter on serious soup; you can too.
Best old-school bar snack in an old-school bar
Fried oysters and chips at the Original Oyster House
20 Market Sq., Downtown
412-566-7925 or www.originaloysterhousepittsburgh.com
It seems as though little has changed at the Original Oyster House in Market Square since the joint opened in 1870. The recipe for the batter they use on the fantastic fried oysters has been around only since the previous owner took over ... in 1916. (The bar's current owner has been on deck since 1970.) The décor in this classic ceramic-tiled bar -- complete with mirrored wall -- is peppered with vintage sports memorabilia and old Miss America pageant photos. These are courtesy of that same previous owner, who, besides creating a great batter, also had a photographer's seasoned eye for beauty contestants. Combine that ambiance with the awesome fried oysters and a $1.75 basket of crispy, homemade potato chips, and you'll swear you're munching in 1970 -- or hell, even 1870.