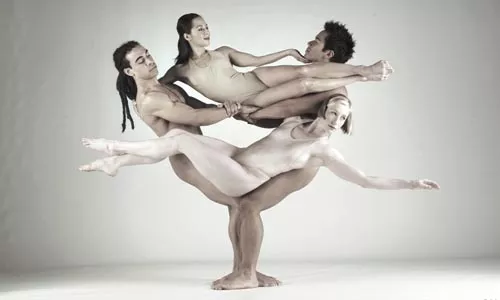 It has been four decades since Dartmouth students Jonathan Wolken and Moses Pendleton founded the uniquely American dance troupe Pilobolus. Since then, the company named after a spore-shooting fungus has become one of the most popular in the world, primarily due to an innovative sculptural partnering technique that instills in audiences a sense of wonder.
Before his death at age 60 this past June, the Pittsburgh-born Wolken began adding new dimensions to the company's repertoire in the form of shadow-play dances and non-sculptural dance works. Among the latter is the zany "Megawatt," which will close the company's two Pittsburgh Dance Council performances at the Byham Theater on Oct. 30.
"The shadows really came out of nowhere," says artistic director and original company member Robby Barnett via telephone from Pilobolus' Connecticut studios. "We were asked to make a car commercial" in which silhouetted dancers took on the shape of an automobile and other forms. "People saw it and asked us to do more. Jonathan got interested in that kind of work and it evolved from being commercial work to pieces with more artful intention."
Born in 1949, Wolken grew up in Shadyside. He graduated from Peabody High School before heading for Dartmouth, said his widow, JoAnne Torti, in a phone interview. Wolken first learned of the impressive fungus whose name he'd later appropriate while working in the lab of his father, a biophysicist at Carnegie Mellon.
The troupe's experimentalism goes back to its very foundation: Wolken and Pendleton met in a dance class at Dartmouth, which was apparently about the only dance training they had when they created Pilobolus.
Thus, while audiences may see the newer works as a change in direction, Barnett views them as merely another chapter in the company's evolution.
"You don't put your feet into the same river twice and you don't walk into the same studio twice," says Barnett. "The company's works are a record of a certain time with a certain group of people."
Today Pilobolus is a five-man, two-woman company. But its Oct. 30 program samples those choreographic records, with work spanning the company's 40-year history.
It begins with one of the troupe's newest works: 2010's "Contradance," a comic fable about a couple of misfits, with music by Grammy-winning children's artist (and ex-Del Fuegos member) Dan Zanes. "It's a love story -- a sweet one," says Barnett. "It's a terrific piece for families."
Next, the company performs one of its oldest pieces, 1973's "Pseudopodia," last performed in Pittsburgh in 1987. It's a solo work by Wolken in which the dancer moves like a tumbleweed.
Another resurrected classic is 1992's "Duet 92," a 10-minute piece for two female dancers. "It is representative of the prevailing societal metaphor of the Pilobolus style of complex partnering," says Barnett. "We are interested in how groups work together to solve problems."
Also scheduled is 1997's "Gnomen," a men's quartet in the classic Pilobolus style, with music by Paul Sullivan. "Pilobolus started as a men's quartet, and every so often we have gotten together and done another men's quartet to sort of see what our thinking is about that," says Barnett. "'Gnomen' was our investigation of the late 1990s."
Closing out the program is "Megawatt" (2004), a full-throttle wriggling-on-the-floor dance spasm, set to music by Primus, Radiohead and Squarepusher.
Pilobolus 2 p.m. and 8 p.m. Sat., Oct. 30. Byham Theater, 101 Sixth St., Downtown. 412-456-6666 or www.pgharts.org