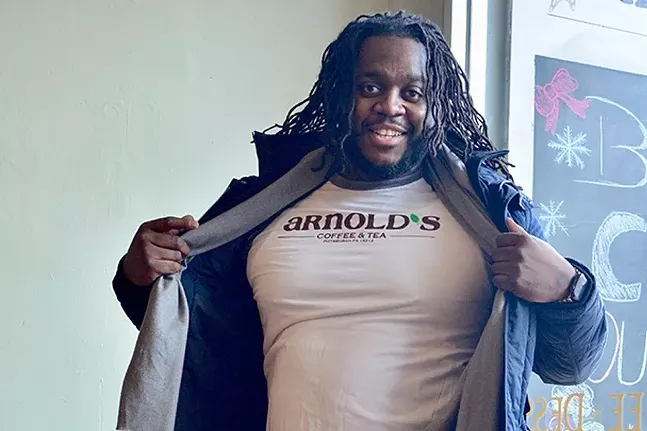 Last week,
a petition
gathered more than 3,200 signatures in support of saving Arnold's Tea, a beloved North Side café in danger of closing due to disputes between the owner, Claudy Pierre, and his landlords, the Historic Deutschtown Development Corporation (HDDC) and the Northside Leadership Conference (NSLC). Now, Pierre has another chance to ensure that his business stays open.
On Thu., Sept. 24, a board meeting resulted in a decision to extend Pierre's lease with a few provisions. HDDC board president Barbara Burns says Pierre now has 90 days to work with a new property manager and prove he can meet the requirements of his lease. Pierre also has until Fri., Oct. 4 to file an appeal against a local magistrate's ruling that would allow HDDC to repossess the space in the Beckert Building where Arnold's Tea is located.
The ruling comes after a year of delinquent rent payments and claims from NSLC and HDDC that Pierre improperly stored his trash, resulting in a rat problem in and around the business. Even so, Burns says Pierre, who was in attendance at the meeting, has made up his rent payments and extended an olive branch.
"He pretty much stated that he really wanted to have a positive relationship with his landlords, and described steps he has taken to be a better tenant," says Burns.
Burns says the HDDC has 120 days from the magistrate's ruling on Sept. 4 to take possession of Arnold's Tea. Before that happens, she says they wanted to use the time constructively by setting up a structure that would better ensure Pierre's success, including having him work with their residential property manager as opposed to Mark Fatla, executive director of the NSLC, who previously oversaw the space.
"I personally take no pleasure in anybody's failure, so we're rooting for him," says Burns. "We're hoping that this change of dynamics and opportunities and time will allow him to assure us that he understands our expectations and he can meet them."
Pierre says the whole process has tired him out, but adds, "I'm just focused on the business and trying to get it right."
Gina Grone, board president of the East Allegheny Community Council, which also appeared at the meeting, says they believe the decision is in the best interest of all the parties involved, including the North Side community.
"After hearing their perspectives, taking into account our own experiences and recognizing the desires expressed by the community via the change.org petition, we felt that it was in the best interest of all involved to give Claudy another chance," says Grone in a statement provided over email. "We believe that with some appropriate business planning support (more than what has already been provided), the affected parties can better understand if and how Arnold's Tea is a viable business for the space … As a community council and neighborhood, we are now in a process of ensuring that he receives the necessary support to manage the business successfully."
Burns believes the decision also honors the legacy of Verna Arnold, a retired Pittsburgh Public School principal who opened Arnold's Tea in 2015 and ran the business until Pierre took over last year.
"Mrs. Arnold had a wonderful vision for her business," says Bruns. "We appreciate that space, we appreciate the many people enjoying it."
Salvaging Arnold's Tea would also keep with HDDC's mission to improve the North Side business district and make it work for everyone involved, including the tenants, landlords, and patrons.
While the new arrangement helps, Burns says customers now need to show up and spend money to guarantee that Arnold's Tea sticks around.
"I hope people come who signed the petition," says Burns. "What [Pierre] really needs is people to come and support his restaurant and entrepreneurship."