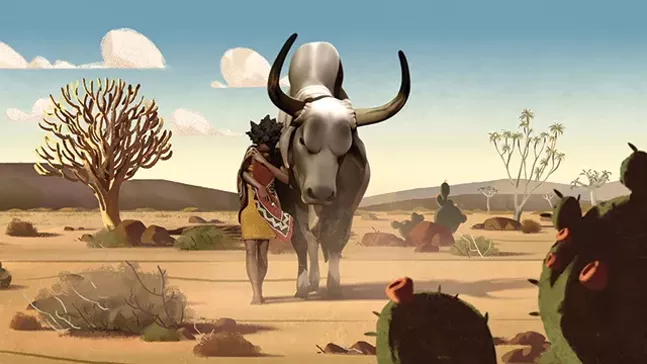 In Liyana, directors Aaron and Amanda Kopp take the somewhat rigid format of documentary filmmaking and infuse it with folklore and fairy tales. The movie follows a group of orphans in eSwatini (formerly Swaziland), led by South African storyteller Gcina Mhlophe, as they write a fairytale, blending real struggles from their lives with fantastical ones.
At the center of their story is Liyana, a young girl on a journey to rescue her twin brothers who have been captured, after their parents died of AIDS. She crosses a river filled with crocodiles, fends off hungry hyenas, rides a bull, and fights a grotesque monster. She struggles with hunger, thirst, exhaustion. She gets lost, feels helpless, and is nearly eaten alive. It has the action-packed adventure expected from a story written by kids, but it also has their joy and optimism. Liyana runs on advice given by her grandma, which was never to lose hope. Even in the face of danger, she finds joy in playing on the beach, napping in the sun, and hanging out in a tree, eating mangoes.
The vivid animation is interwoven with scenes of the children's lives at the orphanage, brainstorming their story, making toys out of scrap metal, going to the doctor for blood tests. As the movie notes, eSwatini has the highest rate of HIV infection in the world, with 200,000 orphans in a population of 1.2 million. It's distressing to see that these young kids are familiar enough with HIV to make it a villain in their story. The movie doesn't dwell on this statistic, and barely scratches the surface of these children's lives, but it's a testament to the commonality of their situation.
There is little explanation as to how or why these children are writing this story, and whether or not it's an activity that exists outside of the documentary. But ultimately the story is more about Liyana, a collection of the children's fears and dreams, than it is about any of the individual children.
The animation itself is singular, not fully in motion but not a still-life either. Liyana's animator Shofela Coker called them "breathing paintings." They move and twitch with life —flowing water, a glittering chameleon, the flash of lighting — just enough to make Liyana's story real. It's accompanied by a vivid soundscape, pairing music and natural sounds to convey the feel and place of the scene.
Each image stays for only a few seconds before cutting back to the children, either sitting on a stool narrating the story, or living their lives at the orphanage, which often mimic Liyana's. As she rides a bull through the desert, the children ride in a van to the doctor. As vultures begin to circle Liyana's body, collapsed from exhaustion, a little boy gets blood drawn to test for HIV.
Their dangers aren't the same, but the animation allows the kids to tell it in a way that feels true. As one child notes, "It's more difficult to live your life than writing a story."