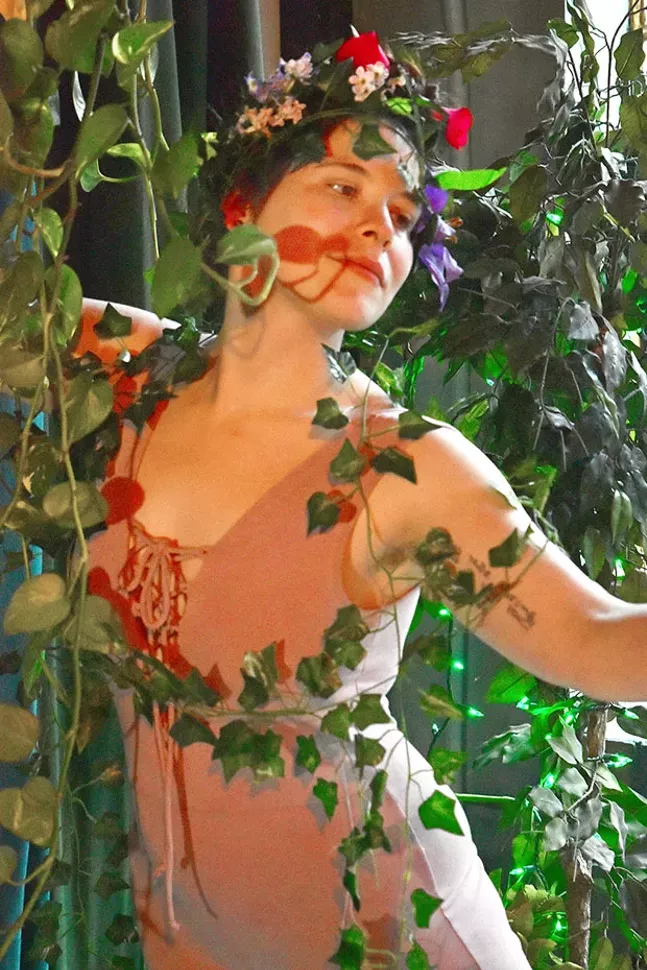 Folk tales are a rich source of narrative art and cultural wisdom. What they're typically not is a font of progressivism; too often, the characters and stories reinforce patriarchy, misogyny and other social ills.
Abigail Lis-Perlis thinks that can change. The local theater artist's new series, folkLAB, envisions "a new American folklore" of folklorically inspired narratives told in the voices of the oppressed. Each work will be devised by a small ensemble working with a tiny budget in a three-week time frame. First up is Femme, whose cast of four female-identifying creators/performers includes Lis-Perlis, Kelsey Robinson, Asia Bey and Paige Borak. Femme receives eight performances through Dec. 17 at Glitter Box Theater. (The show is self- and crowd-funded; performers will share in ticket revenues.)
Lis-Perlis has helped produce some memorable theater in Pittsburgh since moving here in 2010. In 2014, she co-directed Throughline Theater's visionary production of 16th-century morality play Everyman, and in 2015 co-wrote and co-directed Professor Eldritch's Asylum for Uncanny and Extraordinary Women, an ambitious immersive work for Uncumber Theatrics and Devious Maid Productions.
"People are opening up to experimenting with the form of how we create theater," she says. One way is to return to roots, and, as Lis-Perlis says, "Folk tales are the building blocks of storytelling."
Working collaboratively, and inspired by their own favorite folk tales, the four creators devised a 45-minute work set in an unearthly realm where a young woman born from a bean goes on a coming-of-age journey. After climbing the beanstalk growing from her own head, she's aided by three celestial (if relatably flawed) beings: a gardener, a scribe and a weaver. "People just get used up before they can even be anything," says the bean-girl, played by Bey. "I want to be something." To be performed for audiences of 20 or fewer on a series of intimate sets, Femme incorporates song (including a beautifully haunting theme), movement and ritual, with doses of humor, and draws on the diverse talents of visual artist Bey, dancer/choreographer Robinson, and lighting designer Borak.
In traditional folk tales, says Lis-Perlis, female characters are usually villains, damsels in distress, or heroes who "end tragically."
That means, she says, that "[t]here's a lot to explore in terms of subverting tropes. … We're creating our own new folk tale."