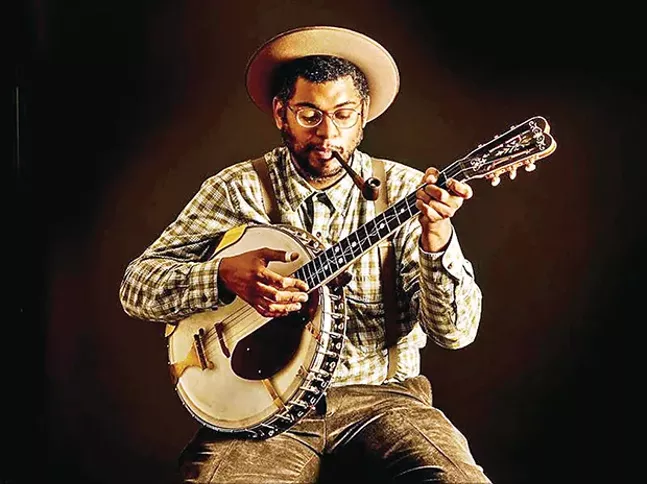 The common image of cowboys is usually a John Wayne-type — a handsome man with a quick draw. Or maybe it's something based on a real-life cowboy, herding cattle in muddied boots. Regardless, the collective image is definitely white.
The world typically understands American cowboys as brave (white) men conquering the Wild West and in doing so, erasing the presence of everyone who isn't white.
Folk singer Dom Flemons, who plays the Ace Hotel on Thursday, is trying to change how we see these figures with his album Black Cowboys. It's a collection of covers and originals meant to provide a comprehensive history of the cowboy that is missing from our lexicon.
"Cowboys are one of the most enduring and prominent images in American culture, and I learned that one in four cowboys who helped settle the West were black," says Flemons, born and raised in Phoenix.
His album covers various pieces of black cowboy history, from Nat Love, an escaped slave turned cowboy, to Bass Reeves, who was the inspiration for the Lone Ranger.
Black Cowboys features a version of "Home on the Range," one of the most recognizable American cowboy songs. What's lesser known is that the most recognizable version comes from a recording of a black cook in 1908.
Flemons also wrote three original songs for the album: "One Dollar Bill" is about Hollywood's "sepia-toned" cowboys; "Steel Pony Blues" is about Love; and "He's a Lone Ranger" is about Reeves.
This 18-song project is not just about highlighting historical figures, but about bringing attention to the contributions of black musicians who have historically been glossed over — specifically in the realm of folk and country music.
"Hank Williams learned from a man named Tee-Tot, and that's where he got a lot of his famous sound. Bill Monroe and his brother Charlie learned from a man named Arnold Shultz," says Flemons.
The most famous white folk and country musicians were usually influenced by black musicians. Woody Guthrie and Pete Seeger learned from Lead Belly. A.P. Carter got many of The Carter Family's most famous songs from a black man named Lesley Riddle, who saw none of the profits or name recognition.
While Flemons' second solo album is his first project to specifically explore the history of black cowboys, he has been a leader in the folk revivalist genre since founding Carolina Chocolate Drops (along with Rhiannon Giddens) in 2005.
On Black Cowboys, he uses a collection of instruments meant to evoke both the sound and feel of cowboy music, including a Gibson Hound Dog guitar, quills (a kind of pan pipe), and rib bones.
The album was recorded under Smithsonian Folkways' African American Legacy Series, which is a collaboration with the National Museum of African American History and Culture. The series features music and words from the likes of Paul Robeson and Fannie Lou Hamer.
"It has a lot of legacy artists who aren't living," says Flemons. "I wanted to show that we're still here."