One cold Friday night in February, a dozen men and women have gathered at the Greenfield home of Pablo Espinoza and Betsy Davis to sing some old Chilean folk songs and perform some national dances. They're also here for fellowship, and to share a cultural connection: The conversation is primarily in Spanish, and the night will conclude with tiny pumpkin-derived pancakes, called sopaipillas, for dessert, and a glass of wine or the Chilean liqueur pisco.
In the dining room, Emily Pinkerton is gluing sequins to a bell-shaped piece of red felt -- a representation of Chile's national flower, the copihue (pronounced "co-pee-way"). The flower also inspired the name of this performance troupe, Copihue Chile. The felt flowers, along with some work-in-progress headdresses, are part of the costumes they've planned for this year's Pittsburgh Folk Festival.
Out in the living room, Espinoza, Copihue Chile's director, tunes up the nylon strings of his acoustic guitar, and pensively strums a few chords. Pinkerton retrieves her guitar as well, and others pick up a variety of Latin American instruments: zampoñas (pan pipes); a tañador (a slatted wooden box with metal vibrating parts in it); and the pandero, a Chilean hexagonal tambourine. There's also the slightly sinister chapchas, a large shaker made of dozens of dried sheep or llama hooves.
The rest of the group gathers around to sing a couple of folk songs, which cycle back and forth between basic major chords with a loping pulse.
After rolling back the furniture and rugs, dance director Loreto Egaña and Pedro Burckhardt demonstrate the cueca, Chile's official national dance -- a dance they both learned as schoolchildren. Burckhardt explains that it's intended to mimic the mating dance of the rooster and the hen. Everyone claps out the time, as Pinkerton and Espinoza strum the guitars, and the dancers twirl white handkerchiefs around their heads as they circle each other.
Early on, Copihue performances merely involved dancing to prerecorded music, but "listening and watching people performing live gives much more to the audience," says Espinoza. And because "it is possible to talk to your audience and to interact with it easily; therefore, you can give a richer experience to the audience and for the members of Copihue, too."
So far, the group mostly plays songs from Chile's temperate central zone, its most populous area. After some consultation, the group agrees to try an Andean song they're learning, to demonstrate how the music varies from one region to another. Slower, more melodic and melancholy, the song sounds both more accessible and more haunting.
It's an example of how Chile's musical traditions reflect its diverse geography -- a narrow 2,700-mile strip that ranges from arid northern deserts to lush farmland and forests to the frigid Cape Horn. But it's also an indication of the wide range of backgrounds and beliefs within this small cluster of people, differences that have their roots in Chile's history of colonialism, class struggle, military coups and dictatorships. Against such a backdrop, Chilean folk culture requires compromise and negotiation merely to survive in Pittsburgh.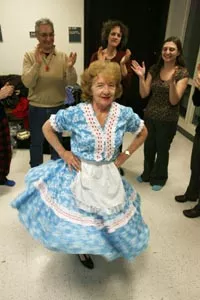 Copihue is currently comprised of six Chileans (four men, two women) and five Americans (all women). The group is a sideline for the members: Espinoza, for example, is an engineer with a manufacturing company; Burckhardt is a supply-chain management consultant for large corporations; Egaña is a neurobiology researcher at the University of Pittsburgh. While an interest in Chilean culture is a prerequisite, membership is open.
If 13 seems a small roster, it's hardly much smaller than the Chilean population living in Pittsburgh.
"The official number that I got last time from the Chilean consulate in Philadelphia, was about 44 persons here in Western Pennsylvania," says Burckhardt. But that number doesn't account for everyone -- students at the universities, for example. Burckhardt estimates a more realistic number to be around 140.
"We are a very tight group of friends now, considering that we didn't know each other before we started," says Burckhardt. "The group is also a social group: We meet each Friday; we also rehearse; we also talk about our issues and so on, things we want to share with other members of the group." Burckhardt has lived in the U.S. since 2004 and moved to Pittsburgh in 2006; Copihue seems to help keep him connected to folk traditions he's been "very attached to" since childhood. Egaña agrees: "Personally, Copihue has been a support group, for friendship, conversation and exercise, too."
Copihue, says Espinoza, has also helped other Chileans feel more connected to their homeland -- and to each other. "The reactions we got from the Chilean community after our performance in the last Folk Festival was very surprising and wonderful," he says. "Chileans told us that they felt closer to the country, proud of Chile and of being Chilean." The performances also seem to "allow people of other countries and from the States to understand a bit more why we are as we are."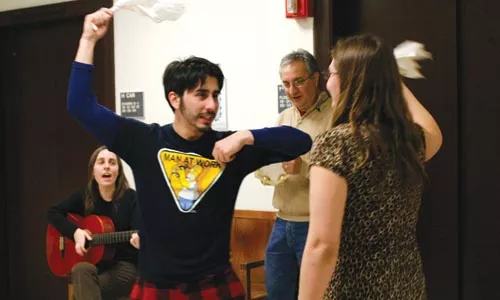 Copihue grew out of the efforts of René Urzúa, a retired bilingual Spanish and French teacher and Chilean immigrant whose wife, Margaret, is a Pittsburgh native. Urzúa's interest in folk music began at the University of Santiago, where he was a member of the school's folk ensemble. Long before that, though, his family had imparted an appreciation for music. "My working family provided me with a great support system that included religious principles, value for education and appreciation of music and social concern," Urzúa says via e-mail from Chile, his refuge from Pittsburgh's harsh winter. "From those values was born my interest in traveling, music and dancing."
René and Margaret met in 1968 while she was volunteering at the Chilean Health Department through the Diocese of Pittsburgh; he moved to the U.S. in 1970 be with her and to pursue professional opportunities. They lived first in Connecticut, then eastern Pennsylvania. Going to international festivals in those areas made him realize that his culture wasn't well known or understood in the Northeast.
"I felt that I should keep my traditions at the same time that [I] learn and absorb those from my new country," Urzúa says. "So I started giving slides, dances and general presentations at churches, libraries, universities, schools and social centers, plus I used my positions as a teacher and social worker to get involved in cultural programs."
Moving to Pittsburgh in 1999 to be near his wife's parents, Urzúa joined the Latin American Cultural Union, and performed at events like Pitt's Latin American Festival and the Pittsburgh Folk Festival. "During that time a group of Chileans got together to start a Chilean organization called Chilenos de Pittsburgh to promote cultural and social events related to the Chilean and American community." That effort eventually led to Copihue.
Since then, Copihue has performed at venues including Geneva College, CAPA High School and the Carnegie Library main branch, as well as at gatherings celebrating the independence days of Colombia, Mexico, and of course, Chile.
They also performed at the 2008 Pittsburgh Folk Festival -- the first time Chile was represented at the event. In addition to performing dances on stage, members ran their own information booth. "We went through a lot of ideas, and finally we came to that booth," says Burckhardt. "It's good enough for now, to talk about our country and get people to know what our country produces, what we export into the U.S., and where they can find that. And also we give them advice for places to visit if they are going to Chile for vacations, for example."
But don't expect much that's controversial.
Chilean history and politics are fraught with tension. In 1973, a U.S.-supported coup deposed a democratically elected president, Salvador Allende, and installed Gen. Augusto Pinochet. Pinochet's rule lasted nearly 20 years, and was marked by repression and human-rights violations. Pinochet was ousted in 1990: Since then, the country has restored many democratic institutions, and enjoyed a period of protracted economic growth. Even so, the scars of Pinochet's rule remain, and there are still disputes regarding the treatment of indigenous peoples.
With such a small Chilean population in Pittsburgh, though, such controversies tend to be set aside.
"There's a lot of different tastes within the group -- people from different backgrounds and people from different political beliefs," says Emily Pinkerton. "People are really dedicated to getting along and being -- 'polite' is not the right word -- but to being really respectful for everyone's personal history. Chilean politics isn't something that doesn't come up or is taboo, but it's something that I think, tacitly, everyone in the group just agrees not to get up in arms about."
She adds, "And I really think that that's part of what's special about Copihue too -- how committed everyone is to giving Chile a public face."
That spirit of compromise helps determine the songs and dances they perform as well, as Chile's political climate has been reflected in its various music styles, particularly the protest song style nueva canción. The Nueva Canción movement was perhaps analogous to the U.S. folk revival of the 1960s: It has roots in indigenous music, and emphasizes traditional instruments, but it combines these traditions with elements of social activism.
For that reason, "to do ... all nueva canción, for other people in the group, would be uncomfortable," says Pinkerton. Conversely, though, sometimes songs are vetoed for being "too quaint a description, too stereotypical depiction of, say, rural Chile" -- a portrayal that "can be associated with political conservative factions for some people."
As Pinkerton puts it, "For this group to happen, the realm of traditional or staged traditional folk styles is fairly safe terrain." For some performances, the group wears costumes based on somewhat picturesque representations of rural Chilean life: The men don dark hats, the poncho-like manta, fringe and spurs, while the women wear old-fashioned looking dresses, with lots of bright floral patterns and lace. Within that broad Chilean tradition, Pinkerton says, "We just make sure everybody in the group is comfortable with the songs that get chosen and the types of music that are represented."
Lately, Copihue has been developing a program based on one of Chile's many popular religious festivals: the annual La Tirana festival that takes place each July in the country's northern region. Much of the festival consists of performances and processionals in honor of the Virgen de Andacollo. Copihue is working on new costumes, including a large metal devil mask for a dance that's part of the La Tirana, and the group hoped to stage a performance for the Pittsburgh Folk Festival.
But Pittsburgh may have to wait.
A post on the Folk Festival Web site from board president Karen Hall warns that "the Pittsburgh Folk Festival has felt the downturn of the economy and reduction of donor support." Accordingly, the event will be delayed until the fall of 2009 -- if held at all. (Requests for further comment from the Folk Festival were not returned by press time.)
It's a setback for the festival, which was established in 1956, when it exhibited only six cultures. By last year, it had expanded to encompass more than two dozen, including -- thanks to Copihue -- Chile.
And it's a loss for Copihue as well, which hasn't been seen in public much lately. Its own blog (copihuechile.spaces.live.com) notes that "Copihue Chile hasn't done anything new lately." But Burckhardt, who maintains the blog, says the festival's potential cancellation won't throw Copihue off its stride.
Indeed, the group has already planned some performances to fill the place of the Folk Festival. The group plans a May 21 fundraiser -- to raise money for more costumes and other elements -- that includes a Chilean-style barbecue along with the live performance. A July public performance will showcase the La Tirana material. (Visit the Copihue blog for more details.)
And in any case, the work of teaching Pittsburghers about Chilean culture continues.

Pinkerton plays a music clip in her PowerPoint presentation, and the groggy students in her early morning Latin American Music class at Pitt seem to wake up. An electric guitar and a flute section share the lead melody over a heavy, '70s-rock groove. But there's a weird quality to the music that separates it from, say, Jethro Tull -- the flutes are playing parallel melodies, which creates a kind of dissonance alien to American ears. Pinkerton stops the clip to explain.
The musicians are "taking a melodic structure that could be taken from an Andean festival," she says. And then, she adds, they are translating it into a more contemporary, urban style of music -- namely, American rock.
The subject of Pinkerton's discussion today is "Rock in Latin America -- Rock vs. Nueva Canción," an exploration of two competing trends in the popular music and youth culture of Chile. On the one hand, there's the music that started out as an imitation of American pop and rock in the 1950s and '60s. On the other is the Nueva Canción movement: As Pinkerton later explains, such music is marked by "more a kind of troubadouresque performance" that is "really evoking an Andean sound or whichever local sound -- and then being very overtly political in your text and in your activities and in your venues, in a way that these rock bands don't do."
While rock 'n' roll may have symbolized youth and rebellion in the U.S., its role in Chile was more fraught: Conservatives rejected it as a challenge to traditional values, and the left often denounced it as a symbol of U.S. imperialism. The central question in such debates, says Pinkerton, seems to be "Should [music] sound like something from somewhere else, or should it sound like something local?"
It's a question that could be applied to her own music as well.
Pinkerton is one of those people who manage to turn their idiosyncratic interests into a career. In addition to teaching as an adjunct at Pitt, she directs a music ensemble at the Shadyside Unitarian Church and has worked for the Calliope Folk Music Society. She's also an accomplished singer-songwriter with a lovely clear voice, proficiency with banjo, guitar and fiddle, and a penchant for folk and old-time music.
Though she's lived in Pittsburgh since 2005 with her husband Patrick Burke -- also a musician, in the New Music group NOW Ensemble -- Pinkerton grew up in Valparaiso, Indiana. The town shared a name with Valparaíso, Chile, and the two communities set up exchange programs to bring students back and forth. That sparked Pinkerton's interest in Latin American language and culture.
"In high school, I wanted to learn Spanish and reach out to these students," she says. "But as I made friends with these exchange students, music also became something that we shared, and I started learning nueva canción songs back then [...] without really understanding what they meant."
Later, while earning a degree in vocal performance at the University of Texas, she arranged to spend a couple of years in Chile, studying canto a lo poeta -- a rural poetic song tradition -- and learning how to play some Latin American instruments, including the guitar-like guitarrón and the cajón drum.
Studying in Chile added meaning and depth to the songs she'd first learned in high school: "Understanding them from the inside out, from the rhythm down to when they were written and why, is just a fascinating process." But Pinkerton adds that part of the appeal is "also just finding it beautiful. Hearing the way they differ from songs you grew up with and ..." She trails off, at a loss for words. "It's ... fun. Fun and moving."
This past fall, Pinkerton funneled all of those experiences into Valparaíso, a collection of her original songs in English and Spanish -- and a few Chilean songs thrown into the mix. While she played most of the instruments on the record, she's lined up an ensemble to play live, in addition to sitting in with Copihue. While you might expect these musical elements to clash or sound cheesily "eclectic," Pinkerton manages a graceful synthesis that reflects well on both of her main ingredients.
"My personal cause is just staying closely involved with a music and a region that I care so much about -- and if I can translate that to a larger context both in the classroom and in the music I perform myself and write myself, then I guess that's my 'cause.'"
Back in the classroom, the discussion has moved on to Latin rock of the 1990s alternative era -- music whose "incorporation of both global and local sounds" is obviously closest to Pinkerton's heart. She plays snippets of a few songs, pausing for student feedback and questions. There's a song by Chilean group Los Tres, which incorporates the rhythms of a national dance and the guitarrón, and the strummy pop ballad "Bolero falaz" by Colombian male-female duo Aterciopelados. Its interlaced vocal melodies are interesting, but something feels a bit off about it. It's a bit slow, one student grumbles, and not very appealing at first listen.
"It's not quite the sound you'd usually expect from alternative rock," another student offers, skeptically.
The group was influenced by Nueva Canción artists, Pinkerton notes, and Aterciopelados is active in political causes, but "the '80s, '90s artists -- it's just a different approach, that sometimes gets criticized for being, oh, not ideologically committed enough or something."
"But it's qualitatively different, just because of being 25, 30 years later and a different generation, trying to find a different way of expressing local identity that feels right."
Pinkerton has saved what's clearly her favorite song for last -- "El Matador," or "The Killer," by Los Fabulosos Cadillacs. Over a slinky ska beat and bass line, horns and electric guitars erupt in a dark, dirty pulse. The vocals, which the whole band occasionally chimes in on, contain references to Chile's fallen dictators, Pinkerton notes.
The students seem pleasantly surprised by the ska element of the song -- a rhythm that's perhaps more familiar than the other material. It's also "overt political content ... set to this dance beat," Pinkerton later remarks. "I bet that's pretty jarring for earlier lovers of Nueva Canción, to hear those kind of things intersect. But that's what that alternative rock movement was about, too -- it sounds local, but it's also embracing the world of dance."
"Danceable?" Pinkerton asks. The students murmur appreciatively.
"Oh yeah," says one.
Upcoming Emily Pinkerton Performances
Calliope Emerging Legends Series 12:30 p.m. Thu., April 16. Hillman Library, 3960 Forbes Ave., Oakland. Free. www.calliopehouse.org
Karmic Salon featuring Brad Yoder, Chris Fennimore and Doug Blevins 7:30 p.m. Fri., May 8. Yoga Matrika, 1406 Negley Ave., Squirrel Hill. 412-855-5692 or www.yogamatrika.com

Full band performance, featuring Layo Puentes, Luke Savage and Marcia Moreno 8 p.m. Fri., May 15. First Unitarian Universalist Church of Shadyside, 605 Morewood Ave., Shadyside. $10 ($5 students). 412-621-8008 or www.first-unitarian-pgh.org