The Scaife family's legacy in Pittsburgh and the country is immense. After inheriting much of the Mellon family fortune, the Scaifes put their money to powerful uses. Not only did Richard Mellon Scaife own and publish the
Pittsburgh Tribune-Review
for decades, but his family's money was also given to several local philanthropic causes and many national right-wing endeavors.
Cordelia Scaife May, Richard's sister, was also involved in philanthropic donations but kept a lower profile. She eventually gave most of her inheritance to the center she founded, the Colcom Foundation. May kept to herself and her motivations behind her philanthropy were not well known.
But a recent
New York Times investigation
sheds light on May, exposing the anti-immigrant motivations behind her philanthropic giving and her goal to restrict immigration into the U.S. May, who passed away in 2005, gave more than $180 million to anti-immigrant causes. The Colcom Foundation continues to give to
anti-immigrant causes
, and according to the
Times
, is worth $500 million. Colcom also gives hundreds of thousands of dollars to local environmental groups like Allegheny Land Trust, Grow Pittsburgh, the National Aviary, and Pittsburgh Parks Conservancy.

Times
reporters conducted dozens of interviews and looked at court records and government filings. The reporters also uncovered unpublished writings revealing May's evolution from an environmentally conscious Republican to a strict nativist espousing racist views.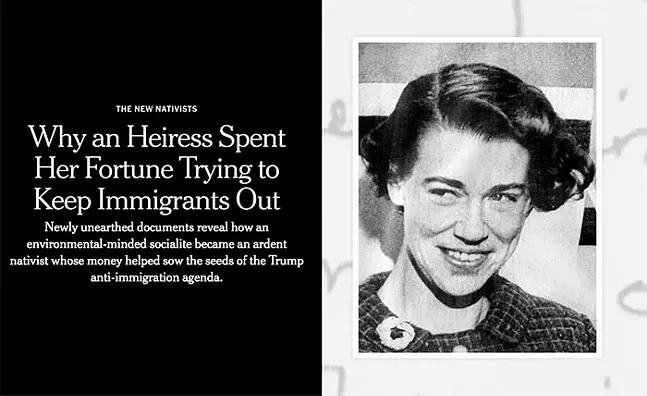 Here are five takeaways from the Times' bombshell report:

1. Cordelia Scaife May was friends with racists and white nationalists
In her correspondence, May wrote racist and anti-immigrant views including that the U.S. was "being invaded on all fronts" by immigrants and that foreigners "breed like hamsters." She even once typed a response to a critic filled with comments about Filipinos "pouring" into Hawaii and "Orientals and Indians" sneaking across "long stretches of unmanned border" with Canada.
May was particularly concerned with Mexicans and Central Americans, saying the southern U.S. border should be sealed. She also had a close friendship with Garrett Hardin, who the Southern Poverty Law Center (SPLC) calls a white nationalist. In one correspondence in which May sent Hardin clippings about riots in Los Angeles, Hardin responded by writing that "maybe the blacks are less than saintly" and complained about "the predominant Latinity of apprehended criminals." Hardin also openly encouraged racial discrimination.
In a 1995 correspondence between white nationalist John Tanton and May's Family foundation obtained by
Pittsburgh City Paper
, Tanton requested that May pay $20,000 to fund a book on the "evils of multiculturalism." In 1978, May helped Tanton create the Federation for American Immigration Reform (FAIR) with $50,000 in seed money.

2. The modern anti-immigrant movement would likely not exist without May
Most of today's
anti-immigrant rhetoric
policies can be traced back to Tanton and the groups he created in the late 1970s, including FAIR. The
Pittsburgh Post-Gazette
documented recently how those groups are currently having an immense influence on the Trump administration.
And according to the
Times report
, those groups wouldn't exist without May. Additionally, in 2015, SPLC told the
P-G
that if Colcom wasn't funding anti-immigrant groups, the anti-immigrant movement
might not exist
.
Virginia Abernethy, a self-described "ethnic separatist" and retired Vanderbilt University professor who spoke last year at a white nationalist conference, told the
Times
that May "funded a great deal of the original research."
"Without Cordy May, there's no FAIR," said Roger Conner, the organization's first executive director. "There was no money without her."
In internal memorandums unearthed by the
Times
, Tanton wrote, "Mrs. May has been our single biggest supporter. She just gave us another $400,000. That relationship is pretty well under control." In 1988, when Tanton was struggling to find grassroots support for an English-only ballot initiative in Arizona, May paid for canvassers. She even lent use of her private jet to help white nationalists attend gatherings.
Since 2005, the Colcom Foundation has given more than $150 million to a dozen groups in Tanton's anti-immigration network.
3. May's initial advocacy changed from environmentalism and birth control to "overpopulation" and anti-immigration
Early on, May was passionate about protecting natural habitats and working with Planned Parenthood. Eventually, that advocacy led to the goal of preserving the environment through discouraging childbirth and encouraging global abortion access. That argument then morphed into May just discouraging any immigration into America because of "overpopulation."
The U.S. has a number of very large states with very few people. Montana, for example, only has about seven residents per square mile. The city of Pittsburgh currently has 5,460 people per square mile and used to have twice that. The current U.S. population is around 327 million, but if it was populated as densely as Europe, the country's population would be around 1 billion.
Even so, this "overpopulation" argument has since been co-opted by eco-fascists and white nationalists, including the New Zealand and El Paso mass shooters. Alleged Tree of Life shooter Robert Bowers called immigrants from Central America
"invaders."
Abernethy told the
Times
that May was "the first person who comes to mind" who pushed the convergence of the population-control and immigrant-restriction movements.
In the 1970s, May had a relationship with the reproductive health organization Population Council. But eventually she stopped funding that group, and her top aide told Population Council that international family planning and famine relief were a waste of money.
May's advocacy shifted sharply to focus on immigration and arguing that the U.S. should not let in any immigrants unless enough native-born Americans emigrate out of the country.
Additionally, May's "overpopulation" advocacy may have stemmed from fears of wealth distribution. In a letter to Helen Clay Frick, May talked about population meetings at a United Nations conference that she believes would feature demands for wealth redistribution.
4. May's influence on the modern Republican Party is undeniable

Through May's funding, several anti-immigrant groups were founded and her money continues to bankroll them.
According to the
Times
, those groups built relationships with several people directly
linked to President Donald Trump
, including former Attorney General Jeff Sessions and Trump's lead immigration policy aide Stephen Miller.
Miller has advocated for many of the same immigrant restrictions that FAIR and other Tanton-related groups have pushed. But the influence goes even beyond the current Republican presidential administration.
Immigrant-restrictionist group NumbersUSA helped lead a successful push in 2007 to
stop comprehensive immigration reform
legislation under President George W. Bush, pressing mostly Republicans in Congress to reject the bill. The act would have led to a path to citizenship for America's undocumented immigrants but also increased border security significantly.
"Without them, it would be a very different situation," NumbersUSA President Roy Beck said to the
Times
, referencing Colcom. "We'd be functioning at a very different level."
5. Colcom Foundation is based more on racist immigrant-restriction than environmentalism

In Colcom's nonprofit application to the I.R.S., May wrote that environmental groups were "doomed to failure" if they didn't understand "that the degradation of our natural world results ultimately from the press of human numbers."
The
majority of Colcom's funds go to anti-immigrant groups
, not environmental groups. Even though they give substantial funds to Western Pennsylvania environmental nonprofits, Colcom gives much more to fund large groups like FAIR and also the American Immigration Control Foundation, which has likened immigration to a "military conquest" with the effect of "substantially replacing the native population."
The Great Replacement is a racist conspiracy theory that posits, without evidence, that international policy is intentionally leading to demographic shifts in white-majority nations where non-white people will eventually become the majority. The theory is commonly shared by white nationalists and white supremacists.
In the
Times
story, Colcom vice president John Rohe has repeated his defense of the foundation, saying that "racial discrimination had no place in Colcom's views on immigration."
But tax forms show that Colcom has donated to VDare, a white nationalist website. FAIR, which has been deemed a hate group by the SPLC and has recently received increased funds from
Colcom
. FAIR also recently attacked U.S. Rep.
Conor Lamb
(D-Mount Lebanon) over an immigration vote that the vast majority of Americans support and would provide a path to citizenship to DACA recipients, the vast majority of whom are Latino.