Not much went right for the Steelers in 2013, least of all when it counted.
They dropped the first four games of the season and six of their first eight before rebounding for a 6-2 record in the second half. And while their playoff hopes were alive — at least mathematically — until the last day of the season, their future had already been determined long before then.
"We didn't do enough," Coach Mike Tomlin said in the press conference that ended the team's second straight 8-8 season. "We didn't do enough, particularly early this year."
But at least one aspect of last season does bode well: Through tinkering with what was broken, the Steelers found a way to turn their season around. It wasn't enough, but it was also no easy feat, given how the team started.
"There are a lot of reasons to be optimistic about what transpired when you look at it over the course of the season," Tomlin said. "But at the same time, as I look back at the body of work ... you've got to acknowledge we are what we are — and that's an 8-8 football team on the outside looking in."
But this year will be different. The team is younger and faster, and the players are hungry in a division full of teams that are also in transition. There's also history on the line: Since 1971, no Steelers team has ever posted three consecutive non-winning seasons. The Steelers have put the past behind them, or so Tomlin said at the start of training camp: "I'm singularly focused on the now. I'm going to sell that to the football team. We don't need to carry last year's baggage."
And while he's known for spouting great lines, it's easy to believe Tomlin that the Steelers will see success in 2014. Here are five reasons why ... and a focus on the no-huddle features in almost all of them.
Head Coach Mike Tomlin
The way some fans and pundits have called for Mike Tomlin's head the past several seasons, you'd never know that he'd brought the team to two Super Bowls, won one and posted a career record as head coach that sits at 30 games over .500.
In fact, notwithstanding his back-to-back 8-8 seasons, Tomlin has never had a losing campaign — something neither Chuck Noll nor Bill Cowher could boast. That record comes from his ability to adapt to adversity.
Critics will point to last season's disastrous 2-6 start as a negative. And while that start is the reason the Steelers failed to make the playoffs, Tomlin's response — like his decision to introduce more no-huddle offense — paid off.
And while last year the Steelers moved to a new defensive philosophy that emphasized the outside pass rush, they were trying to do it with an older, slower defense. This year, Tomlin — a coach with a history of sticking with proven veterans — made some big personnel moves, and now his defense is younger and faster. It remains to be seen how effective that defense can be (see "Five Reasons the 2014 Steelers Are Headed for Disaster"), but Tomlin is the type of coach a player will die for. That leadership could well take the Steelers back to the playoffs in 2014 — and beyond.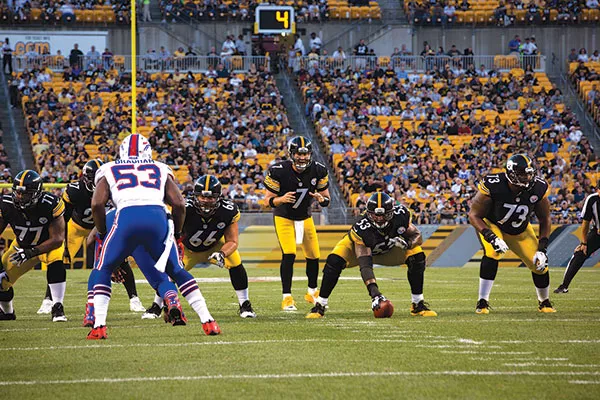 Quarterback Ben Roethlisberger
It doesn't seem like that long ago that Roethlisberger was often listed as a weak spot in the Steelers lineup — as much for his antics off the field as his performance on it.
But Big Ben has undergone some changes in recent years. He's more mature and has emerged as a team leader.
At 32, he came to camp in perhaps the best condition he's managed in years, thanks to work in the offseason. "I just put extra work in [with] personal trainers [and] nutritionists," he said at the start of camp. "You're 32 years old and you're in your 11th year, it's time to do some extra [work]."
Roethlisberger started to prosper late last season when the Steelers decided to emphasize the no-huddle offense. While in that formation, Roethlisberger is the main play-caller instead of offensive coordinator Todd Haley. Roethlisberger has wanted to be in that leadership position for some time, and the results were obvious: Over the final eight games of the season, he threw 16 of his 28 touchdowns alongside just five interceptions. (He had 14 interceptions on the year).
Based on what they've seen in the preseason, fans should be hoping to see a lot of Roethlisberger in the no-huddle during 2014. In the Aug. 16 game against Buffalo, Roethlisberger threw for 128 yards and two touchdowns in limited action. If he can duplicate that proficiency — even if the no-huddle is used sparingly — the Steelers should find a lot of success.