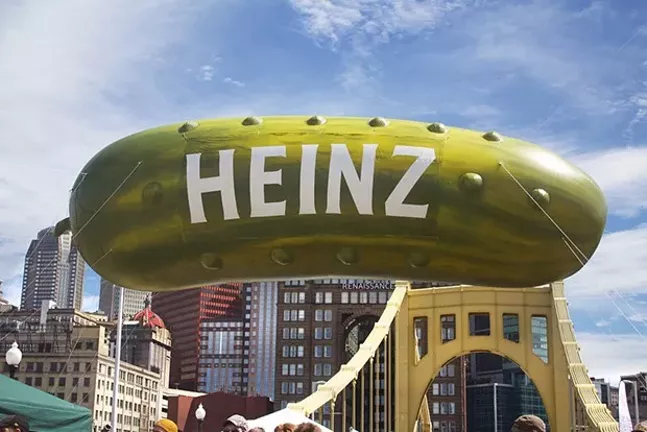 Picklesburgh

It'd be difficult to miss the news about Picklesburgh in the past few months, but if you're the indoorsy/offliney type: Picklesburgh is returning in 2019 for its biggest incarnation yet.
The festival, recently voted America's #1 Specialty Food Festival in a USA Today readers' poll, is doubling in size. Picklesburgh is extending beyond its traditional location on the Roberto Clemente Bridge into the riverside sections of Fort Duquesne Blvd.
This means more pickles for everyone! Gherkins and dills alike will come in the form of food trucks, cocktails, canning demonstrations, merchandise, and of course, contests. For all you pickle fanatics out there: registration for the highly competitive pickle juice drinking contest opens soon. Keep an eye on the Downtown Partnership to enter for a chance to be crowned the 2019 Mayor of Picklesburgh.
Picklesburgh's signature 35' pickle will fly once again starting July 26 and through the weekend. Visit picklesburgh.com for more details.
Caliente Craft Beer Week
Craft-beer enthusiasts across the city mourned the loss of the 2019 Pittsburgh Craft Beer Week (PCBW), but the pain was relatively short-lived. Caliente Pizza & Draft House stepped up to continue the hoppy celebration, announcing the first Caliente Craft Brew Week, kicking off April 26 and running through May 4.
Co-owner of Caliente, Nick Bogacz, notes that there's always been strong advocacy for craft and local beers at his restaurants. His perfect marriage is "hand scratch pizza and craft beer."
During the week, Caliente locations across the city will host free beer-centric events. Key festivities from PCBW are scheduled to reappear, like the annual IPA challenge — this will be its sixth year — and the tradition of giving away pint glasses at the week's launch. New events include a barrel aged tasting, pairings between brews and Girl Scout cookies, and a match-up of Detroit pizza and Michigan libations.
But don't forget to pregame! Join the restaurant for a fun run (another PCBW ritual), hosted by the Pittsburgh Hash House Harriers on April 20. The $10 fee gets runners two beers on the course, two at Caliente, and free pizza.
For more information on Caliente Craft Brew Week, visit the event's Facebook page.
Gobblerito Day
For one glorious day, the Gobblerito is back.
Mad Mex's majestic Thanksgiving burrito is returning on April 23. The tortilla-wrapped bundle of turkey, black-bean mashed potatoes, stuffing, and corn smothered in gravy with a side cranberry sauce, has been dividing Pittsburghers since its inception. Is it gross or is it delicious? Decide for yourself.

Final Fish Fry
Lent is almost over, which means Pittsburgh waves goodbye to fish fry season. Here are a few local spots to get the last taste of the season:
Allegheny Elks #339
Enjoy your fried fish to the sweet tunes of the banjo and with a Yuengling in hand.
Everyday Cafe
Have the fish without the fry at Everyday Cafe's honey glazed salmon (or keep it traditional with fried catfish).
Riverview Church
Yes, fried fish is good, but check out Riverview's sides: spicy hot cheese balls, pickle chips, haluski, and clam chowder.
Wholey's Market

Grab a Sea-bak Shrimp Burger (the market's collaboration with Rick Sebak) before the sandwich is gone for good.

Pub Chip Shop
Fish and chips is their specialty — and still definitely counts as a fish fry.