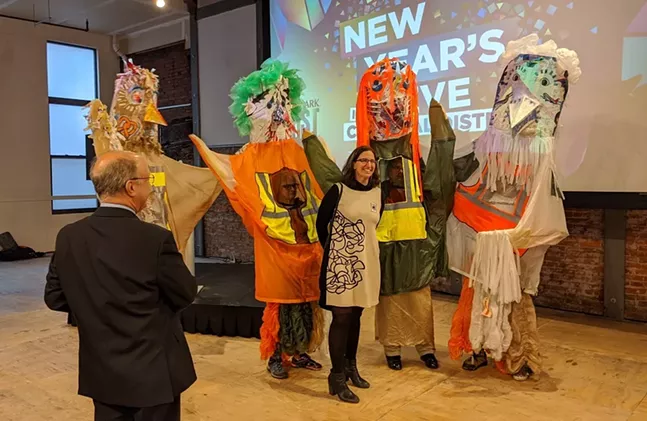 A small crowd of politicians, media, artists, and giant puppets gathered on the fourth floor of the Trust Arts Education Center for the big reveal of this year's
Highmark First Night
festivities. The annual New Year's Eve celebration promises over 100 events and activities, including live music, magic acts, visual art, and other surprises spread throughout the Downtown Cultural District.
"First Night is always a variety of activities," says Sarah Aziz, director of festival management and special projects for the Pittsburgh Cultural Trust and director of Highmark First Night. "We like to think of it as an open house of the Cultural District … But I do feel like this year, we might have stretched our variety a little bit more."
First Night will span the 14-block radius of the Cultural District and include programming at various venues, including theaters, galleries, churches, and other event spaces. Aziz emphasizes that 90% of the programming will take place indoors.
Kicking off with a fireworks display at 6 p.m., First Night continues with the New Year's Eve Parade beginning at 10th Street. Aziz got a laugh from the crowd when she paused to address that the parade did indeed start "near the
sinkhole
" where a Port Authority bus fell in October, but assured everyone that it would not impact the event.
Adding to the levity was Liberty Magic's magician-in-residence and musical theater performer Robert Ramirez, who gave the crowd a taste of his act by adding acoustic ukelele and rap to a card trick. Ramirez and fellow magician Jon Tai will both perform during First Night.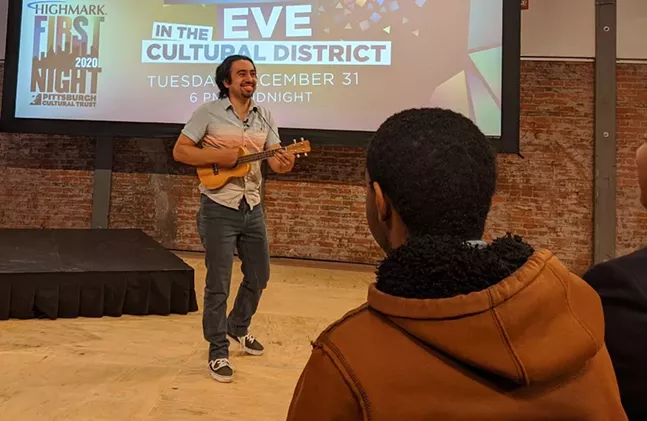 The parade will feature the debut of several giant, backpack-style puppets designed by Cheryl Capezzuti of Studio Capezzuti. Made during her summer artist residency at the Pittsburgh International Airport, the puppets — three of which were in attendance — were made with discarded materials found around the airport.
"I don't buy anything," says Capezzuti, who has been involved with First Night for the last two decades. "My work is all about what people give me. Everything I'm using is recycled."
Capezzuti will also teach a variety of puppet-making workshops, including one where participants make giant puppet heads that will sit atop pedicabs at First Night.
Of the workshops, which include making an illuminated lantern and flying bird puppets, Capezzuti says, "It's always been about finding beauty and joy in the things we throw away, and bringing people together through the creative process and finding delight in that effort in a world where sometimes delight is hard to find."
First Night will also feature interactive art installations,
Prismatica
from the Quartier des Spectacles Partnership in Montreal, and the
Dream Wall Project
by artist Anna Schuliger. Located at the Trust Oasis public art space on Seventh Street,
Prismatica
is described by the Trust as an enormous "modern ice palace" made of giant prisms that come alive with light and color after the sun goes down. The August Wilson African American Cultural Center will host the
Dream Wall Project
, a traveling installation that uses backlit tiles with text to answer the question, "What is your dream for our shared future?"
The six-hour event also includes all-ages activities at the Highmark Health and Allegheny Health Network Family Tent, and a panel of local YA authors presented by the teen literacy initiative, Bookish in the 'Burgh. There are also live performances by The Zuzu African Acrobats, local musician Sierra Sellers, and headliner The Shadowboxers, a pop-rock act that will take the Highmark Stage leading up to the big ball drop and countdown to midnight.
New this year is
Game Time!
, an event Aziz called the city's first "locally produced game show." A combination of interactive, physical challenges, audience participation, and team play,
Game Time!
will officially launch in April 2020, but First Night attendees will get a chance to see four exclusive pilot shows at the Trust Arts Education Center.
To make all First Night activities accessible, admission buttons are $10 with special $5 discount buttons at Giant Eagle locations and through the Carnegie Library of Pittsburgh branches, where patrons will receive a special bookmark if they check out a book between now through Dec. 25. First Night is free for kids 5 and under.
Aziz suggests buying buttons and making seat reservations early, as some of the smaller venue events could quickly sell out. She adds that the Trust Arts website was improved to streamline the purchasing process for First Night and includes a feature that alerts users if they accidentally reserve tickets for events taking place at the same time.
"We really try to make it easy for folks," says Aziz.