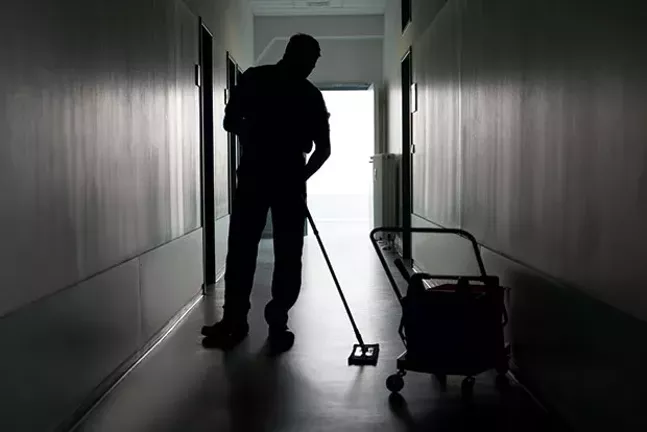 It's hard to argue that being a janitor is a great job, but when considering service-industry positions, janitors shouldn't be overlooked. According to the Bureau of Labor Statistics, in May 2016, service-industry jobs (cashiers, waiters, food-prep workers and janitors) comprised more than 100,000 jobs in the Pittsburgh region and about 10 percent of its labor force.
And janitors make at least $2 more an hour on average than those other positions, averaging $11.25. From 2014-2016, cleaning-service workers' wages have also risen slightly faster than food-industry workers'.
These statistics have contributed to the anger surrounding a labor dispute at the prestigious Ellis School, in Shadyside. In August, seven workers from Alder Services were let go by Ellis when their contract expired; they were replaced with workers from General Cleaning Inc. Officials with Service Employees International Union 32 BJ, who represent the Alder workers (who are all African American, and mostly women), say former Ellis janitors made more than $12 an hour. Sam Williamson of SEIU says pay stubs show that new workers are making as little as $7.75 an hour.
Community members, elected officials and labor unions have all cried foul on Ellis School, saying the private, all-girls institution is betraying its values of empowering women. But in an email to City Paper, the Ellis School claims the laid-off workers were misbehaving on the job, and that it followed protocol in ending their contract.
Williamson says it has taken unions decades to obtain better wages for cleaning-service workers. According to 2016 U.S. Census figures, both Pennsylvania and Pittsburgh-metro-area custodial workers make higher average wages than their counterparts in Wisconsin, Texas and the U.S. as a whole. This discrepancy is especially stark in Texas, which has a much lower union membership rate; Pittsburgh janitors make $5,000 more a year than do Texas janitors.
Williamson says the decision to end the contract of the higher-paid workers and replace them with significantly lower-paid workers is a step in the wrong direction. "It undermines the efforts made by our members and the community," says Williamson.
But Ellis Head of School Macon Finley defends the decision, saying it was above-board and not made for economic reasons.
"First, we ended that relationship in strict accordance with the applicable terms of the contract," wrote Finley in a statement to CP. "Notably, that cleaning company has not challenged our right to have changed cleaning companies. Second, our reasons for doing so were legitimate non-economic reasons –– based solely on our goal of having a healthy, safe, clean learning environment for our students, and not based on cost."
In an Aug. 15 Pittsburgh Post-Gazette story, Finley said Alder janitors had "many examples of poor cleaning" and other indiscretions, including an alleged fight between janitors and an incident between a janitor and a student, that made the student "uncomfortable."
Williamson says he acknowledges the reasons Finley has given for the dismissal of Alder janitors, though he disagrees that the alleged fight was part of the decision. Even so, he doesn't understand why Ellis didn't hire replacement janitors with comparable pay.
"Clients change their cleaning contractors for a variety of reasons," says Williamson. "Sometimes it's about materials and any number of perfectly valid reasons. If Ellis was upset with the janitors, they have every right to make a change. But normally what doesnt happen is a race to the bottom in terms of pay."
Wilkinsburg Councilor Marita Garrett has participated in protests against Ellis over the firing; she has also met with the workers and community members upset with the decision. She notes that five of the seven Alder janitors are women and that all are black. Garrett says Ellis should be aware of the institutional problems that black people, and women, face in the workplace. In a recent issue of Pittsburgh Quarterly magazine, Finley wrote Ellis' values are to "pursue, support, and embrace diversity of all kinds."
"For a school that prides itself about women's empowerment, it is a slap in the face," says Garrett.
Garrett is also upset with the janitors' discrepancy in pay. So far, the Ellis School has refused to meet with Garrett and other members of the community to discuss these issues, even though Pittsburgh City Councilors Deb Gross and Natalia Rudiak hand-delivered a signed letter urging the school to start a dialogue. Garrett says the issue will never be fully resolved until communication is open.
"I would like to see it happen," says Garrett. "They should take it upon themselves to meet with stakeholders. "There needs to be accountability so this does not happen again."