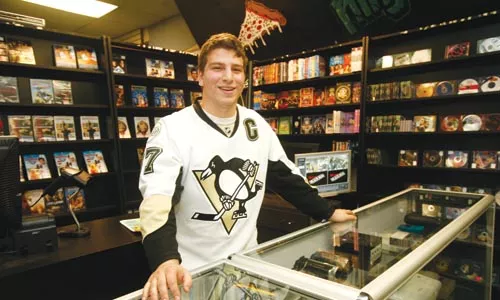 In 2005, Milton Barr used lots of green paint to cover the exterior of 1020 East Carson St. with a Teenage Mutant Ninja Turtles mural. But he may need a lot more green -- about $200,000 more -- to erase the fines he incurred by doing so.
Barr, 21, closed his South Side arcade and video-rental store, MIB Ninja Entertainment, in August. The lime-green Teenage Mutant Ninja Turtles mural has since been covered with dark-red and brown paint. But although the mural is out of sight, it's still very much in the city's mind.
Barr's paint scheme violated the city's historic preservation laws, which require external changes to structures in historic districts like the South Side to be approved by the city's Historic Review Commission (HRC). City officials say they made that clear to Barr, repeatedly demanding that he repaint the storefront to adhere to the zoning code.
"He was in violation of the ordinance for years," says District Magistrate Gene Ricciardi, who levied the fine. "He flaunted the law and disrespected the community. ... I thought $200,000 was appropriate."
Barr argues differently.
"If I would have gone to an historical monument and defecated and spray-painted it, I might have spent a night in jail," says Barr, who has filed an appeal to the hefty fine. "But I wouldn't be fined $200,000."

"How did I get $200,000?" Ricciardi rhetorically asks, sitting at the bench of his South Side courtroom between hearings on Nov. 5. "It's something that I calculated in my mind."
According to Ricciardi, South Siders had been complaining about Barr's mural ever since he had it painted on the building. Carson Street has been designated as a historic district since 1993 -- mostly for its late-19th-century Victorian-style buildings -- and Ricciardi says other business owners wondered how Barr could get away with such a distinctive paint scheme.
Mary Fleming, the city's building-inspection assistant chief of code enforcement, says the answer is simple: Up until recently, enforcement was a joke.
City officials first flagged the mural in October 2005, just a couple of months after it was painted. The HRC, which is charged with designating historic structures and districts, instructed Barr to devise a new paint scheme with city officials. But Barr never complied. That, he says, is because the HRC staff never followed up with him. "I never got a direct order to repaint the building," he contends.
That December, the Bureau of Building Inspections (BBI) issued a citation to both Barr and the owner of the building, George Taylor, of Management Directions Inc., for altering the exterior of a building in the historic district without HRC review.
(Even though Barr was the one who painted the storefront, Fleming says, that doesn't leave the owner off the hook. "The owner could have painted [the mural] over," she says.)
Fleming says Taylor pled guilty just a few days after being cited, and paid roughly a $300 fine. (Barr says he reimbursed Taylor for the fine.) Barr, on the other hand, never entered a plea of any kind -- and officials did nothing about it. To this day, nearly three years after the citation was issued, "the warrant for Barr's arrest has never been printed or served," Fleming says. "[BBI] sent [the citation] over Dec. 5, 2005, then we waited and waited."
Prior to 2008, these types of violations were handled by the Pittsburgh Municipal Court. But Fleming says, "There was a problem with housing court" when the system ran that way.
According to Fleming, the housing court relied on defendants to plead guilty or not guilty. And if they didn't, cases usually remained stagnant. But in January 2008, the city moved housing-court cases directly to district judges' offices, like Ricciardi's. At the time, some thought having district judges handle cases would work more efficiently, especially since they know their neighborhoods better.
Since the change, Fleming says district judges have been more proactive in bringing violators to justice. They certainly were in Barr's case.
According to city records, BBI issued another citation each to Barr and Taylor in January, and in March, Ricciardi ordered Barr to repaint the building within 30 days. When he failed to do that, Ricciardi offered Barr yet another chance, giving Barr until June to consult with the HRC and repaint the store.
HRC records show that Barr filled out an "Application for Exterior Work" on June 15, pledging "to work with the HRC to create and maintain an attractive mural." But on June 18, Fleming says Barr failed to appear at his court hearing. And that's when Ricciardi levied the $200,000 fine.
"I was very disappointed that [Barr] did not show," Ricciardi says. "I gave him time after time to get the mural off. He lied to the court. He told me he would have it removed."
Barr says he missed the June 18 hearing because "I had no invitation to the hearing. I never got any notice."
Initially, Ricciardi slapped $200,000 on both Barr and Taylor, but he dismissed the charge against Taylor after the owner moved to evict Barr from the building.
However, the fine against Barr still stands. (Taylor says Barr wasn't evicted; instead, Barr simply didn't renew his lease.)
Before leaving the building in August, records at the HRC show, Barr paid his landlord to repaint the building. Barr wrote a check to his landlord for $440, an amount which was calculated by the HRC. Barr hopes that's the end of the matter. His appeal hearing is set for Nov. 18.
"This is one fine I really can't afford," Barr says of the $200,000 penalty. "Right now, my arsenal is not big enough to fight it."

Barr is used to defending his mural in court. In fact, in the fall of 2007 he settled a trademark-infringement lawsuit filed against him by Mirage Studios Inc., which claimed that he was illegally using the Teenage Mutant Ninja Turtles characters to advertise his store.
When he first learned that Mirage, which owns the TMNT copyright, was planning to sue, Barr was confused. "They can't sue what's in my mind and, in my mind, I am a Ninja Turtle," he told City Paper in March 2006 [City Paper, "Shell Gamer," March 16, 2006].
But for Barr, the $200,000 fine from the city is just as troubling as the Mirage lawsuit, especially since "People loved [the mural]," he says. "It was a pretty wall. ... The city of Pittsburgh is making a big mistake."
Currently, Barr owns five other MIB Ninja Entertainment stores elsewhere in the region, including Squirrel Hill and Downtown. But, he says, "I've always had a lot of heart in the South Side."
That's where Barr launched his business career as an 18-year-old fresh out of high school. He says business on Carson Street was good, but when he found out about the hefty fine, his parents told him, "It's time to get out of the South Side."
Although Barr says "it sucked" that he had to close his South Side business, he's most upset about Ricciardi's $200,000 calculation.
"How much did the paint cost? $300?" he asks. "A $200,000 fine for $300 worth of paint doesn't add up to me."
Rick Belloli also has trouble understanding the math. But the executive director of the South Side Local Development Company -- a nonprofit group committed to the economic development and historic preservation of the South Side -- says the dollar figure isn't as important as the message.
"[The city's] objective is not to collect fines," he says. "But occasionally, fines become necessary tools" to force lawbreakers into compliance.
If the fine is intended to send a message, Barr says he's not getting it. "Why are they trying to scare me?" he says. "What lesson is there to teach?"
Belloli says he's "thrilled" that the mural is finally gone -- he claims it was an eyesore that detracted from the character of the historic district -- especially since his organization works hard to maintain East Carson Street's historic status. But even though Barr's mural was clearly in violation of the city's historic preservation laws for three years, he doubts that the city will be depositing a $200,000 check into its bank account when all is said and done.
Belloli says he certainly appreciates Barr's entrepreneurship, especially at such a young age, but "it needs to be channeled. ... Thumbing your nose at the system may not be good in the long term."
Barr says that despite the controversy, he plans to return to East Carson Street. But next time, he says he'll play by the rules and forgo painting his mural on the storefront. And in addition to his business, Barr says he plans to buy a second location in the South Side, just outside the historic district -- so he can paint his mural there instead.
That way, he says, "The city can't touch me."